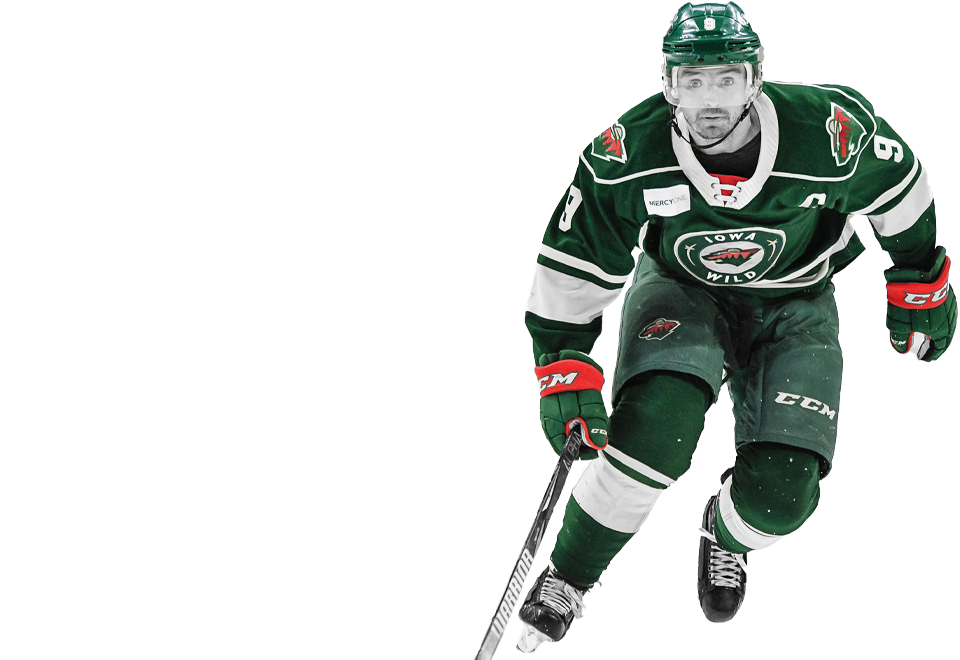 Game Center
Home
Home
Away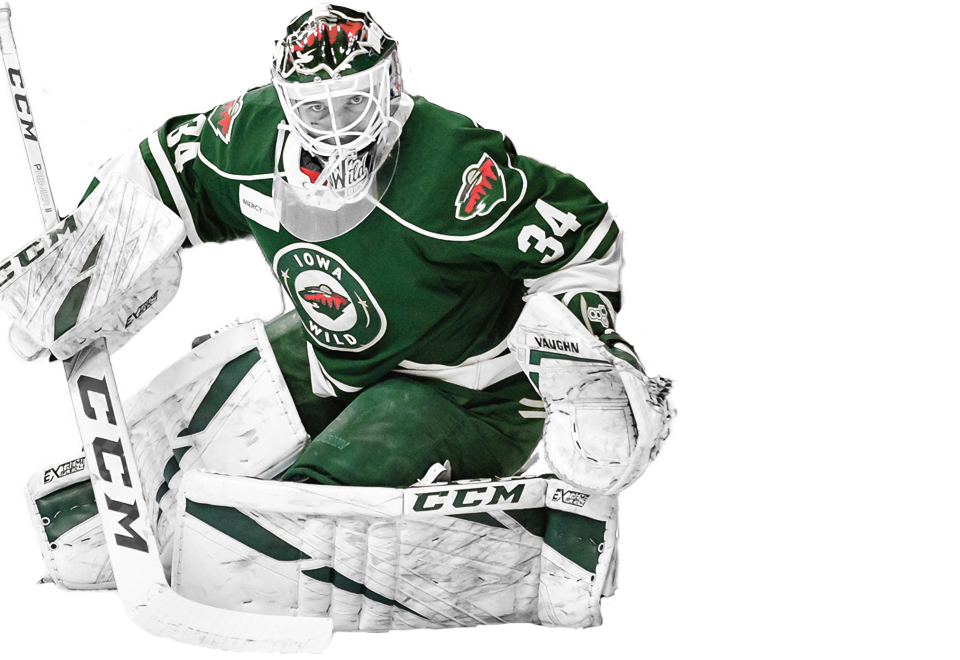 Latest News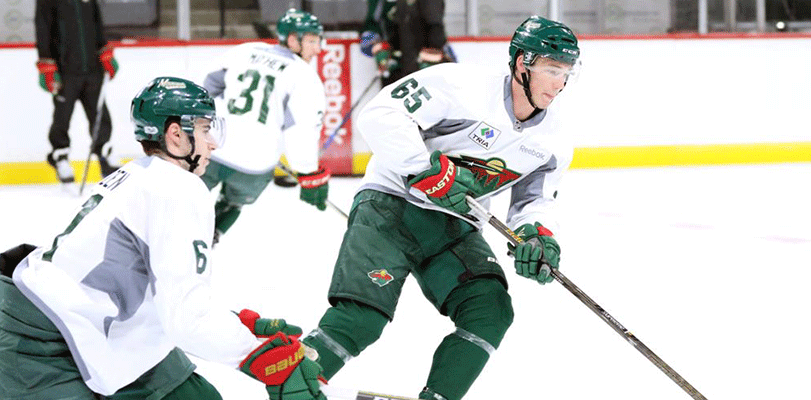 Apr. 19, 2019

Iowa Wild General Manager Tom Kurvers announced today the American Hockey League (AHL) club has signed forwards Shawn Boudrais,…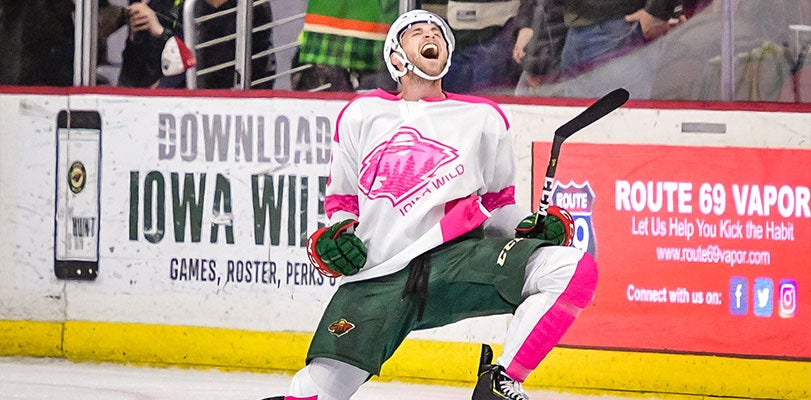 Apr. 18, 2019

When the season ended, one fact became clear, as the Wild ended tied with the Griffins with 87 points in the standings and two…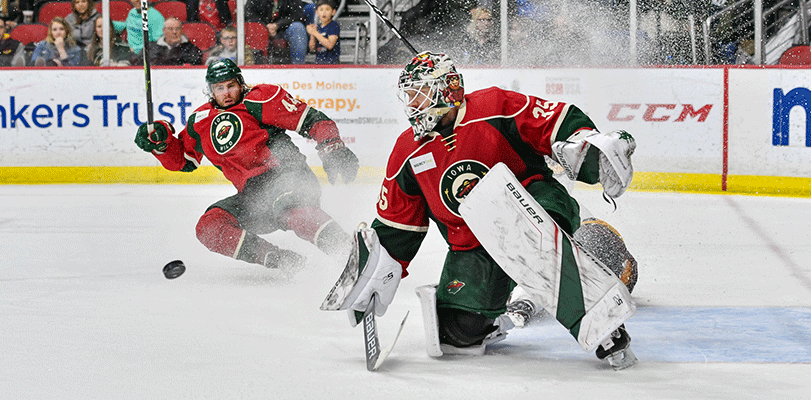 Apr. 15, 2019

The American Hockey League announced today that Iowa Wild goaltender Andrew Hammond has been selected as the CCM/AHL Player of…
Calder Cup 101
Got questions about the Cup? No worries—it's our first time here, too. Here are some quick guides from the American Hockey League that will get you up to speed.
---
Playoff FAQ
Here's your hub for any questions about the Iowa Wild's first Calder Cup Playoff berth.
Question not answered here? Email [email protected] or call 515-564-8700.
How do AHL Playoffs work?

It's okay—it's our first time in the Playoffs, too. Here are the basics:

When do tickets go on sale?

How do I know which tickets to use?

Be sure to double-check your tickets! Each ticket will be labeled with the Round and Game number.

Our emails, website, app, and social media accounts will be updated with the appropriate upcoming Round and Game numbers as necessary.

What are the security policies for Wells Fargo Arena?

Bags

Bags no larger than 13" x 15" x 6'' will be permitted into Wells Fargo Arena. Guests who have bags larger than this size will be asked to return them to their vehicles or discard them. This is in addition to the existing policy that all bags, purses or personal items of any size are subject to search. Diaper bags or Medical bags are allowed to exceed that size limit, but will be searched. This policy is subject to change based on a shows request.

Entrance Security

Wells Fargo Arena utilizes walk-through metal detectors and bag checks upon entry. To expedite your entrance into Wells Fargo Arena, fans are encouraged to leave non-essential items at home.

Cameras

Small point & shoot cameras are allowed. Professional cameras (specifically cameras with professional/detachable lenses and flash) are not permitted. The Iowa Events Center reserves the right to examine and prohibit the use of any camera that conflicts with the policy set by the event.
Audio recorders, video recorders and digital cameras with video capabilities are prohibited during all events.

Question not answered above? Click here for the full list of security policies.

How does parking work at the Arena?

Parking is available in the large lot north of the Iowa Events Center for $10. Please note there is NO OVERNIGHT PARKING in the Iowa Events Center parking lots. Violators are subject to be towed. Once our lot fills up, there is also street parking (with meters) or downtown parking garages.

The arena is also accessible via the Des Moines Skywalk system. Click here for the Downtown Des Moines Skywalk Map.

Can I watch or listen to the games?

Playoff games will be available on AHL TV. AHL TV Playoff Packages will be available starting April 15.

To listen to our home games, tune into 1460 KXNO.

Will game recaps be available?

Where else can I follow the Wild?

Where are the best spots for food and drink in Des Moines?

We've got some spectacular local food in Des Moines! Check out some of our favorites!