HOCKEY DAYS IOWA
Iowa Wild is thrilled to announce Hockey Days Iowa pres. by Iowa Corn, a 3v3 outdoor hockey tournament on Jan. 13 - Jan. 14, 2018!
RESGISTRATION IS CLOSED!

IF YOU ARE PARTICIPATING IN THE TOURNAMENT...
Click here to see the full tournament schedule: Hockey Days Iowa Schedule (1).pdf
Click here to see the map of the tournament layout: Map for Hockey Days Iowa.pdf
To ensure registration moves quickly, please bring a signed waiver with you to the event. It is suggested that you arrive 30 minute prior to your scheduled puck drop. Click here to download the waiver.
Please review the rules and regulations at the bottom of this page.
Time
8:00 a.m. - 5:00 p.m. Saturday; 8:00 a.m. - 5:00 p.m. Sunday
Location
North River Adventures (2768 US-65, Carlisle, IA 50047)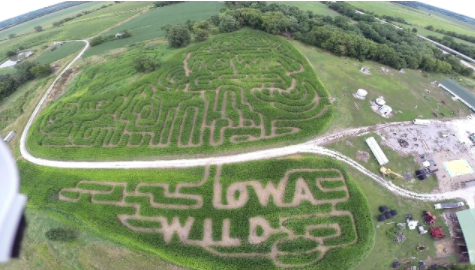 Cost to Participate
FULL TEAM REGISTRATION
Early Bird Registration
$300 per team
Nov. 9 - Dec. 1
Registration
$360 per team
Dec. 2 - Dec. 22
Included in the registration fee:
Six (6) players per team
Six (6) players on the team will each receive one (1) jersey
Three (3) guaranteed games
Two (2) Iowa Wild flex tickets per player
INDIVIDUAL PLAYER REGISTRATION
If you would like to register for Hockey Days Iowa but do not have a full team, you can register as an individual player. If you register and there are not enough individual players to make a full team, you will be given a full refund.
You will be able to request teammates during the registration process. There is no guarantee you will be placed on the same team as your requested teammates.
Early Bird Registration
$50 per player
Through Dec. 1
Registration
$60 per player
Dec. 2 - Dec. 22
Included in the registration fee:
One (1) jersey
Three (3) guaranteed games
Two (2) Iowa Wild flex tickets per player
*Parking on site is free. There is no cost for spectators.
Tournament Format
Each registered team is guaranteed three games with two 12-minute halves. There will be three players on the ice from each team at a time. The goals are pond hockey goals; no goalies are necessary. The divisions are as follows:
D Division
Open Division
40+ Division
Novice Division
U-12
U-10
U-8
There will be four (4) 40x60 tournament rinks.
Concessions and merchandise will be on sale at the event. Warming tents will also be available for use.
Disclaimer: There is a minimum of four (4) teams per division.
Hotel Information
Renaissance Des Moines Savery Hotel is offering a special group rate for Hockey Days Iowa participants:
Renaissance Des Moines Savery Hotel (401 Locust Street, Des Moines, IA 50309)
Jan. 12, 2018 - Jan. 14, 2018
Last day to book: Dec. 29, 2017
$119.00 USD per night for tournament participants
Book your group rate for Hockey Days Iowa
For more information about the Hockey Days Iowa rate at the Renaissance Des Moines Savery Hotel, call 515.244.2151.
For More Information
For more information about Hockey Days Iowa, please contact Kean Ludvicek at [email protected] or 515.564.8715.
Disclaimer: This is an outdoor tournament. Ice conditions will be determined upon weather conditions. If deemed unsafe on the days of the tournament, all teams will be refunded the full registration fee. A decision will be made within seven (7) days of the tournament start date.
RULES AND REGULATIONS
EQUIPMENT
Required: Helmet, Gloves, Skates, Shin Guards, Elbow Pads
Suggested, but not required: Facemask, Shoulder Pads, Breezers, Mouth Guard
PLAY
1. Each team can have a maximum of six (6) players on its roster.
2. Open division will be open to all ages, while the competitive division requires a minimum age of 16. Male, female or co-ed teams are all acceptable for both divisions.
3. No roster substitutions will be allowed once the first tournament game begins.
4. All games will be played 3-on-3, (i.e. 3 out players per team on the ice at all times).
5. Games and halves will begin with a face-off (center ice).
6. The puck will change possession after every goal scored. The defending team (team who just scored) must remain behind the centerline until one member of the offensive team crosses the centerline, at which point the defending team may enter the offensive team's zone.
7. During play, alternates can substitute, as teams deem necessary. No stoppage in play is necessary to make substitutions.
8. Standard hockey rules apply (i.e. no hand passes or kicked in goals)
9. If the puck goes out of play, the team captains will deem who caused the puck to leave the playing surface and possession of the puck will be awarded to the other team.

TIME
1. Games will be played in 25 minute allotments (including two 12 minute halves, running time, separated by a 1 minute half-time break).
2. Next game will start 10 minutes after the end of the previous game, to give ice shovelers time to clear the surface for the next game.

RULES
1. There will not be any officials on-site. Gameplay will be regulated amongst players and team captains. If there are any discrepancies, a tournament official may be called over to decide. Use your head when playing and understand this is an event to enjoy and have fun at. There is no need to get aggressive during gameplay.
2. There shall be no slashing, hooking, tripping, crosschecking, high sticking or inappropriate stick work of any kind. Doing so shall result in a turnover of possession. If continued, suspension could be issued for the remainder of the game. Continued issues or more serious offenses, including but not limited to spearing and/or butt ending, shall result in an individual being immediately removed from the tournament.
3. Fighting is unacceptable and will result in the individual and/or individuals being removed from the tournament.
4. There shall be no pushing, shoving, checking or unsportsmanlike conduct of any kind. Doing so shall result in possible suspension or expulsion of play.
5. Slapshots will NOT be allowed. For the purposes of this tournament a slapshot is considered to be anything where the player's windup comes above the knee. If the official deems a slapshot has been taken the other team will get possession of the puck.

SCORING AND PLAYOFF SEEDING
1. Scoring is based on 3 points for a win, 1 for a tie and 0 for a loss.
Tie breakers are as follows: goal differential, the goals against, then a coin flip.

FOOD AND BEVERAGE
Off-site food and alcoholic beverages are not permitted. Food and beverage may be purchased at the event.
Additionally, there will be on-site security and paramedics if needed throughout the tournament.