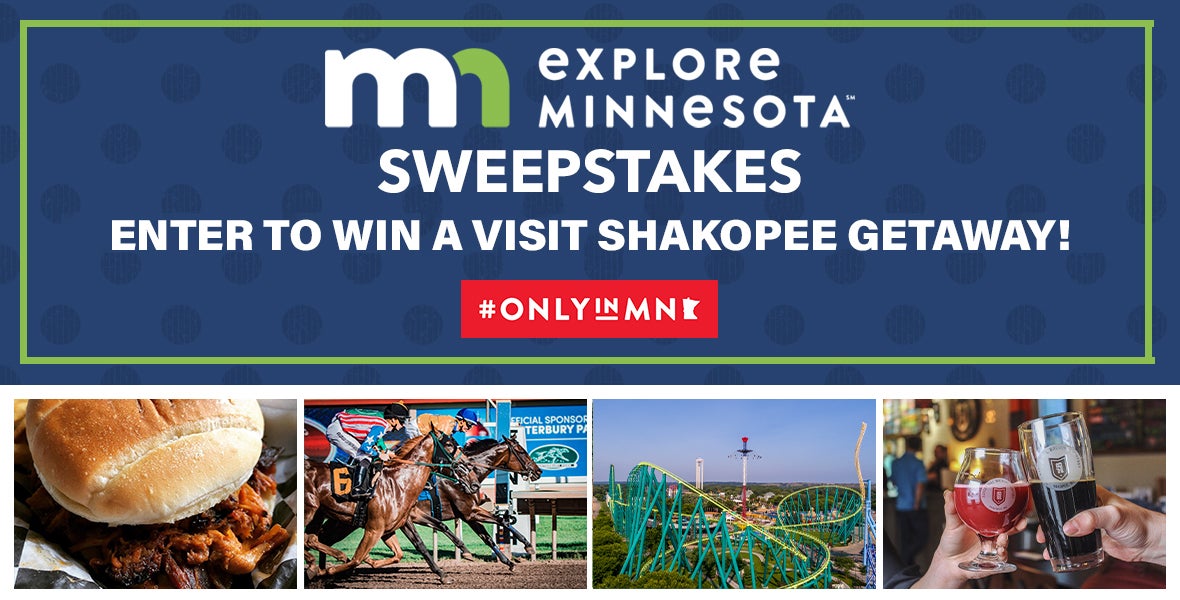 ENTER FOR A CHANCE TO WIN A VISIT SHAKOPEE GETAWAY, INCLUDING WILD JERSEYS!
Iowa Wild has partnered with Explore Minnesota to offer one lucky Wild fan (21 and older) a Visit Shakopee Getaway!
One (1) gift certificate for a two (2) night stay in one (1) King Suite OR two (2) Queen Family Suites at Holiday Inn Express & Suites - Shakopee

Expires 5/1/22. Subject to availability. Restrictions may apply. Not available July 22, 23, 24, & 25, 2021. Advanced reservations required.

Plus four (4) passes and one (1) parking voucher for Valleyfair Family Amusement Park

Good through September 6, 2021. Valid any day that Valleyfair is open to the public in 2021 through September 6.

Plus one (1) Canterbury Park "A Day at the Races" package

Includes admission, programs, and clubhouse table for four (4) people. Includes $40 of food credit. Expires end of 2021 live racing season. Restrictions apply. Reservations required.

Plus one (1) $50 O'Brien's Public House gift card
Plus one (1) $50 Mr. Pig Stuff gift card
Plus four (4) Badger Hill Brewing Company pint cards
Plus four (4) Iowa Wild jerseys
Plus four (4) 2021-22 Iowa Wild Tickets
ABOUT THE SPONSOR
Explore Minnesota is the state's tourism promotion agency whose mission is to inspire consumers and facilitate their travel to and within the state of Minnesota.
Your True North isn't on a map. It isn't a place, it's a feeling—a state of mind filled with adventure, culture, and curiosity. Minnesota invites you to discover something new in the world and in yourself. No matter which route you take, they can all lead to your True North. And it's only in Minnesota. Find Your True North #OnlyinMN.