HEALTHY LIVING FLOOR HOCKEY PROGRAM
Find out how your school can play floor hockey with the Iowa Wild!
Iowa Wild Healthy Living Floor Hockey Program
Goal: To provide local schools with the resources to execute a floor hockey program in their Physical Education Classes at no cost, and to give students an opportunity to attend an Iowa Wild game for free after learning and growing the sport of hockey.
Program Outline
Program runs for two weeks (or otherwise determined by teacher)
Schools new to the program receive a set of Iowa Wild jerseys and equipment, if needed.
Equipment included: 10 Iowa Wild jerseys: 5 green and 5 white; floor hockey set including 12 sticks and 2 floor hockey balls.
Equipment that is damaged and/or lost may be replaced for schools that have participated in previous school years.
Each participating student receives a FREE ticket to an Iowa Wild game, valid for select game dates to be announced. (Fall 2020 game dates TBA)
Family and friends are given an opportunity to purchase tickets at a discounted rate.
Opportunity to WIN an Iowa Wild player or mascot appearance for your PE class!
Iowa Wild Floor Hockey Program Presented by:
Amerigroup, Atlantic Bottling Company, Powerade Zero
Have questions? Contact Allie Brown at

[email protected]
---
From Jeff Steines (Coach at South Hamilton Elementary School):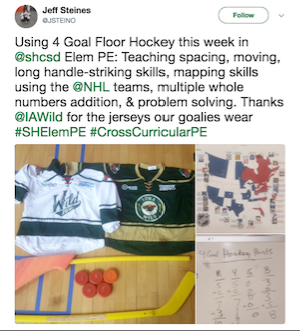 "The Floor Hockey Unit our students at South Hamilton Elementary participate in is one that teaches across multi-curricular subject areas, and provides an excellent program for students, many of whom have never played nor experienced the game of hockey. The skills of striking a ball/puck with a long-handled stick, forehand and backhand passing, moving and changing locomotor patterns, along with learning about different roles and responsibilities of a hockey team provides a great learning opportunity. Furthermore, we've incorporated the use of maps showing the locations of the different NHL hockey teams to teach social studies skills of both the United States and Canada; placed different points values on each ball or puck provides for the incorporation of counting, addition, multiplication, and problem solving skills; and lastly, using the colors, logos, mascots, divisions, and conferences of the NHL teams our students are able to learn new vocabulary words. The Iowa Wild Hockey Team has provided us uniforms, vouchers to attend an Iowa Wild game, and additional resources to make this a memorable experience for all involved."