FIVE YEARS IN: JUST GETTING STARTED
Feb 22, 2018
By Tom Witosky | Follow @toskyAHLWild
When Todd Frederickson agreed five years ago to lead the effort to reestablish an American Hockey League franchise in Des Moines, he understood the challenges.
In 2009, an AHL franchise affiliated first with the Dallas Stars, then the Anaheim Ducks, had left a bitter taste in the community's mouth – one that fed the notion that minor league professional hockey couldn't and wouldn't be successful in a community where a lot of folks didn't know icing from a cross-check.
In 2013, when Minnesota Wild decided to bring its AHL franchise from Houston to within driving distance of the club's headquarters and arena in St. Paul, the league jumped at the chance to reestablish itself. A move that didn't surprise Jason Shaver, who had spent three years as the radio play-by-play announcer for the Iowa Stars.
Shaver, now in his ninth year as the Chicago Wolves' radio and television play-by-play announcer, was so positive that he might be back working in Des Moines, he and his family still own home near Roosevelt High School.
"At the time we left, I thought there was a good chance I'd be back," Shaver said. "I always thought Des Moines was a good hockey market. "
#mnwild will play a 2018 preseason game against @StLouisBlues on Sept. 19 at Wells Fargo Arena IN DES MOINES!! → https://t.co/4XRu5cOz6P pic.twitter.com/ZkKkzhujoT

— Iowa Wild (@IAWild) February 10, 2018
Shaver's most recent return to Des Moines took place on the same night Frederickson made two major announcements that signal that the AHL Wild's first five years have been a success and is likely to continue to be. First, the club announced it had reached an agreement to extend its lease to play at Wells Fargo Arena until 2023. In addition, the club announced that the NHL Wild will play a preseason game for the first time in Iowa against the St. Louis Blues at 7 p.m. on Sept. 19.
"I was excited for the staff and the fans to be able to tell them we will have at least another five years of AHL hockey here in Des Moines," Frederickson said. "Our top goal was to show that this could be an AHL market and be an AHL market for a long time. We are well along on that path now."
Plenty of evidence shows that the Wild is steadily growing into one of central Iowa's established sports franchises along with the Iowa Cubs. Season ticket sales have increased every year, average attendance now exceeds 6,000 per game and corporate sponsorships revenues have exceeded last year's record.
And all of this without a team qualifying for the Calder Cup playoffs, though this year's team could well break that streak.
Shaver, who has been to Des Moines throughout the Wild's first five years, said the club has established itself by adjusting to its market and taking advantage of what many didn't understand about Des Moines.
"The city has a lot more of a hockey feel to it," Shaver said. "The downtown is so much more vibrant. They have done such a good job of making the downtown area vibrant with the bars and restaurants that it simply enhances the sports event experience."
Frederickson credited much of the franchise's growth to his staff, those who left Texas to join his effort and those who have arrived in the interim. He said the staff has been dedicated to growing the interest in hockey as a participation sport as well as an entertainment event.
"They've committed to making this successful," Frederickson said. "They worked hard to promote this game in this market. We knew if we did our best to grow the sport of hockey with floor hockey to the Iowa Corn Hockey Days Iowa, we would bring awareness to the sport and with it success with our growing number of fans."
Frederickson said that despite various challenges, he kept seeing evidence of the work done by his staff and how various ideas generated by the staff always helped the franchise to make the next step.
"We asked fans the first year at the State Fair to wear Iowa Wild t-shirts," Frederickson said. "We did it simply to get people to start seeing the brand. It seems now everywhere you go, you can see a Wild hat or sweatshirt. That right away tells you that you are connecting to the market and to the community."
Shaver said one factor not often noted in developing a strong franchise has been the appeal of the community to players, particularly veterans who often have a choice on where they want to play. Des Moines is becoming a popular city among players simply because if provides a mix of vibrant city with a convenience not available in large cities.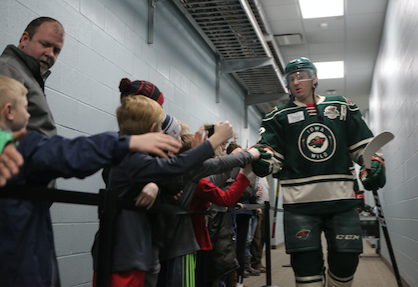 "Pat Cannone and Landon Ferraro played in Chicago, but they really love playing here now," Shaver said. "In many ways, it is the best of both worlds. The city has a lot of the same amenities you find in a larger metro area, but not the traffic or congestion you find in a big city like Chicago."
As for the future, Shaver said that the increased level of competition within the American Hockey League and the reliance of the NHL Wild on developing players in Des Moines should increase fan identification with the team. So far, Minnesota has called up 37 players from Des Moines over the five year period.
"The proximity to Minnesota helps a great deal. You see these players on the Wild going up and down, so now it is a just a three-hour drive to see these players in the NHL," Shaver said.
As for the Wild organization, Frederickson said that more ideas to solidify the community's identification with the club are always being discussed. Now, he said, the Wild's preseason game in Des Moines in September is the first step toward creating more big events for Wild fans.
"The preseason game is our first attempt at a big event, but we look forward to doing more things like this," Frederickson said. "An outdoor game within the next five years? It would be something well received in the market. We are keeping our eye on it and plan to do it."
Back to All