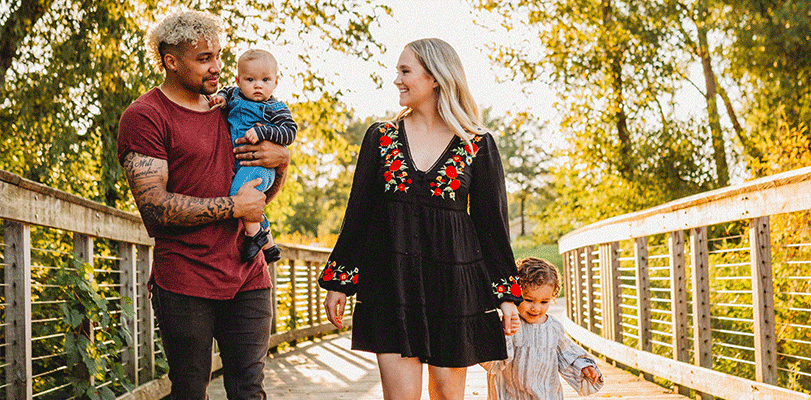 FOR LOVE AND HOCKEY
Feb 14, 2020
By Tom Witosky
Follow @toskyAHLWild
J.T. Brown figured out a way to avoid having to buy his wife, Lexi, a Valentine's Day present every year. He married her five years ago on Feb. 6, eight days before the holiday.
"We don't usually buy gifts for Valentine's Day," the Iowa Wild veteran forward said with a laugh. "We've got our anniversary and that's usually enough."
The Browns celebrated their anniversary with their young children, Lily and Booker, in Iowa for the first time now that J.T. has become a fixture in the Iowa Wild's daily lineup. Before then, the Browns spent five years in Tampa Bay when J.T. played for the Lighting and then most of last season in his home state of Minnesota when he played the Wild.
Brown, who played six games in Iowa last season and played for the Waterloo Black Hawks in the USHL for the 2008-09 and 2009-10 seasons, returned to the AHL this season after clearing waivers during training camp. He has become one of the Wild's leaders and steadiest veterans. Meanwhile, Lexi, who recently earned a Ph.D. in education, has the job of running the Brown household on a full-time basis – a job Head Coach Tim Army, who has been married 33 years to his wife, Sue, holds in high regard.
"You can't do it without your wife. It's impossible," Army said. "Without a good wife, you just can't survive because she is the one you rely on every day to troubleshoot everything and make the family life work for everyone."
Army, who raised two boys with Sue, said player wives willing to take on the burden of running a household during a season and dealing with the uncertainties that go along within the life of a professional hockey player are indispensable.
"They have to be completely engaged in what you're doing and understand it. And if they're not, it's going to be very difficult for the relationship to grow," Army said. "When you are an athlete you have your job and working as hard as you can at it, the wife gets to do everything else whether it is getting the kids to school, shopping or getting them to soccer or hockey practice."
That is what the Browns have also discovered.
"She's supportive of everything. And she's literally for me," J.T. said. "That's what makes her so special. We have our kids, she has her own personal life as well but she makes the time for me. And that is something that I always hold special."
Lexi said her husband's commitment to her was evident from the beginning of their relationship.
"You have to be all in," she said. "He was all in and I made the choice to be all in. We've been kind of on the run ever since."
Army added it doesn't hurt to have a sense of humor.
"It sure doesn't hurt to be able to laugh at yourself," he said.
The Browns have become entertaining for friends and followers on social media, where the two do a pretty fair imitation of an old married couple; capable of lovingly needling each other much to the delight of others.
"I can't remember the last time we both looked so rested?" J.T. posted on Twitter with a couple of wedding pictures earlier this month. "Happy 5th Anniversary."
Lexi's reply: "You looked pretty rested after sleeping in this morning,"
Fittingly, the Browns met on Twitter, when J.T. was playing for the Syracuse Crunch in the AHL and Lexi LaFleur, a native of northern Ontario with Metis heritage on her father's side, was attending Syracuse University seeking a masters' degree in public relations management.
"We talked back and forth for quite a while before we met," J.T. said. "When we met the first time, I didn't know what would happen. I discovered she was the same person she was online and that meant a lot to me."
Lexi's reaction was quite similar. She said that almost immediately there was a strong connection between the two.
"It was really comfortable," she said. "We both knew right away that we really clicked and we really liked each other."
As children of biracial families, both families immediately supported the romance and the eventual marriage.
"Honestly, they just loved him because he was a hockey player," Lexi said.
A year later, the couple married as J.T.'s playing career established itself with five years with the Lightning and the couple had their first child, a daughter named Lily Willow, in the summer of 2017.
With nearly 15,000 Twitter followers, Lexi has taken on a variety of issues including racial and sexual discrimination and has been known not to temper her opinions on occasion. J.T. normally is the target of those unfiltered thoughts.
"She definitely is good at what she does on social media," J.T. said. "The majority of them are making fun of me and that's ok. I know when she is doing something about me. She has that little smirk on her face."
Brown laughs more than he cringes because it is good content. Besides, he said, he knows who the boss is in the Brown family.
"I like to say and pretend that I am, but that's not the real answer," he said. "What she says goes for the majority of pretty much everything. I know I'm stubborn on some things, but she is the one who runs the household definitely."
He added that Lexi's biggest complaint about him is his listening skills and his inability to load the dishwasher correctly.
"She's really meticulous about the dishwasher," he said.
In response, Lexi hears no complaints from her husband.
"He knows better," she said with a laugh.
As for her social media responses and observations about her husband, Lexi insists that it's for his own benefit.
"My mom is always telling me to leave him alone," she said. "I just need to keep him level-headed. I need to bring him back down to reality sometimes."
As for the future, J.T. hopes to be able to get back to the NHL, but he also enjoys being able to be with his children and his family whenever he can.
"I even like going to daycare with the kids," he said. "I know how much the kids can change and how quickly so I want to get as much of that as possible."
He also said his wife's goal of becoming a university professor once the children are older will be a high priority for the family. Right now, he said, Lexi is taking it easy after obtaining her Ph.D. and enjoying her time with the children.
The only thing he knows for sure, where the family settles down will be warmer than living in Minnesota.
"We really agree on that," he said.
The future, Lexi says, is out there and whatever happens, the family will deal with it.
"We take it day by day because you can't really get consumed too much by what's going to happen next because you never really know," she said. "We just kind of take it day by day and we're just really lucky where we are right now with each other and the children."
Back to All