GRANT SETTLES INTO THE WEST
Nov 13, 2017
Alex Grant's approach to hockey is a lot like his booming, blue-line slap shot – direct and on target.
"I can't stand losing. I've always hated it," the 28-year-old Iowa Wild defenseman said recently. "I've been on a couple of bad teams and it wasn't much fun. Teams that win have a lot more fun."
Grant was among six key free agent signings of veteran players for the Iowa Wild as they attempt to break into the top half of the Central Division of the American Hockey League and earn a spot in the Calder Cup playoffs for the first time in five seasons. Grant's resume (particularly a career year 49 points that included 17 goals last season with Providence) and his personality spoke volumes to the Minnesota Wild front office.
"First of all, Alex is simply a great person," Coach Derek Lalonde said. "Second, he is passionate about winning. Third, he has an NHL slap shot from the blue line. "
Lalonde said that with that combination, Grant, a fourth-round draft choice by the Pittsburgh Penguins in the 2007 NHL Entry Draft, was an ideal selection for a free agency contract with the Wild. Grant, who was signed along with veteran defenseman Ryan Murphy, is expected to help fill the vacancies created now that defensemen Mike Reilly and Gustav Olofsson have become regulars on the Minnesota Wild roster.
Grant appreciated the Wild's interest when free agency signings began. Prior to signing with Iowa, Grant had played for Wilkes-Barre/Scranton, Norfolk, Binghamton, Springfield and Providence.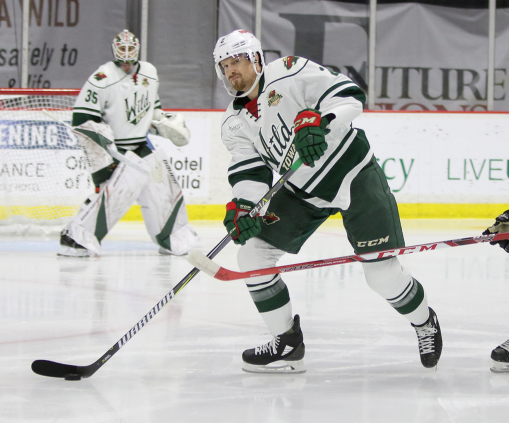 "Any time a team shows interest in you and early during free agency, it feels good," the Antigonish, Nova Scotia native said. "It makes you feel wanted. The situation seemed pretty ideal to me. I still think I can be an NHL player, but it is something I have to prove."
Grant also said the Wild's offer also intrigued him because it meant playing in a completely different region of the American Hockey League. Grant also talked with Nathan Belliveau, the former Iowa Wild equipment manager for four seasons, about Des Moines.
"After talking with Nathan, I decided it was a good opportunity to try out the West," he said. "I haven't played in the West before but I did know some about Minnesota and that it's a top organization."
So far, Grant, who has played in the Atlantic Division for most of his AHL career, said he hasn't seen a whole lot of difference between the East and West.
"The Atlantic Division is incredibly structured and detailed and they have a lot of high-end players who make plays," Grant said. "Here, there is a lot of skill and pace, but maybe not as much structure as I've seen. Still, this is a very good league no matter what the division."
Grant said his early challenge in joining Iowa has been to adjust to new opposing teams and players who are more likely to use speedy attacks and less structure. "I knew every team in the East pretty well and most of the players, so it's been a learning process here."
What Grant isn't concerned about is that his career year with Providence last year – 17 goals and 32 assists – will become a permanent career year. Grant recently scored in three consecutive contests and has seven points for the season.
"I know I can be better than last year," Grant said. "I know 17 goals is a lot, but I feel like I can be between 15 to 20 goals this season. I don't think about it a whole lot because I know what I can still do."
Lalonde said that Grant's slap shot not only provides them with an offensive weapon, but a presence that opponents must acknowledge with their defensive alignments, especially when Iowa's power play is on the ice. As evidence, Iowa's power play, despite a slow start, converted nine times in a five-game span heading into action on November 12.
"Not only does he have a shot, he has the presence of having a shot," Lalonde said. "Every team that pre-scouts us has to take notice. The fact that he has that kind of shot makes them adjust their PK alignments."
Grant said his shot is the product of hours and hours of practice from the time he discovered hockey. He said the family had a small sheet of ice for him to spend hours shooting the puck.
"I shot a lot of pucks when I was kid. It's just something I like to do," he said, adding that his love for golf (he has a 3.5 handicap) helped as well. "I played a ton of golf as well. The motion is pretty much the same."
Grant and his wife, Nancy, have settled in West Des Moines with their 11-month-old son, Cooper. He said that Des Moines has been a pleasant surprise to his family.
"I didn't have a clue about Des Moines before I signed," he said. "It is a great spot. This would be one of the better cities if this was in the East somewhere. There are a lot of run-down downtowns in the East. We've found that this area is a great spot for our family."
As for the rest of the season, Grant, as usual, was direct.
"We have a good team, but we still have to get much more consistent," he said. "The skill level is there, but we've got to get the power play going at a high level if we want to be successful. We just have to put it all together, preferably sooner rather than later. "
And with wins in four of their last five games, including three straight victories, Grant and ­­the Wild appear on the right path.
Back to All