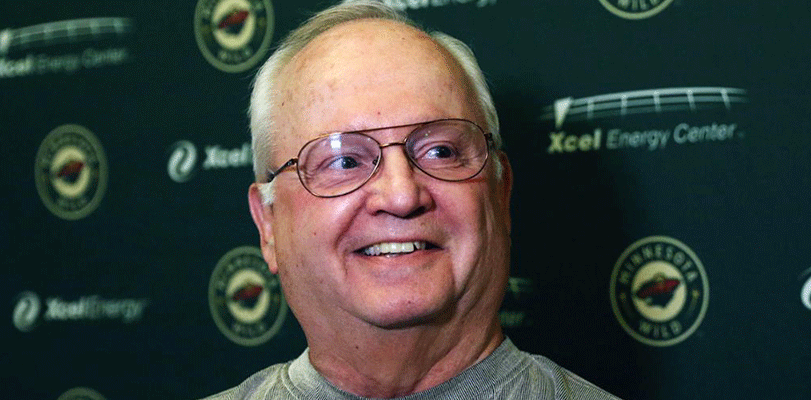 JACK FERREIRA BRINGS DECADES OF HOCKEY EXPERIENCE TO MINNESOTA AND IOWA
Jan 31, 2019
By Tom Witosky
Follow @toskyAHLWild
Tim Army always knew when Jack Ferreira had been in his office during their days together with the Mighty Ducks of Anaheim.
"I'm a bit compulsive and Jack knew that," the Iowa Wild head coach remembered recently. "I always like my marker in one place and pictures put in a certain way. I always left my desk organized in a certain way."
But when the young Army would walk into his office the next day, the Ducks' general manager clearly had left it a bit different.
"Pictures would be turned over or moved somewhere else, the marker would be somewhere else on my desk and I'd know that the boss had been in there," Army said. "He always knew how to get me to laugh."
For Ferreira, the Minnesota Wild's senior adviser to general manager Paul Fenton, that's what hockey should be about – fun. It's been that way for his entire professional career, which began with the New England Whalers of the World Hockey Association and has spanned almost 50 years since with scouting and top management jobs in the National Hockey League.
Ferreira, 74, who recently made his third visit to Des Moines to watch the Iowa Wild play, is in no mood to stop traveling to scout and assess professional hockey players. He says he intends to see the Wild again during their upcoming West Coast road trip and possibly a couple more times before the end of the season.
"I said to my wife that I could retire," he mentioned. "But as long as someone wants to pay me to watch a hockey game, I'm going to do it. And she's not against it."
That kind of straight answer is classic Ferreira according to Army, who first met the man who would become his mentor while scouting a couple of prep school games in 1989. Army was an assistant coach at Providence College and Ferreira had worked his way up to the general manager of the Minnesota North Stars.
"I was with a Minnesota North Star scout named Smokey Cerrone and we would go around with local scouts to games around Rhode Island," Army said. "One day, I went to a couple of prep school games with Smokey and Jack."
Little did Army know then, but their meeting would develop into a close professional and personal friendship that would last 30 years, beginning with an assistant coach job with the expansion Mighty Ducks. It also led to Army getting to know Paul Fenton, who became a scout for Ferreira after his hockey career, and Tom Kurvers, who finished his playing career there.
Thirty years later, Fenton and Kurvers, the AHL Wild's general manager, were the ones to hire Army last summer as Iowa's coach.
"Jack has been a mentor for me," Army said. "Jack is a guy who has been around the game his whole life and it's that experience and ability to evaluate hockey players as well as anyone that has made him successful."
How successful? Ferreira owns three Stanley Cup rings – one as director of player development for Montreal in 1993 and two as general manager for the Los Angeles Kings in 2012 and 2014. He also has the reputation for making shrewd trades, including one that turned the Anaheim franchise around in 1996.
"It's one of the best trades ever in NHL history," Army said of Ferreira's deal with Winnipeg for future Hall of Famer Teemu Selanne in exchange for two top draft choices. Selanne joined forces with Paul Kariya, the Mighty Ducks top draft choice in 1993, making the Anaheim club a playoff-worthy club in just three seasons.
"Expansion clubs weren't treated very well back then," Army said. "He made one of the greatest trades of all time and changed the franchise for all time. We made the playoffs for the first time and Jack made some subtle trades throughout the year. Those trades are what made us a very good, battle-tested team with a lot of younger guys. "
Ferreira returned the compliment when asked about Army's hiring. Ferreira said he didn't participate in interviewing Army, but knew he would be one of the top candidates.
"Tim is a brilliant guy. It doesn't take him long to figure out a player as to his personality, what his skills are and what he can contribute," Ferreira said. "The other thing about Tim is that they always know where they stand with Tim. There are no mysteries."
As senior advisor to Fenton, Ferreira's assignments have led mostly to reviewing and assessing the club's current stock of players. Army said that has always been one of Ferreira's strengths.
"Player evaluation is his strength," Army said. "Anyone who starts out as a scout likely is going to have that strength. He also is very good at recognizing people and understanding their personalities and how that person can fit into a good organization."
Ferreira has been on Fenton's staff since June and acknowledged he has spent a lot of time looking at the Iowa Wild's roster.
"We have some work to do as everyone does," he said. "But Tim is a terrific development coach and the staff he has put together has worked really well with these kids."
Ferreira said the club, which is fighting for its first playoff spot since arriving in Des Moines, is doing the job not with a star player, but with competitive tenacity.
"If you were to look at our roster and the fact that we are fighting for first or second place in the division, you have to acknowledge they are really competing," the Providence, RI native said. "They are doing a heck of a job because we don't have the big superstar down here."
Ferreira also said Iowa will receive a lot of attention because Fenton understands the reality of building a consistently successful NHL roster.
"In the cap age, if you don't develop your own players, you aren't going to survive," Ferreira said. "You constantly have to have that influx of new talent coming along because of the limits on the payroll."
Ferreira pointed to the pressure the Tampa Bay Lightning has to sign Brayden Point as an example of what happens when young players get beyond their entry-level contracts.
"They have to find a way to sign him to a new contract because he's got 30 goals already this season," he said. "If you don't have your own young players coming in that you can sign at an entry-level price so the club is able to sign star players, you can't maintain your structure. It is a cycle of bringing in younger players who can play the game well and signing veterans to larger contracts."
With AHL teams now beginning their drives for playoff spots, Ferreira expects to learn a lot about Iowa's roster.
"In the next 30 or so games, some are going to get a lot better, some are going to plateau, and others might not," he said. "It's like water, they will seek their own level."
At the same time, Ferreira said a top-four finish in the Central Division and experience playing in the Calder Cup playoffs has to be considered the overriding goal for the club right now.
"You'd love to have that because when it comes to development, you want to get them used to winning," Ferreira said.
Back to All