KURTIS GABRIEL ON THE ROAD TO RECOVERY
Dec 1, 2017
By Tom Witosky | @toskyAHLWild
Kurtis Gabriel's right arm may be immobilized right now, but it isn't stopping him from working out.
On Tuesday morning, as his Iowa Wild teammates were going through a morning skate, the four-year Wild winger put in a 60-minute workout that left him sweating and tired, even if weightlifting was limited to one arm and his legs.
"There really isn't anything I can do about it so I am just going to move forward day by day," Gabriel said referring to a major injury to his right wrist after he fell accidently on the back point of an opponent's skate blade during the Wild's victory over Grand Rapids on November 17. "Instead of playing hockey everyday, the challenge is to work out to get stronger and do my best to be as good as I can be after I get back."
And make no mistake, Gabriel intends to be back on the ice in a Wild uniform before the end of the 2017-18 season despite a partial cut of his median nerve, as well as damage to a major muscle and a ligament in his wrist. The 24-year-old Ontario native underwent successful surgery to repair the damage three days after sustaining the cut that scared just about everyone on the Iowa bench.
"It was scary," Head Coach Derek Lalonde remembered. "I didn't know if he had broken his arm or what, but the look on his face showed he was scared. He was screaming in pain."
Gabriel said that what scared him most was the pain he felt when he got cut. Gabriel had flattened a Grand Rapids player into the boards just prior to getting cut.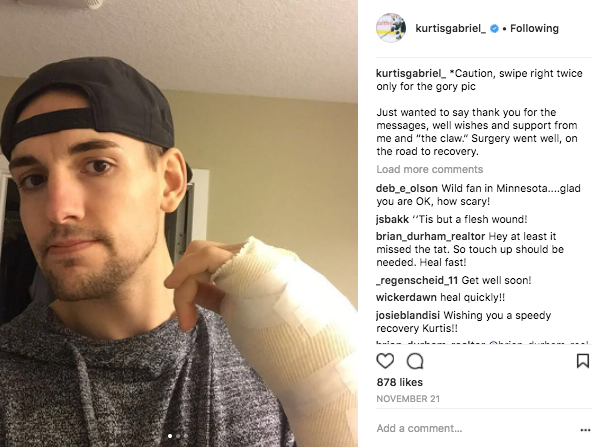 "I had turned away to see where the puck was after I knocked him over," he said. "He was trying to get up right behind my knees when I fell backward over him. The back point of his skate was pointing up when I fell back and I hit directly on the back point of his skate."
Immediately, Gabriel felt a searing pain that told him he had been injured severely.
"I've had a broken wrist, but that didn't hurt like this did," Gabriel said. "It was obviously pretty crazy, but that was because the nerve was cut. It felt like it was on fire."
Gabriel said he also knew the injury hadn't cut an artery. "Actually it didn't bleed that much so I knew the artery was fine," he said.
Now on the road to recovery, Gabriel said he will use the time to work on gaining strength. How long it will take for him to return to the ice is up in the air, he said.
"It depends on how I respond to rehab," he said. The Wild's medical staff has said it could take around 12 weeks for him to get back to action.
The biggest problem will be giving the soft tissue in his wrist enough time to recover. Iowa's all-time penalty minutes leader said he will be skating long before he can pick up a stick to practice shooting and passing.
"The soft tissue takes a long time to come back," Gabriel said. "A broken bone mends pretty quickly, but soft tissue takes a while. I will be on the ice long before I can start playing [in games]," he added.
Gabriel said he's received a lot of support from fans who voiced their encouragement after the accidental injury.
"I got a lot of tweets after it happened," he said. "I've been getting a lot of fan support and I really appreciate it."
As for the injury, Gabriel said he could be philosophical about it now.
"I've dealt with it mentally, and now just have to make sure I get ready to get back at it," Gabriel said, adding it's his first serious injury in nine years. "I guess I was due for something like this."
Back to All