LANDON FERRARO ALWAYS DESTINED FOR HOCKEY
Nov 20, 2017
By Tom Witosky | Follow @toskyAHLWild
Landon Ferraro's first goal in an Iowa Wild jersey may well be remembered as one of those early-turning points necessary for a successful season.
With the Wild trailing Cleveland 2-0 and less than three minutes remaining in the second period, Ferraro dug the puck out of the Monsters' corner, turned and drove toward goalie Brad Thiessen. A quick shot and rebound then found its way into the net. A minute later the Wild tied the game, then went on to win in the shootout. The November 12th victory completed the club's first back-to-back sweep of the season and sparked its first real winning streak.
"When Landon is going, it looks like the goal he scored against Cleveland," Iowa Wild Head Coach Derek Lalonde said. "He is good on the forecheck, he is good around the net and he is good on the penalty kill."
For Ferraro, his first two goals of the 2017-18 season – one with Minnesota and one with Iowa – provided more than the goals in winning efforts. Ferraro also obtained solid evidence that his return to professional hockey was underway after missing most of last season due to a knee injury.
"It's been tough over the last year or so. I am still working back from my knee surgery," he said recently. "It's been better every game that I've played since I got back."
Ferraro, the son of veteran NHL center Ray Ferraro, was one of the six veterans signed by the Minnesota Wild in the off-season as a means of providing veteran depth to the Minnesota roster as well as improving the chances that the Iowa Wild will qualify for the Calder Cup playoffs this season. On paper, Ferraro looked like a solid choice to help Iowa (which ended last season near the bottom of the league in scoring) improve its offense.
In 292 AHL games, Ferraro has collected 156 points with 83 goals and 73 assists. He also had played in 75 NHL games, mostly with the Boston Bruins.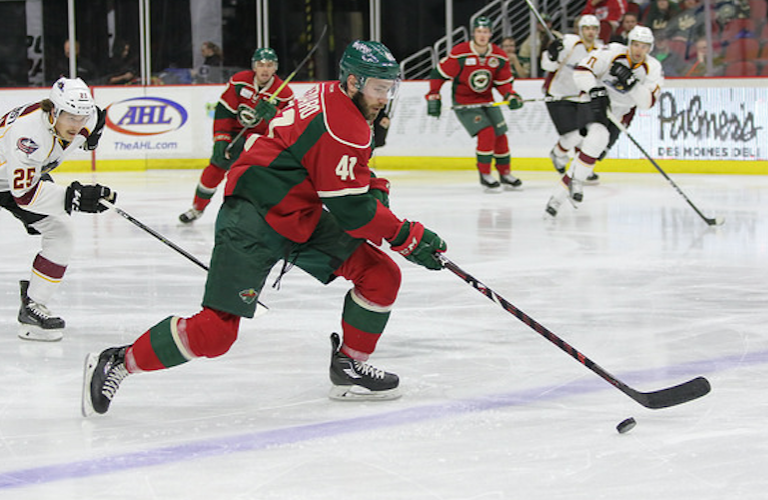 Lalonde said that, as Ferraro regains his strength and feel on the ice, his importance to the club will increase. Lalonde already gives Ferraro credit for helping make the Wild's penalty kill among the best in the AHL.
"He has speed, he is smart, tenacious and has a good shot," the Wild head coach said, pointing out the club now ranks first in the AHL in penalty kill. "Our PK makes a big difference. He has the hockey sense to break up scoring chances near the goal. He is a big part of the PK."
Where does that hockey sense come from?
"That comes from growing up in a professional hockey family," Ferraro said with a smile. "From the earliest I can remember, I always wanted to play professional hockey and believed I could."
Ferraro's father played 12 seasons in the NHL with six teams, beginning with the Hartford Whalers in the 1984-85 season, and ending with the St. Louis Blues in 2001-02. In between, Ray Ferraro played for the New York Islanders and Rangers, the Los Angeles Kings and the Atlanta Thrashers.
Landon Ferraro said that he and his brother grew up almost living in NHL locker rooms.
"When we were little, we would go to every weekend game we could," Ferraro said. "Sometimes we were lucky and were able to go to a weekday game. But any practice that happened when I didn't have school, I was at. I was obsessed with hockey."
At the age of 10, Ferraro said he landed his first job with an NHL club.
"In my Dad's last year in Atlanta, I got to work in the room. I was filling water bottles and cleaning visors," he said.
That's also was when Ferraro got a realistic look at life in professional hockey.
"The biggest thing I took out of it was, I saw how hard they worked, but at the same time I got to see how much fun they get to have while at work," he said. "It has always been something that I knew I wanted to do."
At age 15 and back in British Columbia, Ferraro started up the hockey ladder after being drafted by the Western Hockey League's Red Deer Rebels. In 2009, the Detroit Red Wings drafted an 18-year-old Ferraro in the second round of the NHL Entry Draft. For Ferraro, it seemed a seamless transition, even though it meant moving away from home at a young age and being largely on his own.
"I was used to moving around," he said. "To me, it was like I was already in the NHL. It was the coolest thing ever," he said.
He also said that "it's the most fun you ever have playing hockey."
"You don't really have anything else to do," Ferraro said. "You go to school, then to practice, then a friend's house to play video games, then hang out until curfew. It was awesome, especially when you are out of school."
During those youthful days, Ferraro also became close friends with another budding hockey prospect from Trail, BC – Craig Cunningham.
"We started being together at the age of 10," Ferraro said. "We were playing on the same teams. We spent a lot of time together every summer. I don't have many friends from the time I was growing up, but Craig is one of them."
A year ago, Ferraro had just finished helping the Chicago Wolves defeat Iowa 5-0 when he checked his phone in the home locker room. "I never check my phone after games. I did for some reason. My dad had texted me and told me to call home right away."
Ferraro learned from his father that his childhood friend was on the brink of death after collapsing from full cardiac arrest just prior to the start of a Tucson Roadrunners home game. Rescue responders and physicians desperately worked to revive Cunningham for 85 minutes on the ice before taking him to a local hospital for emergency surgery. Cunningham survived, but the long road to recovery eventually cost him part of his leg. Physicians resorted to drastic steps throughout the hours and days following the incident, which included use of a breathing apparatus placed inside both sides of Cunningham's groin.
"I broke down when I got the news," Ferraro remembered, adding that he left Chicago (with the team's permission) to be with his friend. "It was really hard to see him like that, but I had to be there."
Less than a month later, Ferraro would tear an anterior cruciate ligament in a game against Milwaukee and be lost for the rest of the season.
"Honestly, I wasn't happy I missed the rest of the year, but it did allow me to fly down to see Craig a couple of times," Ferraro said, adding that he was with his friend within a couple of days of the amputation surgery. "Craig is fine now and coming back well. He is going to be a general manager somewhere."
At 26, Ferraro said that Cunningham's health problems and his own knee injury prompted him to begin thinking about the future. He insisted that he's got 10 more years of playing hockey, but also acknowledged he is about to make a transition.
"I am getting to the age now where I don't have many years left of being a guy who is a prospect," Ferraro said. "I've got one or two more years of that until I move into becoming the veteran AHL guy."
And that will be a challenge, given the talent of younger players coming up and the fact that the AHL is becoming stronger every year as a result of more NHL veterans ending up in minor league hockey due to a combination of the NHL salary cap, and more emphasis on depth on rosters.
"Every year you look at the young guys who are coming into the league and the difference between those in their first year now and me seven years ago is completely different," he said. "We come in now and unless you are a really skilled player or in a weaker organization – there generally is no room for you," he said.
Minnesota approached Ferraro during the off-season – something that Ferraro knew had real potential for him. He also wasn't surprised because Minnesota had attempted to claim him on waivers when Detroit released him.
"It was a good feeling knowing that they had tried to get me before," he said. "They also made it clear they wanted me to be here and be part of their depth."
He also said that playing in Des Moines was attractive to him as well.
"It is a hidden gem to be honest," he said. "Des Moines isn't one of the places you think of for hockey. But it's everything you could look for in an American League city. Plus the facilities are a step above 90 percent of the American League."
As for the rest of this season, Ferraro, who was a member of the Grand Rapids Griffins first Calder Cup championship team, said he is still hopeful to return to the Minnesota line-up before the end of the season, but also understands his role with the AHL club.
"I feel like I have more to give and want to earn a spot to play in NHL for multiple years," he said. "At the same time, we have depth in scoring, good defense and two solid goalies [in Iowa]. We should be able to do some pretty good things during the season."
Back to All