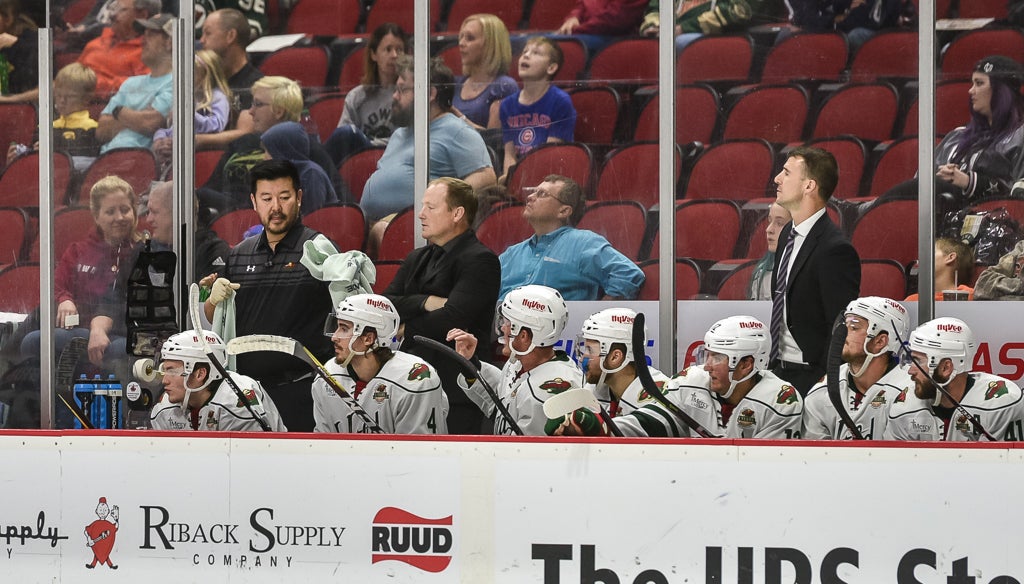 "MASA" FALLING INTO PLACE WITH THE WILD
Dec 31, 2017
By Tom Witosky | Follow @toskyAHLWild
As a young man growing up in north Japan, Masayasu Takaiwa played baseball, soccer and ran track.
Day in and day out, the young man competed in various sports with the belief that when he grew up he might be able to play professionally, particularly in soccer. That dream came to a crashing end when Takaiwa (pronounced TAKA-E-WA) injured a medial collateral ligament in one of his knees as a high school sophomore.
"I really hoped I would become a professional soccer player," the Iowa Wild's first-year head athletic trainer (known to everyone in the club as "Masa") said. "But after the injury my soccer skills began to go down. That was when I started realizing that it isn't good and I also began thinking about my future."
It was that line of thinking that changed his life and has resulted in him becoming one of only two Japanese-born athletic trainers in North American professional hockey.
"That injury was a good thing for me to start thinking about," he said. "At that time, we didn't have athletic trainers. So I just went to a doctor's office and did the rehab they told me to do. That was when I figured out what my future would be. I've wanted to be an athletic trainer ever since."
Those who know Masa, who replaced Jody Green, now an assistant athletic trainer for the New York Islanders, say that the Wild couldn't have found a better person to take over the important role. Wild veteran defenseman Zach Palmquist, who got to know Masa when he was the athletic trainer at Minnesota State-Mankato, said that he recommended his former trainer immediately to the Iowa coaching staff.
"He is all about the players and he cares so much about this job that he gives it everything he has," Palmquist said. "He cares about you as a person and wants to get you back onto the ice as soon as possible. But he also doesn't push you back onto the ice too soon because he wants you at 100 percent."
Iowa Head Coach Derek Lalonde learned the same thing from those recommending Masa for the job.
"I haven't ever had anyone as highly recommended as an employee. Between Chuck (Fletcher), Brent (Flahr) and I, we probably had 30 to 40 phone calls recommending him in a 48-hour span," Lalonde said.
Those recommendations traced Masa's work history all the way back to when he was a student at the University of Nebraska-Omaha after he left his family in the picturesque Tochigi Prefecture three hours north of Tokyo 23 years ago. Masa said the departure wasn't easy, but that his dream to become an athletic trainer was what mattered most.
"When I told my mother what I was going to do, she said, 'No, I don't think you can do this,'" Masa said, with a laugh.
After arriving in the U.S., Masa spent his time first learning to speak English at a local Omaha community school, then attending UNO where he graduated with a bachelor of science in physical education, and completed his first athletic training program. In quick order, he finished a master's degree at Kent State where he also doubled as graduate assistant trainer for the Golden Flashes athletic teams.
During those years, Masa met Naoto "Nates" Goto, a fellow countryman, who had become the athletic trainer at the University of Niagara. After his years at UNO with its hockey team, Masa said his mentor, who is now an assistant trainer for the NHL Columbus Blue Jackets, solidified his interest in hockey and working with hockey players.
"I slept on his couch for a month, but learned so much up there," Masa said. "I also learned how really cold it is in Niagara in the winter."
In 2009, he returned to UNO as an assistant trainer focused mostly on the Maverick's Division I hockey team. He remained there until 2014 when he became assistant trainer at Minnesota State, where he met Palmquist. Palmquist got to know Masa well in the aftermath of a roommate on the team who sustained a severe eye injury.
"Masa was with him 24/7 as he went through all of that," Palmquist said. "He took him to and from the hospital. When he had surgery Masa was always there. He came to our house all the time to take care of him."
Since his time at Minnesota State, Masa spent a year with the Dallas Stars as a team massage therapist as well as an assistant athletic trainer and concussion spotter. During his one year with the Stars, Masa said he built his confidence to work with elite professional athletes, particularly those from different countries.
"The American players are different from the Canadian players, who are different from the Swedish or Finnish players when it comes to treatment," he said. "You have to figure what their mindset is. You have to understand the culture as much as the physiology."
As the Wild's athletic trainer, Masa is in the Wild locker room early and stays late. His job includes providing therapies for injured players, exercise routines for those rehabbing, attending on-ice practices, and a myriad of other duties, including the maintenance of complete medical records of all players and other paperwork.
On home game days, he is also responsible for preparing the training room for the visitors. For road games, the training equipment transfer amounts to moving almost a small emergency room, which attempts to be ready for any eventuality, including the off-chance that a player's life might be imperiled.
"All injuries are serious until you know for sure what you are dealing with," he said. "I'm not a doctor. My job is to make these guys comfortable, provide the appropriate care and, if necessary, first aid."
Another responsibility is to calm athletes when they are initially injured. In November, Wild forward Kurtis Gabriel received a severe skate cut to his wrist when he and an opponent were battling along the boards. Gabriel reacted immediately and hurried to the bench where Masa escorted him to the locker room.
"My job is to keep them calm. All the screaming and cursing isn't going to help," he said. "The first thing that has to happen is to keep calm. Obviously, this wasn't a life threatening situation, but very, very painful. We just dealt with it and got him the medical assistance he needed."
As the Iowa Wild's head athletic trainer, he also will play a key role in the team's success this season.
"He is part of the team, and wants to be part of the winning culture we are developing here," Palmquist said. "If he does his job well and can keep everyone healthy and tell guys what to do as they go through rehab or daily therapy, it is an integral part of the team."
That's a challenge that Masa is more than willing to accept.
"I get up every morning wanting to get to work," he said. "This is the job I've always wanted."
Back to All