MAYHEW'S VERSATILITY LEADS TO A NEW ROLE
Dec 13, 2017
By Tom Witosky | Follow @toskyAHLWild
Gerry Mayhew's explanation for making it to the American Hockey League is a simple one: too many people told the 24-year-old Wyandotte, MI native that he wouldn't make it into professional hockey.
"I was always told that I was too small, not fast enough, blah, blah, blah," Mayhew said recently with a bit of a smirk. "But that talk always would get me angry, so I would go out there and play angry."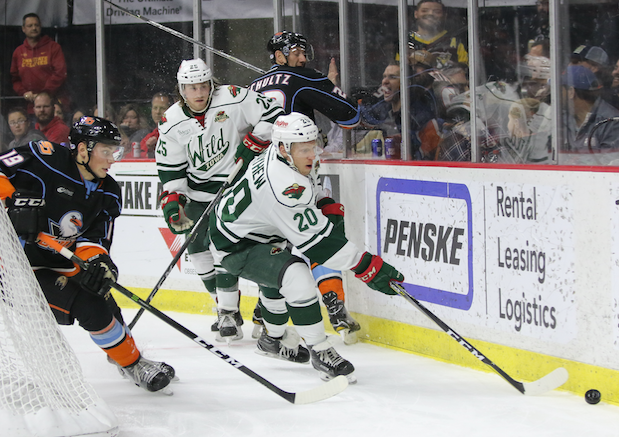 Now in his first full season in the AHL, the Ferris State graduate intends to show the skeptics just how wrong they were. So far this season, Mayhew has spent most of his time on the Wild's third and fourth lines – a different role from last season when he collected 35 points as a senior with the Bulldogs (which led the team) before turning pro and scoring six goals in 17 games with the Wild at the end of last season.
But that different role, according to Mayhew, is just another challenge to him – one that he has faced again and again.
"I was born on New Year's Eve in 1992, so basically, I've always had to play a year up because of the calendar," he said. "I know I am around 175 pounds, but I play a lot heavier on the ice. It's just fun hitting the big guys when they aren't expecting it."
But Mayhew's biggest contribution may not be so much in scoring – though he has started to light the lamp with goals recently against the San Antonio Rampage on consecutive nights – but in his versatility, a player value highly regarded by Iowa Wild Head Coach Derek Lalonde.
"Versatility is important right now and will be throughout the season," Lalonde said. "You can't control call-ups, you can't control injuries."
He also pointed out that versatility can help players make it to the NHL
"There have been times when Bruce (Boudreau) has called and asked about a specific position," Lalonde said. "But the fact that we have players who can play any of those positions helps us with the call-ups."
At the end of last season, Mayhew often played on the top two lines as injuries and trades (both in Minnesota and Iowa) depleted the organization's AHL lineup at a critical moment in Iowa's bid for the 2017 playoffs. Lalonde said he had no hesitation in signing Mayhew to a one-way AHL contract right out of college because he had played at Ferris State and in the USHL – places where Lalonde had coached.
"We were so thin that he was among the top six and had some scoring success," Lalonde said. "Now that we are deeper this year, we have asked him to play a different role. What's been special about Gerry this year is that he can complement our top line and complement our bottom line. Right now, he is doing a good job of it."
Mayhew said the shift in on-ice responsibility has forced him to focus more on the team's structure, as well as where he needs to be on the ice.
"At first, it was kind of tough. For example, when you go to the point you have to be careful of the angle you take," he said. "Then, there are the times I find myself on the right side when I should be on the other side."
Mayhew acknowledged that at times he has made mistakes, but those problems are overcome mostly by continuing to learn while playing hard and simplifying his game.
"Hockey is a simple game in a lot of ways. You can't think too much or you might screw things up," he said.
As for this year's team, Mayhew said the club has the talent and the experience to qualify for this year's Calder Cup Playoffs. He said a recent loss to Milwaukee, even though Iowa had outshot and out-chanced the Admirals, made him more convinced of it.
"We said after the game to each other that we will win 9 of 10 if we play like that," he said. "Some games will go the opposite when we don't play as well. We've got a team that is close and has talent. It should be fun throughout the entire season."
Back to All