ROSTER DEPTH PROVIDES OPPORTUNITY
Oct 18, 2017
By Tom Witosky | Follow @toskyAHLWild
When Derek Lalonde picked up the telephone last week, he knew what the call was about.
Just two games into the 2017-18 American Hockey League season, Bruce Boudreau, the head coach of the Minnesota Wild, delivered the bad news that Lalonde, the Iowa Wild's head coach, suspected was coming. Two top Minnesota forwards – Zach Parise and Mikael Granlund – couldn't play because of injuries and replacements were needed. Complicating the issue was the Wild's salary cap and the fact that their existing roster left little room to maneuver players around to make sure they remained below it.
"I knew we were going to lose players, but that's our reality," Lalonde said. "That's what this league is about."
Losing a forward or two to the NHL is no big deal for any AHL coach, but when forwards Nino Niederreider, Marco Foligno, and Charlie Coyle went down with injuries within 24 hours of Boudreau's first call, Lalonde and the AHL Wild players entered into an entirely new experience.
"It was an interesting 24 to 48 hours to say the least," Lalonde said. "We are trying to get ready for two games and now we are dealing with what Bruce and the management staff needed. I'd call that a unique and exciting experience."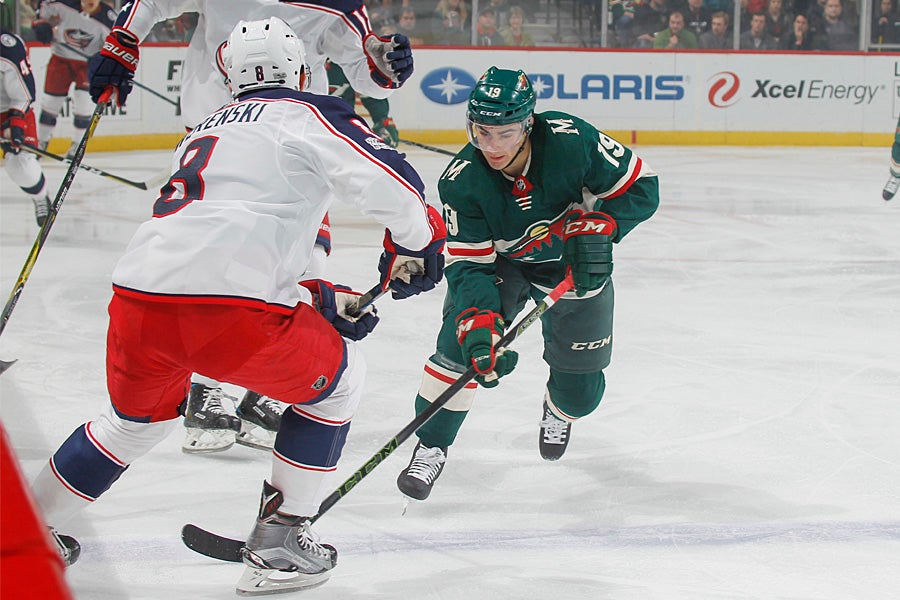 But Lalonde said while no one could have anticipated the so many top forwards all at once, the Wild spent the summer preparing for such a possibility. While the bad news was that Iowa was about to lose four guys, the good news was that Lalonde, Boudreau and the rest of the Minnesota player development crew had eight players to choose from to call-up as replacements.
"If this had happened last year, we would have known immediately just exactly who it would have been and why," Lalonde said. "This year, there were seven to eight players who were in the discussion, which is a credit to this organization's push to develop depth."
Lalonde said how the Wild deals with this unusual cluster of injuries likely will be felt throughout the season both at the NHL and AHL level. The stakes are going to be high with Minnesota attempting to penetrate deep into the Stanley Cup playoffs and Iowa attempting to make the Calder Cup playoffs for the first time in five seasons.
Surprisingly, Lalonde and Brent Flahr, Iowa's general manager, insisted the signing of a number of veterans like Landon Ferraro, Pat Cannone, Cal O'Reilly and Kyle Rau in the offseason combined with the continued development of players like Luke Kunin and Carson Soucy, providing both clubs the ability to overcome the early season adversity.
"We've got good competition down at that level and that gives the option of bringing in the ones who are playing well," Flahr said.
Lalonde agreed, adding that he's had two telephone conversations with Boudreau this week as both teams prepare for weekend series. In each conversation, Boudreau asked that Lalonde put together a variety of combination of players, adding that he expects several players to be called up
"He was almost apologetic about asking me to work on some things," Lalonde said. "That's easy and I'm happy to do it. We are an extension of the team and we understand that."
For the players in Iowa, the uncertainty actually provides substantial opportunity to each player. And, Lalonde said, the opportunity to be called up to Minnesota this week has spurred several intense practices in preparation for Iowa's weekend series against the Manitoba Moose.
"We are using the time to emphasize the compete level in each player. That is how you drive up the competition intensity. We have had very spirted practices." Lalonde said.
Last weekend, Minnesota called up forwards Christoph Bertschy, Luke Kunin, Landon Ferraro and Zack Mitchell to play in the Wild's home season-opener against Columbus. For Kunin, it was his NHL debut, but that night was almost as special for the other three.
"For me it was my first time back in the NHL in two years," said Ferraro, who played 68 NHL games with Boston in the 2015-16 season. "It had been a while. To score was even better. It was a lot of fun."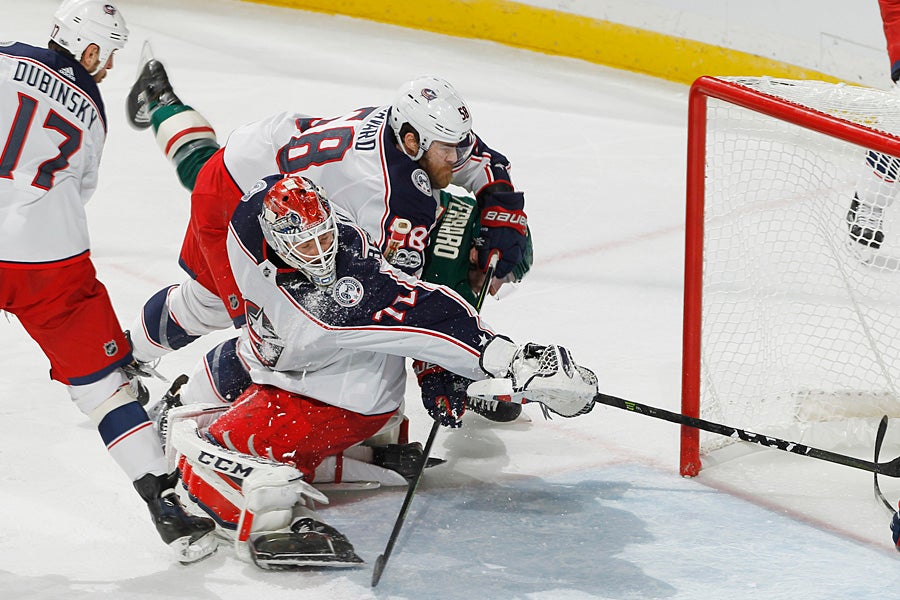 Ferraro scored the seventh NHL goal of his career after Mitchell had intercepted a pass in the Blue Jackets zone.
"Mitch made a nice pass to me and I got a good shot on net," Ferraro said, adding he thought initially that Columbus goalkeeper Sergei Bobrovsky had stopped the shot. "Luckily the crowd got excited so I poked my head around the goalie's back. It was just sitting there so I dove at it and hit as hard as I could."
Ferraro, Bertschy and Mitchell learned of their call-up after the three had helped Iowa defeat the Ontario Reign 3-0 last Friday.
"We found out after the game and that meant we had to get going pretty quick," Bertschy said, adding that the players had to go to their apartments to pack.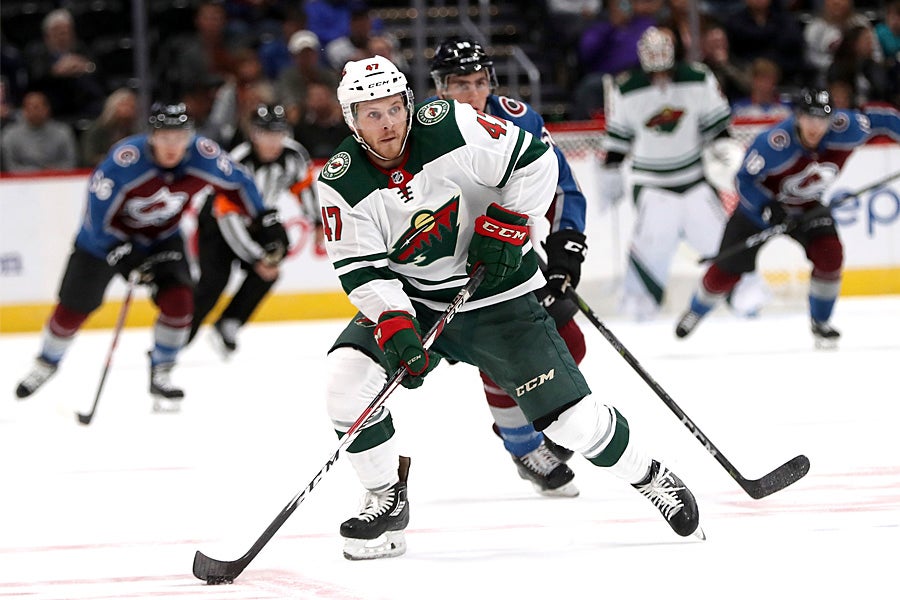 The group arrived in St. Paul at about 3:30 a.m.
"We had a car service take us," Ferraro said. "We dropped the gear off at 3:45 a.m. and got to sleep about 4 a.m. Then we had a 7:30 wake-up call to get over for the morning skate.
Bertschy added: "I think I got more sleep during my afternoon nap than I did sleeping that night."
When the three arrived for the morning skate, they found the initial line-up had Mitchell on the third line with Kunin, Ferraro and Bertschy making up the fourth line. After the skate, Mitchell and Kunin were switched.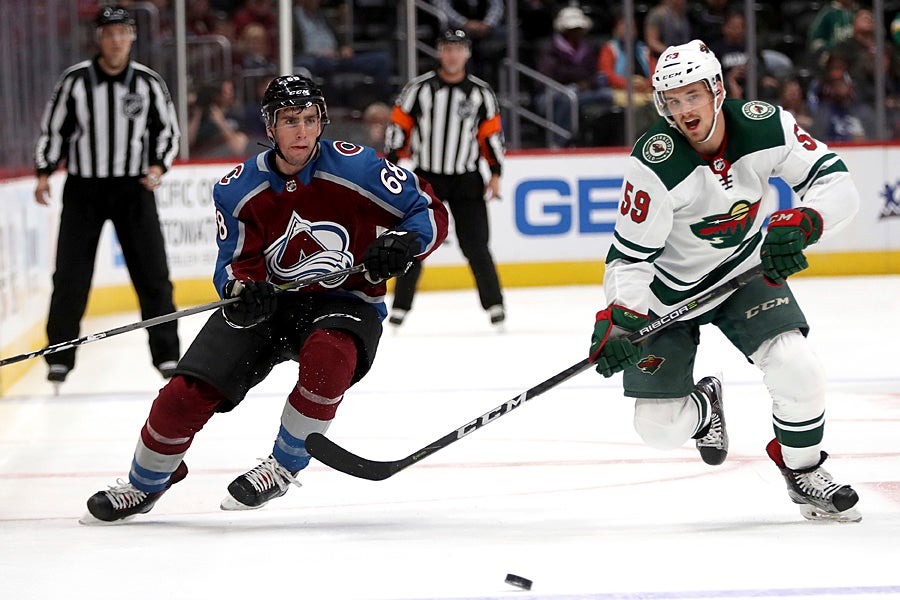 "To see four guys going up and then three of us on the same line, that was something different," Ferraro said. "It was nice going up with the other guys and being able to deal with it together."
For Kunin, the night was a special one. His parents, who live near St. Louis, and his brother, who attends Furman University in South Carolina, were able to make the game despite the late notice. Kunin said that his locker was located next to veteran Matt Cullen and that all of the Wild veterans provided encouragement as he got ready for the game.
"They try to make it as easy on me as possible and I really appreciated it," Kunin said.
Kunin said he is still in process of putting the night into perspective.
"Obviously, it was something that I had thought about my whole life," Kunin said. "When you are playing, you try to tell yourself it is just another hockey game. But later when you sit at home and think about it you understand it was a special moment. I just want to get back."
After the game, Boudreau said he had been impressed enough by the players from Iowa that he thought he should have given the fourth line more ice time.
Ferraro said that is exactly what Iowa players want to hear.
"What this shows is that they are going to need a lot of guys this year," Ferraro said. "So, it is up to you to make sure you are ready when the time comes that they need you."
Lalonde said that while Iowa fans might be frustrated with the number of players being called up as Iowa starts it's season, he is confident of the team's ability to compete. He said last Saturday's loss to Rockford provided the evidence.
"We could have been run out of the building in the first period, but we weren't. We got through the first period and then in the second period we are up 4-3 and with 10 minutes left on the road, we are 4-4." Lalonde said. "But that is on us. We have to find a way to get a result."
As a result, Lalonde said, the season is just getting started in a unique way.
"I know it sounds crazy, but it probably is going to help us in the long run," Lalonde said. "The reality is that everyone in this league goes through it. We just are going through it now and at an extreme level. We have to find ways to win and we are going to do it."
Back to All