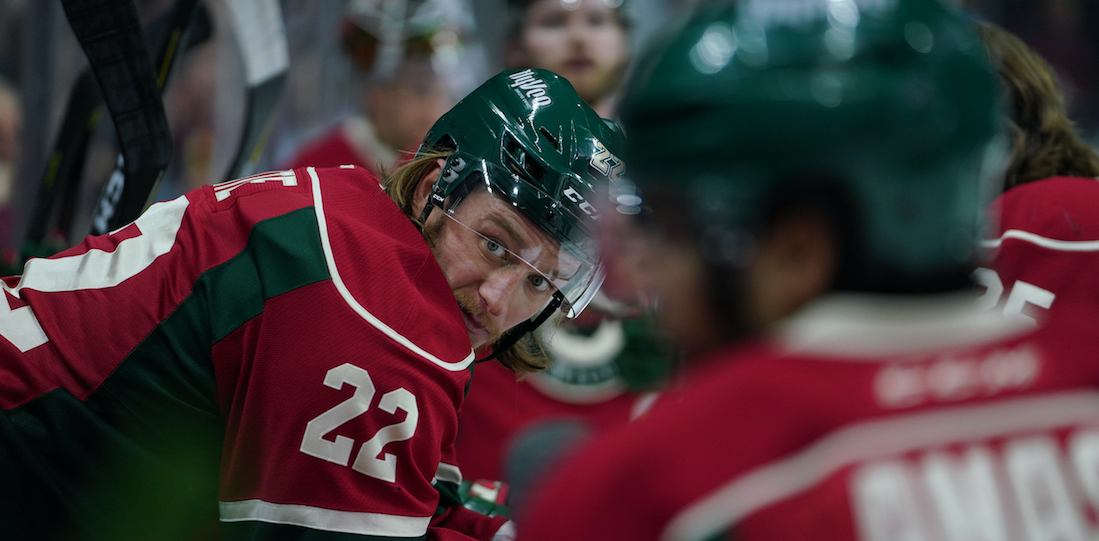 ROSTER MOVES CHANGE THINGS UP IN IOWA
Feb 15, 2018
By Tom Witosky | Follow @toskyAHLWild
Christoph Bertschy had just taken the ice for practice at Wells Fargo Arena last Thursday when word came down that Coach Derek Lalonde wanted to see him.
"I was called off the ice and went in to see coach," said Bertschy, who was in the final year of his three-year entry contract with the Minnesota Wild. "That's when they told me I'd been traded."
For Iowa Wild fans, the news of Bertschy's trade, along with forward Mario Lucia, to the New Jersey Devils in exchange for defenseman Viktor Loov, came as a shock. Bertschy, a likeable Swiss native, and Lucia, the son of Don Lucia, the head coach of the Minnesota Golden Gophers men's hockey team, were among the favorite players on the Iowa Wild roster.
But at this time of the hockey season, players who are fan favorites are just as likely to get traded as anyone, as player interests and team interests sometimes require dramatic change. For Brent Flahr, the Iowa Wild general manager and architect of the trade, a combination of circumstances including the depth of the Iowa Wild lineup based on the emergence of skill players like Zack Mitchell, Luke Kunin and Sam Anas made a trade necessary.
"We always want to be ready to make a move if something happens," Flahr said. "In this case, two players had asked for an opportunity to move elsewhere."
Derek Lalonde, Iowa's head coach, said Bertschy had been vocal in asking for a trade but had never let his request get in the way of playing for the Wild.
"Looch and Bertsch were big parts of this team, but they were getting pressure that they should be looking at the fact the window was closing here and they should be looking for a change," Lalonde said. "It was hard for them. But when Bertsch was here, he was fully committed to this team and the effort here."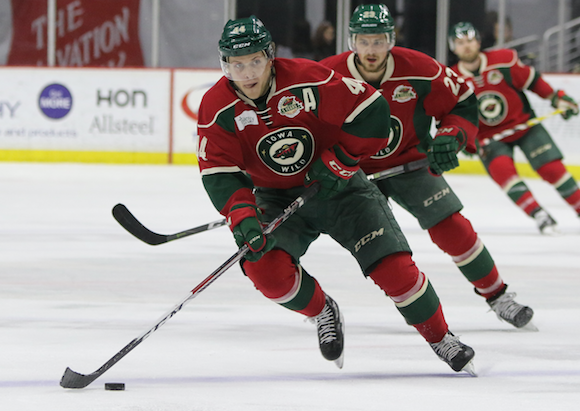 Complicating the issue were rumors that Bertschy already had signed a multi-year contract to return to the Swiss League in the event he didn't make an NHL roster this season or next season, Flahr said.
"He is a great kid and not someone I was really looking to trade, but I told him I would see what I could do for him," Flahr said. "Mario was in a bit of different situation. He was spinning his wheels here and he wanted to go looking for a bigger role on another team."
Flahr and Lalonde began work on the trade in late January, spending hours looking at video of defensemen that might be available from a team looking to pick up Bertschy and Lucia. Loov, a 25-year-old veteran with four seasons in the American Hockey League, interested them for two reasons – he has experience in the playoffs and he could bolster the Wild's backline with steady, defensive play.
"We looked at a ton of video," Lalonde said. "It's always a fine line of watching video and doing homework without tipping one's hand to others. We watched a ton of video on Viktor, when we decided that he was the guy we wanted."
Flahr said he found out the New Jersey Devils were interested and began to clear the way to finish the deal. But, Flahr said, another somewhat unexpected opportunity appeared on the horizon.
Veteran forward Ryan White, who had played for Minnesota last season, had been told by the AHL's San Diego Gulls he would play sparingly for them the rest of the season. The Gulls had stocked their team with a larger number of veterans, making it unlikely he would see much time on the ice.
"They were having a veteran problem and I wasn't going to be playing very much in the foreseeable future," White said. "My agent put in a memo to the league saying that, and Minnesota was the first team to bite back."
Ironically, White had just been in Des Moines with the Gulls, as well as former Des Moines Buccaneer general manager and coach Bob Ferguson. The Gulls practiced at the Bucs Arena prior to their game against Iowa, which the Gulls won with White scoring the deciding goal in overtime.
"It was like a homecoming for Bob and his son," White said of the visit.
Lalonde and Flahr already had discussed that the club might need an additional forward, particularly one who would be physical on the ice as well as a leader in the locker room.
"It wasn't necessarily Ryan at the start. But obviously, one of our needs was to be a bit heavier up front," Lalonde said. "Brent has his ear to the ground everywhere and knew about San Diego having too many vets and releasing Ryan."
Flahr had kept in contact with White's agent throughout the season. He said White, who was acquired by Minnesota as part of a trade last season, played well for the club even though they didn't progress past the first round of the Stanley Cup playoffs.
"Ryan is a great guy with experience who can help a young team," Flahr said. "This was pretty much a no-brainer for us."
Lalonde said that while the trade essentially had been made, Flahr didn't pull the trigger on the deal until Minnesota defenseman Jonas Brodin broke his left hand during the Wild's 6-2 win over St. Louis on Feb.6. That was the same night Iowa lost in San Diego 5-1.
"It was more coincidence than anything else, but at the same time we were talking about doing it, Brodin gets hurt, then later in the same game we lost Prosser," Flahr said. "I immediately thought we had to move because you can never have too many defensemen, particularly at this time in the season."
Lalonde said he learned of Flahr's decision when he received a text in the middle of the night after the San Diego game.
"A lot of times the plans you make for a trade don't work out, but when I got the text from Flahrsy, I felt really good about it," Lalonde said.
Lalonde wasn't alone.
"You just never know how a team is going to react in certain circumstances," White said of his decision to sign with Iowa last week. "I really liked my time in Minnesota and the fact that they wanted to talk to me interested me."
White arrived in Des Moines on Friday about two hours before the Wild took on the Chicago Wolves. He went directly to Wells Fargo Arena and suited up for the game, which Iowa won 4-1. Lalonde said White made it clear he wanted to take the ice with his new team.
"He literally begged to play," Lalonde said. "I wasn't going to get in the way."
Loov arrived in Des Moines Monday and played in the Wild's 3-2 victory over San Antonio. He knew nothing of the trade until after it was done.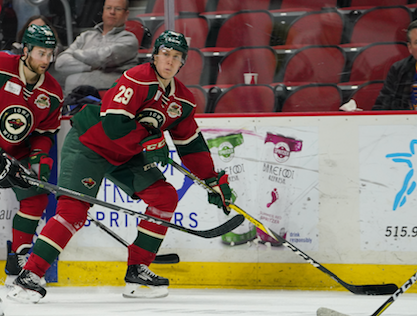 "It is just a part of the business," Loov said, adding that he had been surprised Minnesota was the team involved. "I had never talked with them before even when I was drafted [by Toronto], so it was pretty surprising."
At the same time, he is glad to be with Iowa, especially given its record.
"It's hard to play hockey when you are losing," he said. "This looks like a lot of fun."
Back to All