THE WILD WIRE - #17
Feb 14, 2019
I initially planned on focusing this week's blog on the pair of huge overtime wins from this past weekend. After all, it was good to get the "Rampage Monkey" off the collective backs of the Iowa Wild.
Why?
Well, going into the weekend, Iowa was winless in four games against San Antonio. Then, on Friday night, the Wild found themselves down 3-1 in the second period. Ultimately, they rallied, and Dmitry Sokolov's overtime tally gave them a 5-4 win. On Saturday, goaltender Kaapo Kahkonen was at the bench for an extra attacker and J.T. Brown banged home a loose puck to tie the game with 8.2 seconds left in the third period. Moments into overtime, defenseman Carson Soucy sent the fans home happy again, as his right circle blast gave the Wild a 3-2 victory.
The Wild now have 18 home ice wins, which ties a franchise record with 12 home games to go.
Heading into this weekend (road games in Rockford and Chicago), the Wild sit in second place in the Central Division with 61 pts.
Remember, the top four teams will reach the postseason. Iowa has 26 games remaining, beginning Saturday against the IceHogs.
I could go on-and-on, diving into statistics and trends and a look at the remaining schedule and honestly, that's what I had planned on doing. But I decided to scratch that plan and instead share a story from earlier this week.
TRIP TO THE TWIN CITIES
So I'll try to keep this to the Cliffs Notes version (you young kids out there can google that – it was an absolute game-changer in the 90s).
My wife and I are originally from the suburbs of Philadelphia and all of our family still lives out that way. So we're very much Flyers fans. Our oldest two boys were born in Houston and our youngest was born here in Des Moines and they've been brainwashed with Philadelphia sports fandom since day one, plain and simple.
(Side note: Growing up I rooted for any team Patrick Roy played for, which should have gotten me kicked out of my house in all honesty).
With that said, we obviously have become a "Wild family" since I've been with the organization for 11 years. Our kids rock Wild swag to school, they know most of the player's names, etc.
Well, on Tuesday, the Minnesota Wild hosted the Flyers at Xcel Energy Center. We had planned to go up on Monday night, take the kids to morning skate on Tuesday and then watch the game (I always root for overtime when Philly and Minnesota play so both teams get at least a point – haha).
However, as the 24 hours passed from Monday afternoon into Tuesday evening, we literally could not have had more factors going against us.
It was just one of those days where I kept thinking to myself, "Is something telling me that we just shouldn't make this trip?"
First came the snowstorm. Then our vehicle, which we took in for service, needed additional repairs and was at the dealership for hours upon hours, so we decided to scrap the plan of leaving Monday night and instead wait it out until Tuesday. On Tuesday, our 6-year-old boy James got sick at school. Oh, and did I mention the snow not only pelted Iowa but Minnesota as well.
But I was determined. Come hell or high water, we were going to that game.
So I started the drive up on Tuesday afternoon with just Jake (8 years old) and Christopher (4 years old). My wife stayed back with James, who was devastated his illness was keeping him home.
Early on, the drive was fine because the Iowa roads were clear. As we crossed the Minnesota border, things got a bit dicey.
Just past Albert Lea, MN, I saw some brake lights ahead. I'm immediately like, "this isn't good." I tap the brakes on our Jeep Cherokee and start to slide. Now I'm in "oh (insert expletive here)" mode.
At that point, I felt I had two options – pray I stop in time or bail out into the snow on the left in between the north and southbound sides of I-35. I chose the snow.
The highway traffic quickly came to a standstill as the crews worked to get the semi, about a half mile ahead, out of the way.
In the meantime, I'm spinning my tires in the snow.
After a few minutes of making minimal progress, several kind-hearted Midwestern folks pile out of their vehicles. Within minutes, I've got like 5-7 guys pushing the back of the Cherokee and instructing me on what they're seeing. Straighten the wheels, back up a bit, floor it, etc.
Our roadside guardian angels saved the day. We got back up the snow-covered hill and onto the highway. Eventually, the traffic started to move again and we were back on our way.
The slippery road conditions the rest of the way meant a slower travel time. Eventually, we got there in five hours (most of you know it should only take 3.5 hours).
By the time we arrived, we had missed the opening face-off.
But the kids were thrilled (and patient) and we had a great time. As a parent, there aren't many things that top seeing the joy on your child's face when they're having fun and soaking in the experience.
And even though the Minnesota Wild didn't get the result they wanted (and desperately needed in a playoff push), it was great to have some time at a hockey rink "as a fan" – just sit back and enjoy the game with the family – even if it was just 60% of our total clan.
After the game, we went down outside the locker room and the kids got to meet some of the players, most of whom they have met in the past since so many of the current Minnesota roster either played in Houston or Iowa.
The players and staff, even after a gut-wrenching loss, were cordial and willing to give up their time to say hello. Honestly, that's what makes hockey players so great.
As always, my thanks go out to the Minnesota Wild staff for the tickets and their hospitality.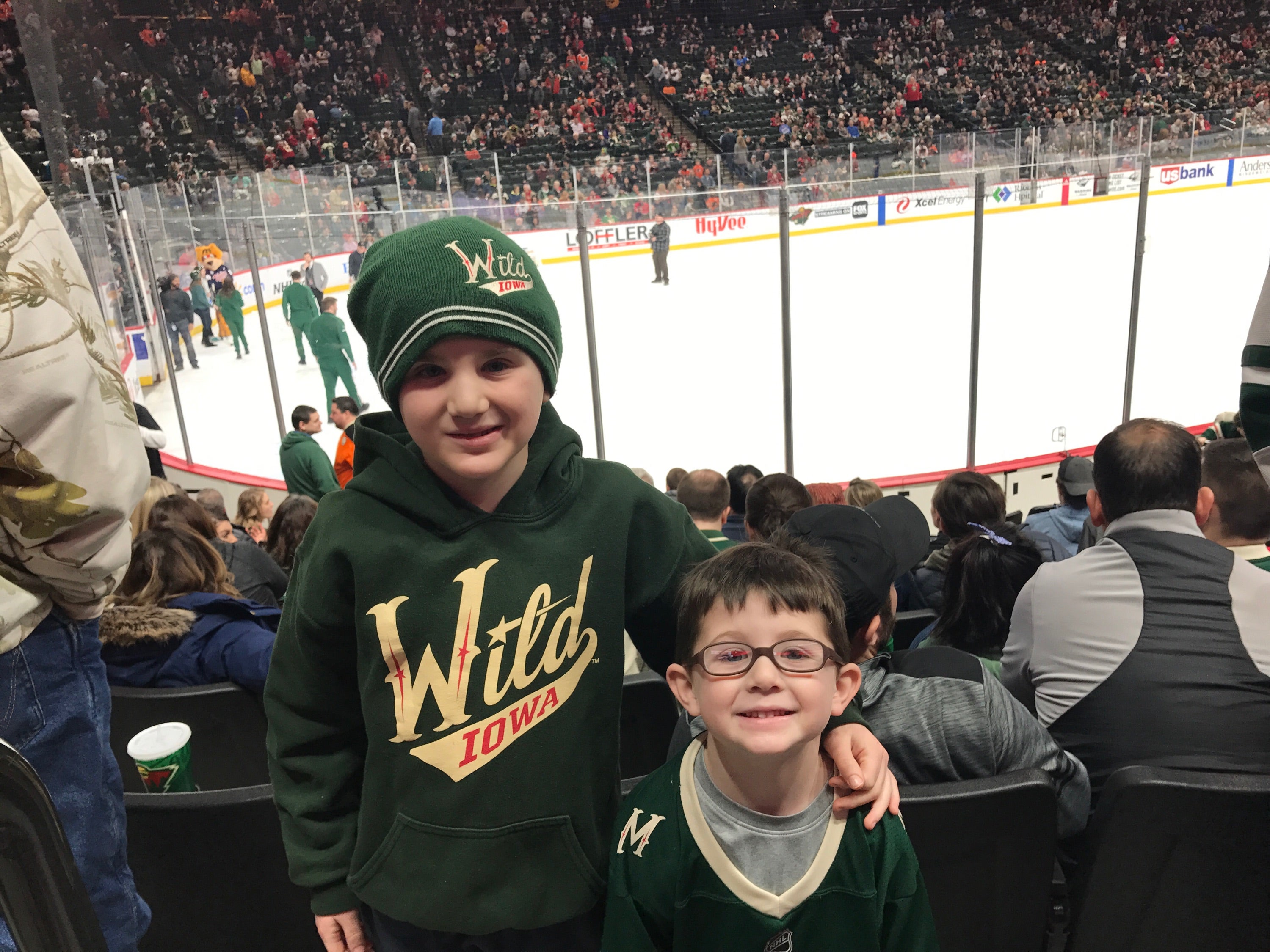 Hopefully our next trip up north comes with a little less chaos and white-knuckle moments.
VALENTINE'S DAY PLAYERS
In the spirit of Valentine's Day, tweet me some great Valentine's Day-themed hockey names. Best one will get a pair of Iowa Wild tickets to a home game of your choice.
I'll kick it off with a couple I came up with:
Mitch Love – former defenseman – spent time in the Minnesota system with the Houston Aeros. Currently a coach with Saskatoon in the WHL.
Carter Hart – rookie goaltender with the Flyers
So tweet at me - @WildJoeRadio
Don't forget that Hockey Gone Wild airs tonight at 7:00 p.m. on KXNO!
Back to All