THE WILD WIRE - BLOG #8
Nov 20, 2017
The biggest question I faced today when starting this blog was whether or not it was appropriate to "lead" with the Philadelphia Eagles 9-1 record or the Iowa Wild's five-game winning streak.
See, as a native of the Philly area, us Eagles fans don't get to experience this very much….and that's where my moral dilemma stems from. We're used to doom-and-gloom, and terrible, gut-wrenching outcomes for the Eagles and every other sports team in Philly. So, to be 9-1, and having just pounded Dallas into submission on national television, well…I can't help but gloat!
But, I digress, because the Wild are one win away from tying a franchise record for consecutive wins, a feat they accomplished last season. Iowa shoots for its sixth straight win in Rockford on Wednesday as the team opens up a three-game road trip and a span of six of seven away from home.
🔥 And that's a wrap! #IAWILD WINS ITS FIFTH IN A ROW! 🔥 pic.twitter.com/dA2h6WTOEW

— Iowa Wild (@IAWild) November 18, 2017
For a moment, let's take a look at last year's record-setting stretch:
January 21: The six-game run begins as the Wild tops the Texas Stars at home, 3-2.
Iowa followed that up with a home win over Grand Rapids, plus two-game road sweeps of Rockford and Cleveland. All told, the Wild allowed just six goals in the six wins. There were two overtime wins in that span and the two victories in Cleveland were both shutout wins.
It was a stretch that catapulted Iowa into the playoff conversation, something Wild fans really hadn't been able to enjoy in previous years. The games down the stretch last season meant more and you could sense the magnitude of each contest – from the locker room vibe to the fan support, etc.
Well, that feeling is back around the room again. This year's team has rattled off five straight victories and they are playing with a ton of confidence.
My gut tells me Rockford will be very inspired on Wednesday, given the fact they've dropped two straight to the Wild in the season series. Should make for a great game….
Speaking of which, I thought Friday night's 4-2 win over the defending Calder Cup Champion Grand Rapids Griffins was awesome!
Grand Rapids had basically their full complement of players and they entered the game having won two straight, and scoring 11 goals in those two wins.
Yet the Wild controlled large stretches of the contest and found a way to get the two points. It was an intense game, played with emotion and energy. And it was just the first meeting of the season series. Wild fans should be in for a treat the next nine times those two sides meet up.
A STICK TAP TO THE COACHES
I think you have to give a lot of credit to the coaching staff for the club's recent push.
In chatting with Wild head coach Derek Lalonde the last few games, he keeps referring back to the three practices the team had leading up to the "Wild About Education School Day Game" at home on November 9th.
Coach Lalonde referenced those practices a bunch, commenting on how hard they pushed the team and the specific kinds of drills they implemented in order to set the tempo for the coming games. So far, it seems to have worked. The message of "playing fast" was certainly received. The Wild players seem all-in right now….they are playing more consistently within each game and avoiding those long lulls that plagued them earlier this season.
I know it's early, and I know it's just a five-game winning streak, but right now Iowa boasts three lines that can score plus a group of defensemen with offensive upside. Couple that with good goaltending and team "structure," teams with that type of personnel tend to enjoy success over the long haul.
UPDATE ON "GABES"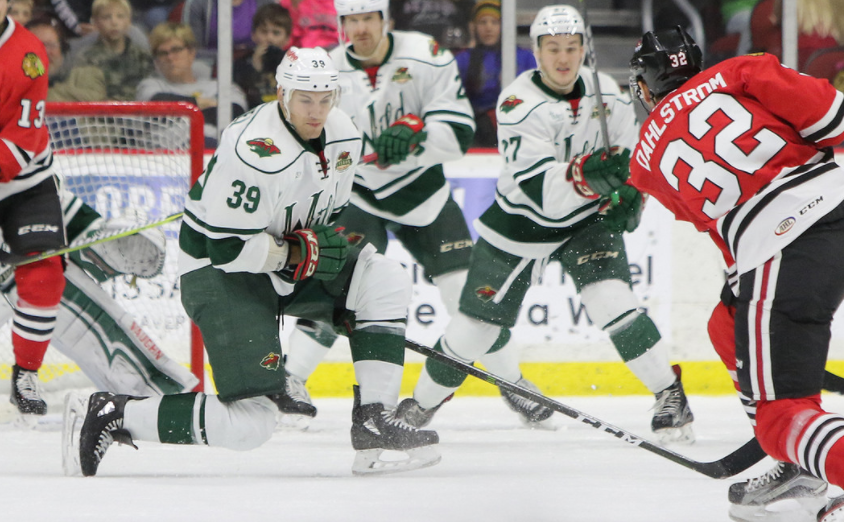 Scary scene on Friday night as Wild winger Kurtis Gabriel threw a huge body check in the early moments of the first period and came out of the collision with a big cut in his wrist area. You could tell instantly that it was bad, just based on Gabriel's reaction as he was hopping around on the ice, clutching his arm and looking for assistance from the bench. The medical staff on hand did a great job and Gabriel was in a cast, back in the locker room at the end of the game. Hockey skate blades are sharp and that's one type of injury that everyone in the sport fears.
His surgery is today (November 20) and hopefully he can make a quick recovery. Gabriel has played 204 games in an Iowa Wild sweater and has been a fan favorite since his rookie year. He and Zack Mitchell are the two guys that Iowa fans have seen play more than anyone else in team history and you know big #39 wants to help his teammates make the playoffs this fifth anniversary season. Here's to hoping he can get back on the ice and fulfill that dream. As of now, he's out indefinitely.
Happy Thanksgiving everyone, and go Wild!
- Wild Joe Radio
Back to All