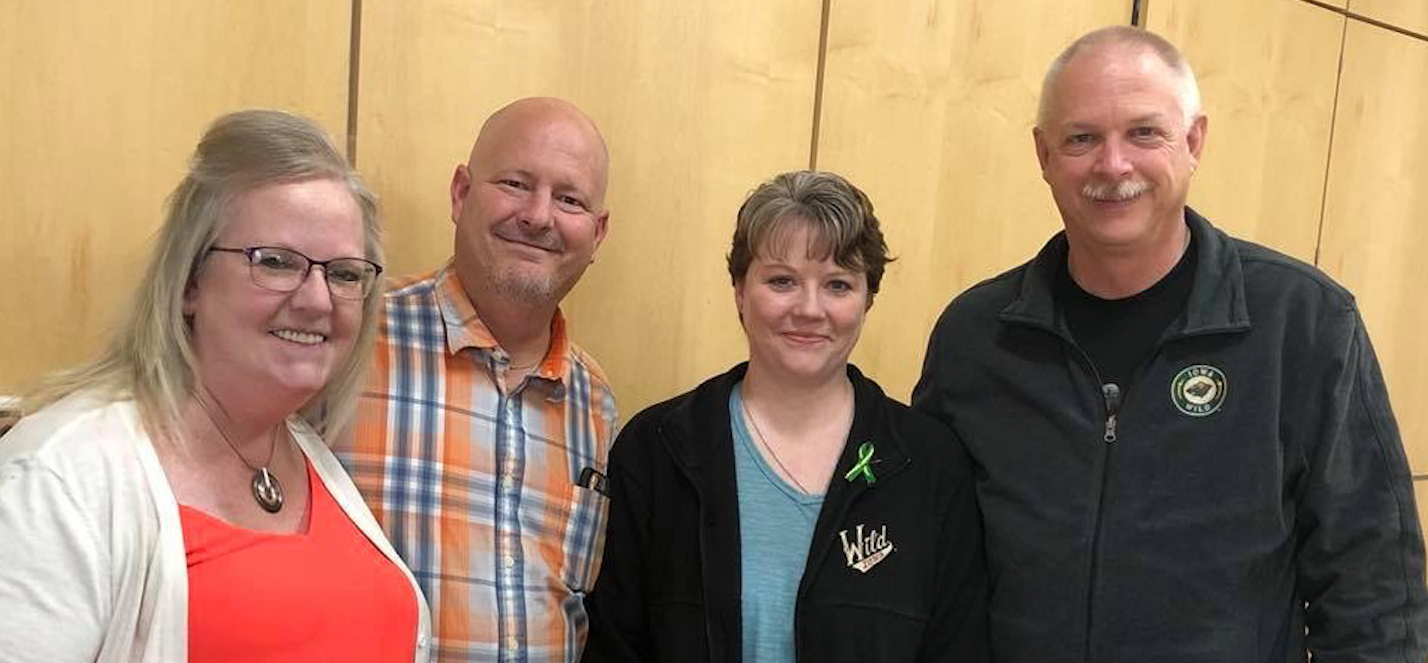 THERE'S NO FAMILY LIKE A HOCKEY FAMILY
Aug 1, 2018
Written by Alexi Spector | @alexispector
The all-consuming sound of the horn indicated that the second home game's middle stanza was about to start. Fans on their way back from the concession stands whizzed past Blaine and Carole Hamill's Wells Fargo Arena aisle seats with their hot dogs. The puck dropped and Iowa Wild continued its hunt for a home-ice win at the beginning of the 2015-16 season. A few seconds later, the man in black and white threw his arm up in the air and blew his whistle.
Carole turned to Blaine with a confused look on her face. He shrugged, unable to offer an explanation of the call. Frustrated, Carole turned around to the couple seated directly behind them and asked for insight.
Little did she know, she'd just instigated the friendship of a lifetime.
---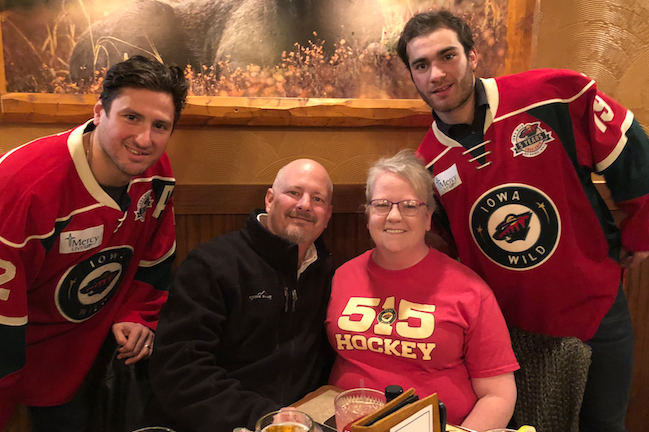 Three hockey seasons later, Carole and Blaine Hamill still have their Iowa Wild season tickets, as do Lori and Roger Berry. The couples sit in the exact same seats, a pair of aisle seats right behind the other.
"Blaine and I had been going on dates to hockey games, then we just kept going and going. We'd already been talking about season tickets because we kept coming," Carole recalls.
The Hamills made the decision to purchase season tickets in Section 102, about halfway up from the glass. "We knew we didn't want to be all the way down because we are lazy and didn't want to have to run all the way up the stairs when we wanted to leave," Carole laughed. "We didn't want to be on the top; we needed to be able to see all of the ice."
In a familiar fashion, Lori and Roger Berry began their Iowa Wild fandom in Section 106 after purchasing a Wild Holiday Hat Trick, but chose season tickets in Section 102.
The couples met during the second home game of the 2015-16 season after Carole's curiosity about the calls on ice overwhelmed her. "Lori has hockey in her background. She knows every stat, every player on every team. We kept hearing her and Roger talking about plays during the game, so I turned around and was like 'um, what does that mean?' We started developing a friendship right after."
"I honestly can't believe it took her two games to start talking to them!" Blaine chuckled.
"In the whole section, the four seats halfway up with no one else around, happened to be the four seats we all picked. It was like fate," Roger chimed in.
It seemed the new Wild season ticket holders were destined for friendship. All natives of Iowa, Blaine, Carole, Lori and Roger followed similar career paths and had experienced comparable familial circumstances.
Blaine, a retired police officer, and Roger, a "semi-retired" assistant fire chief, were both injured in the line of duty. Carole and Lori discovered they both have a background in human services work. Once they started discussing their families, the rest was history.
"I remember our first conversation; it just blew me away how much we have in common. I just felt like it was a blessing from God," Carole said. "I have one really close girlfriend. I knew I had a lifetime friend in Lori the minute I met her."
---

The couples' friendship proved extraordinary about a year and a half ago when Lori's mom was diagnosed with cancer. Upon discovering Carole is a cancer survivor, Lori found solace in Blaine, who was able to talk her through the experience of witnessing a loved one endure the disease. Carole and Blaine also accompanied Lori and Roger to meet Lori's parents at their farm in Hamilton, Iowa.
"Lori's dad planted every tree there himself, all 90 acres," Carole said as she described the farm. "They took Blaine and I out on an ATV; I've never been on one before. Her mom was there, telling us about every single thing in that home. It was really special. She didn't appear sick at all that day."
"It was just a really special day," Lori said.
Carole has found herself often leaning on Lori while she cares for her aging parents. Throughout the past year, her father has had nine strokes, and Lori's support is unparalleled.
"Our husbands are always there, but it's nice to have a friend who is a girl who can emotionally relate," Carole said. "We cry together."
Carole pointed out that Roger's background in paramedics has also proven to be a huge aid in the caretaking of her family.
"He's always been able to answer questions or just reassure me," Carol said. "When Levi, our grandson, was really sick a couple weeks ago, I turned right to Roger. I put him on the spot sometimes, but we all just have our different callings."
Life's hardships have equally affected Blaine and Roger; Blaine's father passed away from cancer six years ago, and Roger's brother passed away from cancer in 1992.
"My brother is also fighting now, so there are a lot of connections to cancer between us and it's relatable for all of us," Blaine said. Roger added that when the friends tell each other "I know how you feel," they know that they sincerely mean it.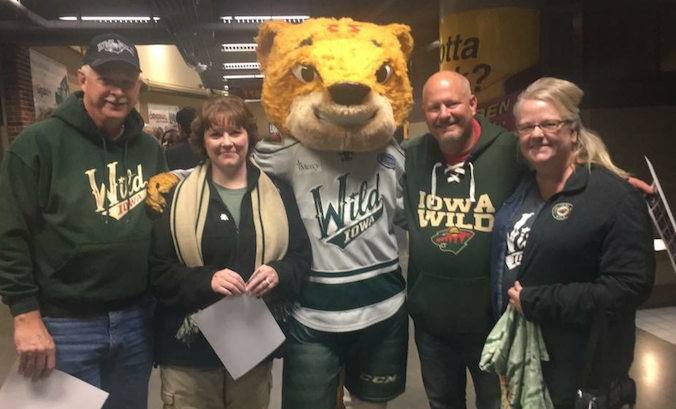 Through enduring life's obstacles together, their similar faith and their fun-loving personalities, Lori, Roger, Blaine and Carole found their bond getting stronger, but the roots of their friendship lie in their seats at Iowa Wild hockey games.
"Every game, there are times when we've had a bad week and we look forward to seeing each other at the games. We pre-planned times when we'd see each other before the game," Carole said. "Each one of us has a birthday every month throughout the hockey offseason so I make sure we celebrate. Our lives just get busy."
In addition to the games, Roger, Lori, Blaine and Carole have found themselves deeply immersed in the Iowa Wild family, developing relationships with staff and players throughout the last few years.
"We record Alex Tuch's games in Vegas; at the Wild 365 Meet-the-Team Party, he stayed after and we spoke about how much he loves his mom," Carole said. "He was my favorite after that!"
Roger mentioned that while attending a Celebrity Serve event at Blaze Pizza this past season, Zach Palmquist and Mario Lucia sat down with them and talked with them like they'd been friends for years.
"Whenever we get to meet the players, it's always very cool," Carole said.
A new Iowa Wild season ticket holder's first perk of the season is Rookie Camp, during which the new Wild 365 members tour Wells Fargo Arena, meet players and coaches, see the locker rooms and more. Lori recalled that when she attended, she was sure to accessorize with her Iowa Wild gear.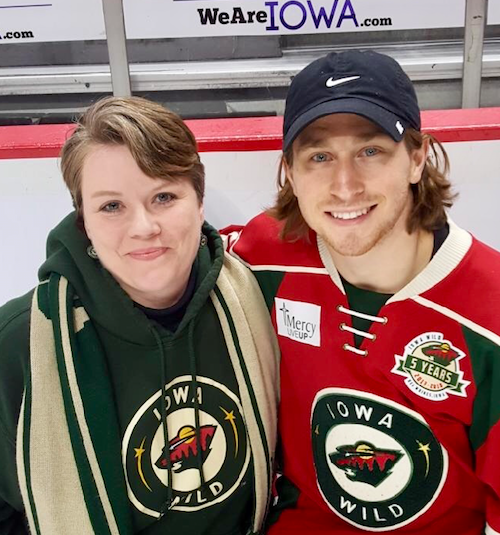 "I had on my Iowa Wild earrings," Lori remembered. "Our last stop was with Coach Cunniff. We were the last ones out and he made some comment about me being all decked out, and I said all I need is a necklace!"
Iowa Wild's former assistant equipment manager, Nate Belliveau, overheard Lori and Coach Cunniff's conversation. He chimed in, telling Lori that she had to come down to the players' bench at the next home game to see him.
"I went down that Friday and he gave me a Wild necklace! I felt pretty special!" Lori smiled.
---
Now that the 2017-18 hockey season is over, Carole says the friends have penciled Iowa Wild summer events into their calendars. They make sure to schedule time to see each other during the summer months and continue to support each other during life's most joyful and heartbreaking times.
On October 5, 2018, Carole, Blaine, Roger and Lori will be seated on the aisle of Section 102, about halfway up from the glass. The National Anthem will conclude, the puck will drop on Iowa Wild's home opener and the crowd will be able to hear Roger yell, "play ball!" It'll only be a matter of minutes before Carole turns around to ask Lori her first question.
"We really are lucky to have found each other like we did," Carole said.
And to think, all it took was a little bit of fate and some hockey tickets.
Back to All