MINNESOTA WILD ANNOUNCES ROSTER FOR 2022 TOM KURVERS PROSPECT SHOWCASE
Sep 13, 2022
SAINT PAUL, Minn. - Minnesota Wild General Manager Bill Guerin today announced the National Hockey League (NHL) club's roster for the 2022 Tom Kurvers Prospect Showcase. The Wild will play the Chicago Blackhawks on Friday, Sept. 16 at 7 p.m. and Sunday, Sept. 18 at 1 p.m. at Fifth Third Arena (1801 W. Jackson Blvd) in Chicago. Both games are free and open to the public.
Minnesota Wild Tom Kurvers Prospect Showcase Roster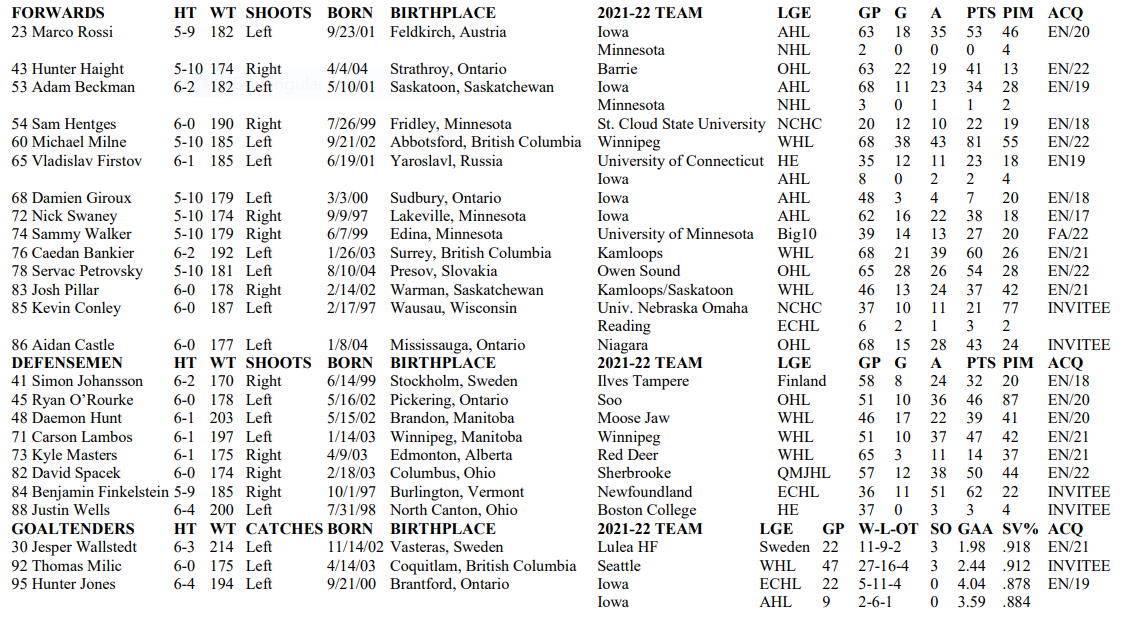 Iowa Wild hockey is presented by MercyOne Des Moines Medical Center. For more information, please visit www.iowawild.com. Fans can purchase single-game tickets through the team's website at www.iowawild.com. Group tickets (10 or more), suites, Wild 365 memberships or premium tickets can be purchased by contacting the Iowa Wild Ticket Department at 515-564-8700 or tickets@iowawild.com. The 2022-23 season marks the 10th anniversary of Iowa Wild hockey. Fans can purchase season tickets for the 10th anniversary season at https://www.iowawild.com/wild-365.
Back to All