MINNESOTA WILD TO HOST TOM KURVERS PROSPECT SHOWCASE AT TRIA RINK
Sep 7, 2023
SAINT PAUL, Minn. - Minnesota Wild President of Hockey Operations and General Manager Bill Guerin today announced the National Hockey League (NHL) club will host the Tom Kurvers Prospect Showcase featuring the Wild, Chicago Blackhawks and St. Louis Blues, Sept. 15 - 17 at TRIA Rink at Treasure Island Center in downtown St. Paul.
TOM KURVERS PROSPECT SHOWCASE SCHEDULE
Friday, Sept. 15 7 p.m. - Minnesota Wild vs. St. Louis Blues
Saturday, Sept. 16 6 p.m. - Chicago Blackhawks vs. St. Louis Blues
Sunday, Sept. 17 3 p.m. - Minnesota Wild vs. Chicago Blackhawks
The opportunity to attend all three games was extended exclusively to Minnesota Wild Season Ticket Members. A limited number of tickets to each game are available and free to the public while supplies last. To register for tickets to a game Click Here. TRIA Rink will open one hour before the start of each game. Both Minnesota Wild games will be streamed live on the Wild YouTube Channel.
MINNESOTA WILD TOM KURVERS PROSPECT SHOWCASE ROSTER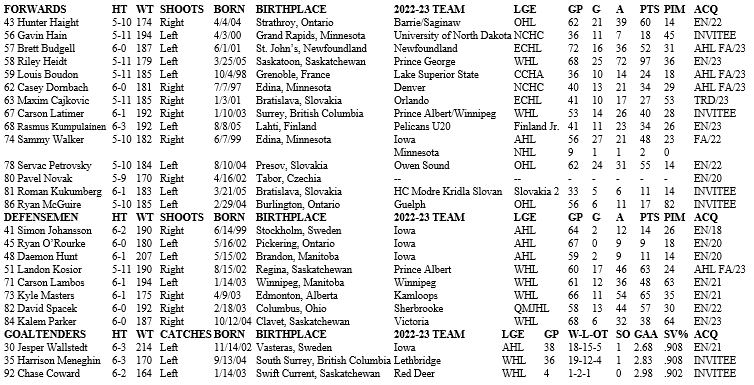 Minnesota will open training camp on Thursday, Sept. 21 at TRIA Rink.
For more information on Iowa Wild hockey, please visit www.iowawild.com. Fans can purchase single-game tickets through the team's website at www.iowawild.com. Group tickets (10 or more), suites, Wild 365 memberships or premium tickets can be purchased by contacting the Iowa Wild Ticket Department at 515-564-8700 or tickets@iowawild.com. Season tickets for 2023-24 are on sale now. Fans can purchase season tickets for the upcoming season at https://www.iowawild.com/wild-365.
Visit http://www.iowawild.com/pressbox for the latest news and information from the team including press releases, game notes, multimedia content, and daily statistics.  
Back to All