PALMQUIST BRINGS STABILITY TO POWER PLAY IN CAREER YEAR
Feb 28, 2018
By Jennifer Schallmoser
Even before defenseman Zach Palmquist arrived in Des Moines back in 2015, the blueliner had been a consistent player since the beginning of his career. He played more than 100 games in the USHL with the Waterloo Black Hawks before attending Minnesota State University – Mankato, where he registered 96 points in 160 games played during his four years. His 160 points total is tied for first for points by a defenseman in the Division-I era (1996-present).
When he arrived in Iowa in 2015-16 for his rookie campaign, Palmquist ranked first among d-men in games played (69), and heading into 2017-18, his third full season in the AHL, he ranked first in all-time games played (149) in Iowa Wild history.
Early on in 2017-18, inconsistent playing time led to a lack of points for Palmquist. Despite his struggle in the beginning though, things began to turn around for the former Maverick near the end of November.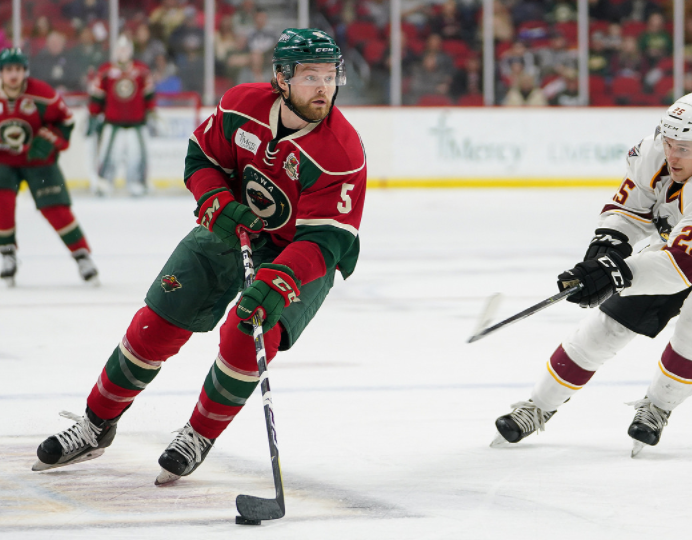 "His game started to come around and then you could just see the confidence grow in him," said Head Coach Derek Lalonde.
With help from Iowa Wild coaching staff, the South St. Paul native picked up his game, not only making his way into a regular spot in the lineup, but also into the power play.
"Our power play had been struggling," Lalonde said. "It was really a matter of Zach moving to the top of our power play and just simplifying it."
Lalonde lauded how Palmquist worked with Associate Coach David Cunniff, the architect of the power play. Lalonde explained how Palmquist did exactly what was asked of him: be simple with the puck, work to get into a position, funnel the puck to teammates Cal O'Reilly and Sam Anas, and not overdo or overthink it.
"That's exactly what he did," Lalonde said. "He brought simplicity to the power play and it just took off from there. So it's a huge credit to him on buying in on what we asked of him and trusting it. It was exciting to see the success of the power play."
Palmquist knows his successes are also his teammates' and was quick to give them just as much credit for the improved extra-man unit.
"As long as our team keeps playing this well, they make it easy for me to jump into the play and have success on the power play," Palmquist said. "When you got guys like Cal O'Reilly, Sam Anas, Justin Kloos, Kyle Rau making plays and working hard on the power play, it's easy for me to distribute the puck to them and get those points."
Since Palmquist joined the power play, the Wild has seen success in that area of the game. In November, before Palmquist joined the extra-man unit, Iowa's power play was ranked 20th out of 30 teams. With the addition of Palmquist to the unit, Iowa's power play has since climbed to a top-10 spot.
With the Wild in the midst of its best season in history, so is Palmquist. Not only did the 27-year-old defenseman earn his first three-point game in a 4-3 loss against Manitoba on Jan. 6, but in a two-game series against Texas on Feb. 18-19, he tallied a goal and an assist, which set a career high in points for him in a single season. Ironically, Texas is the same team Palmquist scored his first pro goal against in a 3-2 win for Iowa at home on Oct. 24, 2015.
"I guess it is just a weird coincidence; I guess I like playing Texas," Palmquist laughed.
But once again, Palmquist said he couldn't reach this career milestone without the great play of his teammates.
"Obviously, personally it feels good to reach that milestone," he said. "The team is playing well right now, so I got to contribute that to them too. We just got to keep it going, we're playing really well right now and we got to take that into the road games."
Road games are especially important for the Wild, as seven of the team's next eight games are away from Wells Fargo Arena. Regardless of where the team is, the d-man is looking to continue what he's doing. Since Dec. 1, the Wild has gone 8-5-3-3 on the road. Palmquist has he registered 11 points (2g, 9a) in 18 games.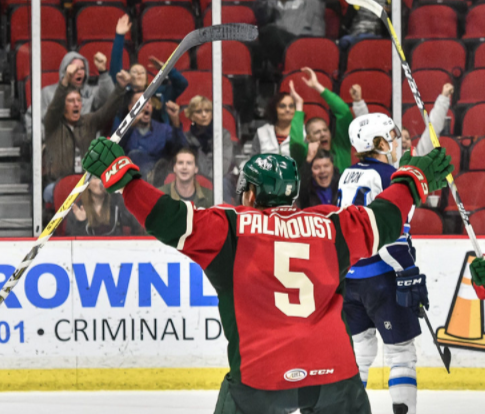 "I'm just expecting the same things of myself," Palmquist said. "Keep working hard, keep helping the team I can in any way, keep playing hard defensively and just got to contribute in any way I can."
According to Lalonde, Palmquist's style of play fits right into the philosophy of the Wild and the game of hockey today.
"He plays fast, he's quick in transition and he can transition in any area of the ice," Lalonde said. "I think that's why he's been successful."
"Whenever you're scoring goals," Palmquist said, "it feels good obviously, but as long as our team keeps winning and scoring goals, if it's me or someone else, it's great either way."
Back to All