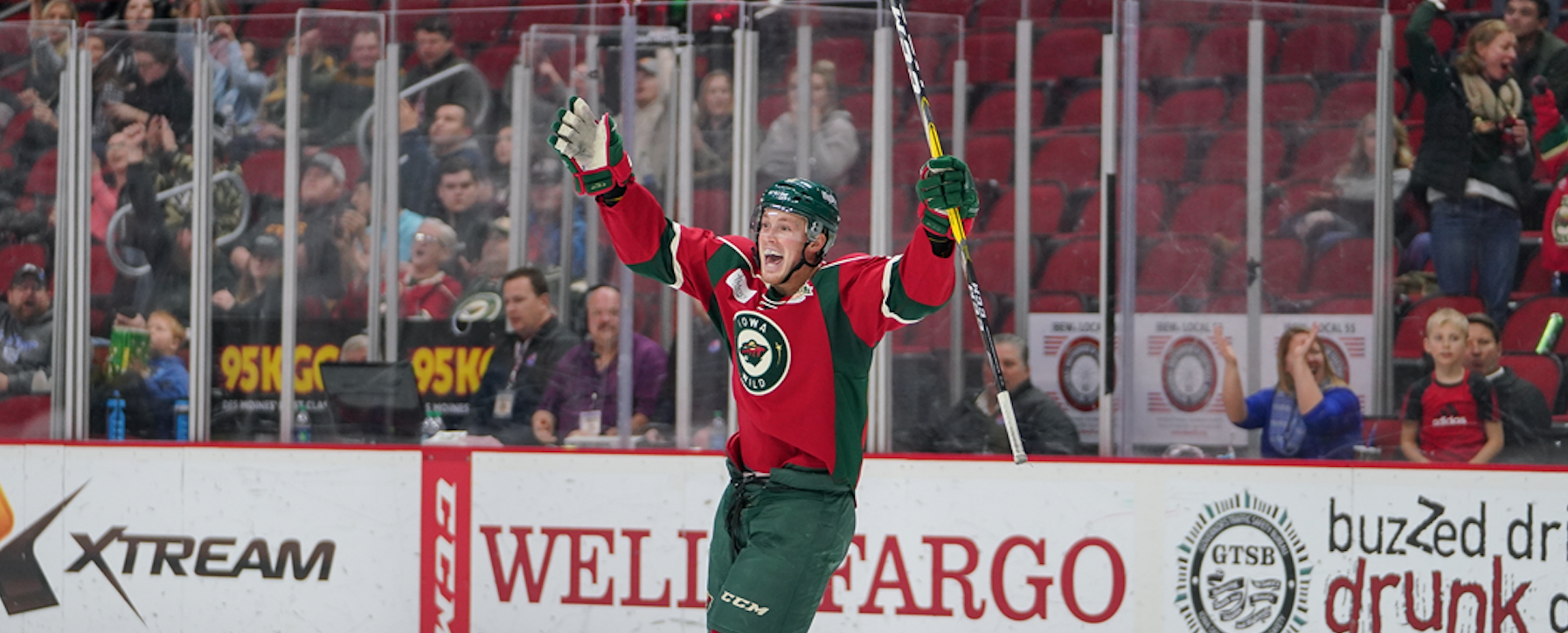 THE WILD WIRE - BLOG #18
Feb 13, 2018
WINNING IS FUN
After last night's 3-2 win over the visiting San Antonio Rampage, Iowa Wild is now a franchise-record 10 games over .500.
Let me repeat that: 10 GAMES OVER .500!
Unfortunately, the Central Division playoff race continues to be an absolute battle, so the Wild hasn't technically achieved anything yet. However with 26 games to go, if the Wild managed to win half of its remaining contests, it'd add 13 wins to its total and finish the regular season with 38 wins and 86 points.
Last season, the final playoff spot went to Charlotte, who you guessed it, had 86 points.
In the other three seasons the Wild has existed, the "final" playoff team posted 90, 87 and 83 points.
Bottom line is, the team has officially put itself in a great spot to make the Calder Cup Playoffs.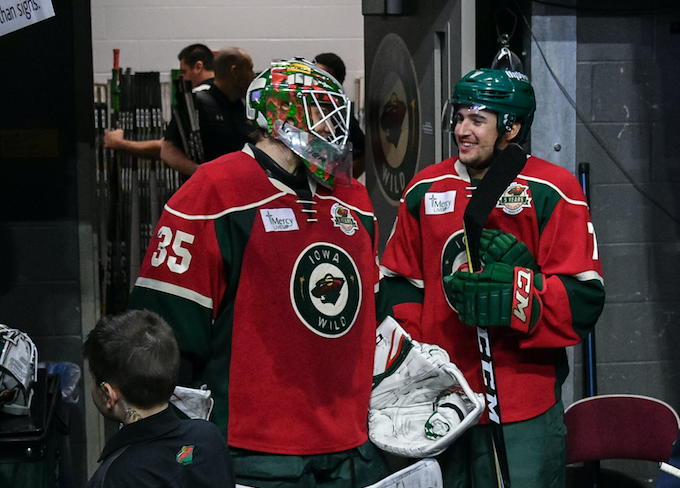 WINNING IS FUN….AT HOME
The win over San Antonio was the club's third straight victory at Wells Fargo Arena and it extended its point streak at home to seven games (6-0-1-0). If you're a season ticket holder, you've got to be on Cloud 9. Iowa now has 14 wins at home with 12 games to play, and all of a sudden, last year's franchise record of 17 victories on home ice looks like it could be shattered.
After three seasons of sub-par hockey at Wells Fargo Arena, last year and this year have both been way closer to the "norm" of what a team should do at home…take care of business and rack up some W's.
By the way, just to put this all in perspective, this year's version of the Wild has already recorded 60 points (25-15-7-3 record). The 2014-2015 Iowa Wild team finished THE 76-GAME SEASON with 50 points.
TRADE WINDS, AND "WHITEY" JOINS THE FOLD
Late last week the Minnesota Wild pulled the trigger on a trade with the New Jersey Devils, which sent wingers Christoph Bertschy and Mario Lucia to the East Coast.
In return, Minnesota acquired defenseman Viktor Loov, a Swedish-born defenseman who made his Iowa Wild debut last night wearing #29.
Last night showed Loov will certainly help this team in its playoff push. Plus, he provides instant depth along the blue line for the organization should Minnesota suffer any more injuries.
However, I want to spend a moment on Bertschy and Lucia. Both are really good people and were well liked in the locker room. On top of that, they both spent a lot of time in the Des Moines community, especially Lucia, who I don't think ever turned down a request to help out. Good luck to both with the Devils.
The other newest member of the Wild is 29-year-old Ryan White, a veteran of more than 300 NHL games, including some late season contests with Minnesota last year.
White agreed to a contract with Iowa (for the remainder of the season) and he flew in from San Diego on Friday afternoon, arrived at the arena about 90 minutes from puck drop and jumped right into the lineup.
He's a gritty, no-nonsense player, whose leadership and personality should play a huge role in how the Wild does from here on out.
"I'm truly blessed to be here and grateful for the opportunity."

📰 Nick Seeler gets ready for #NHL debut with #mnwild → https://t.co/8WtkoKSYLA pic.twitter.com/mvycWncvs1

— Minnesota Wild (@mnwild) February 12, 2018
SEELER GETS THE CALL
And finally, what a great moment it should be tonight for Eden Prairie, Minnesota native Nick Seeler, as the second-year pro is expected to make his NHL debut against the New York Rangers.
When I asked Wild head coach Derek Lalonde about Seeler's recall, you could sense the excitement. He lauded Seeler's character and work ethic. He called Seeler "the best player on the ice" (for either team) in Iowa's 5-1 road loss to San Diego last week. Think about that for a second. You get beat 5-1 on the road, and after breaking down tape and digesting the outcome, the coaches determined that Nick Seeler played better than anyone else.
Lalonde said it was tough to put Seeler in the lineup at times last season because of his struggles. Now, a calendar year later (give or take), he's going to experience a moment he's dreamed about for a long time…his first career NHL game.
AHL coaches take pride in these moments. For Lalonde and his staff, this is one of those father figure type moments. You put in the work, you deal with the hardships, you put in more work and then you watch this former, fifth round draft pick excel. From video sessions, to extra shooting drills, to conditioning skates, to working on footwork fundamentals….all to see him get this chance! Kudos to the staff for continuing to work with him – and an extra stick tap to associate coach David Cunniff, who works with the team's defense tirelessly to help each player tap into their potential.
The 24-year-old will continue to have his peaks and valleys…after all, he's a young defenseman who's still learning the many nuances of pro hockey. But he's so well-liked by his teammates in Iowa and constantly has their back on a nightly basis, I just can't see how he won't make a positive impression on the Minnesota coaching staff, his "new" teammates and the sold out crowd at Xcel Energy Center.
- Wild Joe Radio
Back to All