THE WILD WIRE - BLOG #21
Mar 6, 2018
TWO HUGE WINS FOR THE ORGANIZATION
Sunday was a crucial afternoon for both the Iowa and Minnesota Wild.
Entering its 2 p.m. showdown in Manitoba, Iowa faced the following scenario:
Tied for the fourth most points in the Central Division with Rockford, but holding four games in hand on the IceHogs as well as the Grand Rapids Griffins, both of whom were idle yesterday
Just one win over the last five games
Winless in five straight on the road (an unrelated stretch to the one listed above)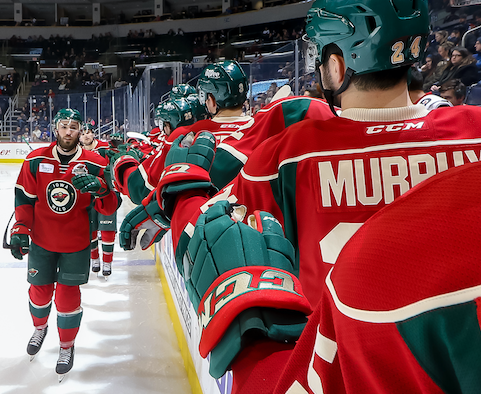 Then, at 6 p.m., Minnesota hosted the Detroit Red Wings:
Minnesota had dropped two straight games
Throughout the day, Winnipeg, Nashville and Anaheim all emerged victorious – all three are teams that Wild fans will be "scoreboard watching" down the stretch
Plus, Colorado earned one point in its overtime loss to Nashville
At night's end, both Wild teams emerged victorious. Iowa won 4-3, and the big club won 4-1.
It may still be early March, but boy, yesterday was one of those days where you're pumped to see the organization grind out a couple of W's.
CAN'T BE "SPORADIC"
Coach Lalonde used the word "sporadic" (for the Buzzard Billy's Pregame Show on Sunday) in reference to Iowa's play in recent games. His thought process was this – the club controls its own destiny with 20 games left because of its current playoff positioning, and the fact they've got several games in hand on a few teams in the race (as noted above).
The recipe for success: compete and play hard on a consistent basis and they'll chalk up enough wins to punch a playoff berth.
On the flip side: play "sporadic" and get outworked by their opponents, and they simply aren't talented enough to win over the long haul.
Well, the boys responded Sunday…erasing a couple of deficits and putting together their best effort in a week or so. That effort allowed Iowa to take three of a possible four points on the weekend out of Winnipeg.
MUST EAT: ON THE ROAD
With the club currently on a six-game road trip (and 10 of 11 away from home overall), I thought I'd share my favorite spot to grub in each of the other Western Conference cities in which the Wild play this season.
Mind you, I'm currently at the MSP Airport….in the midst of a 427-hour layover (SLIGHT exaggeration) due to a missed connection, caused by a blizzard in Winnipeg, which caused the plane's engine to freeze, which caused the team to leave late, which caused……..BLAH BLAH BLAH……you get the point. So while at this moment, it may be more appropriate to discuss "things to do at the airport while you're bored" (other than blog), I'll just go with the road spots that I enjoy during hockey season (in no particular order)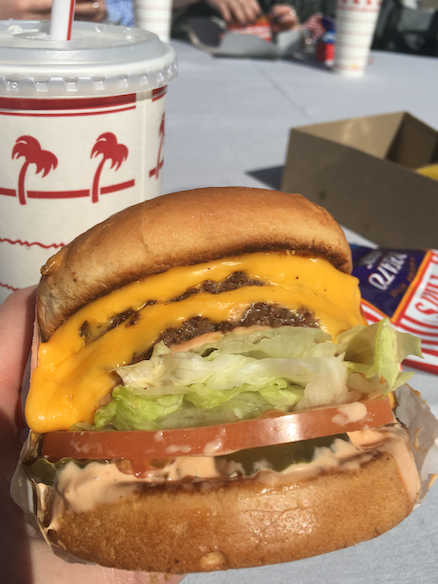 - Austin / Cedar Park, TX – In 'N Out Burger (the stuff legends are made of / and there happens to be one right by our hotel)
- San Antonio, TX – Any Mexican food joint on the Riverwalk (vague, I know, but it's pretty true)
- Grand Rapids, MI – too many brewpubs to choose from, honestly, so I'll just go with Hopcat (stick tap to Z's because they're buffalo chicken spring rolls are straight from the heavens)
- Milwaukee, WI – Calderone Club (outstanding Italian)
- Chicago / Rosemont, IL – Giordano's Pizza (deep dish to die for)
- Cleveland, OH – Barrio (outstanding taco joint)
- Rockford, IL – Tavern On Clark (been there a few times – good atmosphere) – also, we had a team meal this year at Franchesco's on Thanksgiving Day, and it was awesome…
- Bakersfield, CA – Uricchio's (Italian – small place, home style food)
- San Diego, CA – Rocky's Burgers in Pacific Beach (so darn good!)
As for Ontario, CA and Tucson, AZ….too hard to say, we haven't traveled there much as a team, and we have, I've either just gone to a chain restaurant or we haven't spent much time exploring the area.
Iowa returns back from its eight-day road trip on Saturday, before hosting the Manitoba Moose on Sunday at 3 p.m. Hope to see you at the barn!
- Wild Joe Radio
Back to All