TUCH'S ROAD TO NHL GOES THROUGH DES MOINES
Mar 7, 2017
As one of the Minnesota Wild's top prospects, Alex Tuch thought he might have a shot at making the NHL club when he arrived in training camp last fall.
After all, the 6-foot, 4-inch, 220-pound forward attracted substantial attention as an offensive force playing for USA Hockey's National Development Team Program for two seasons and Boston College for another two. During that period, Tuch collected 104 points in 141 games and appeared almost unstoppable on more than one occasion.
But now, more than halfway through the 2016-17 hockey season, Tuch openly acknowledged that he had a lot more to learn about himself and about playing professional hockey than he thought at the start of the year.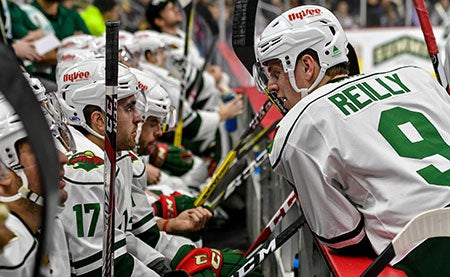 "It has been a learning process. I've learned about myself as a person and as a player," Tuch said. "Mostly, I've learned more about how to deal with different types of adversity."
Tuch's role on the Iowa Wild roster can't be understated. In 40 games, Tuch has scored 12 goals with 16 assists to be become the club's active leading scorer and has a +11 rating. With the trade of Teemu Pulkkinen to the Arizona Coyote organization, Tuch became leading point producer on the Iowa roster as the team attempts to make the AHL playoffs for the first time since arriving in Des Moines.
"Alex has improved drastically from his first days with us," Derek Lalonde, the Iowa Wild's head coach. "It's an accomplishment because he has to get through injuries that delayed his development."
Tuch is among a group of Wild prospects expected to compete for positions on the Minnesota roster over the next few years that includes top draft choices Joel Eriksson Ek, Karill Kaprizov, Jordan Greenway and Luke Kunin. Those players combined with young defensemen like Gustav Olofsson and Mike Reilly gave the Minnesota front office the confidence to use future draft choices to make a key trade for forwards Martin Hanzal and Ryan White from the Arizona Coyotes.
Tuch said that amount of talent is encouraging and intimidating.
"I know that not only am I competing against the guys who are there now, but also the guys who are coming up. I do think they have a lot of faith in me going forward and I think I am going to be part of the Minnesota organization for a long time," he said.
The 20-year-old Syracuse NY native had his sights on playing in the NHL since growing up in the shadow the city's historic War Memorial Arena.
"My home is about 15 minutes from the arena," Tuch, who grew up as a Buffalo Sabres fan, said. "One of our neighbors played for the Sabres so it was a pretty natural thing."
Tuch credited his family – Carl, his father, and Sharon, his mother – with always keeping him focused on what he could accomplish each day and not looking down the road too far.
"My Dad, in particular, kept me focused on where I was in the moment," he remembered. "I was never allowed to look to far ahead. He taught me to stay centered in the moment and not to think too much about the future. "
Tuch said Minnesota's decision to draft him came as a major surprise. The Wild front office had not talked to him much prior to the 2014 draft, he said.
"Actually, I thought there might be a trade for that spot and someone else might have taken me," he said.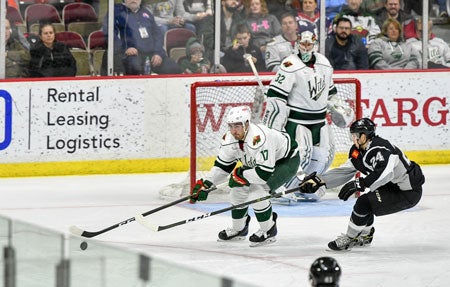 On leaving college, Tuch said he felt ready to make the jump. After all, Boston College had been to the NCAA playoffs twice and his goal was to play professional hockey.
"I was mature enough to handle things," he said "I really wanted it. I worked really hard this summer so I could get to the point of being able to play in the NHL."
But upon arriving for training camp, Tuch learned two things quickly. He had a lot of work to do on improving his overall game and that professional hockey was a lot different than college.
"In college, it was more about playing well, getting noticed by the female student body and going out afterwards if you do well," Tuch said. "It's a lot different when you are fighting for a paycheck."
He also learned that he had to improve his game beyond trying to score goals.
"That was the main reason I didn't make it up with the big club out of camp was my play away from the puck," he said. "I had to get better on the defensive side of the game plus playing in the neutral zone. It was also about my puck management."
When he arrived in Des Moines, Tuch and Sam Anas, who played for rival Quinnipiac in college, became roommates. Ironically, just three months earlier, the two had played against each other in the semi-finals of the NCAA Frozen Four – a game won by Quinnipiac 3-2.
Anas said that Tuch's most surprising asset on the ice is his ability to skate and maintain control of the puck on his rushes.
​"Once he has the puck, it is hard to get it away from him," Anas said. "He protects the puck very well with his body, then he does a good job getting the puck to the net. That combination is pretty high end."
At the same time, Anas said that Tuch's size makes it really hard on opponents to contain him.
"People don't call him Moose, but he definitely plays like a Moose out there," Sam cracked.
Anas and Tuch have faced adversity during the season, but have established themselves as regular starters on the ice. Tuch's biggest challenge came when he was injured on Dec. 28 in a game against Rockford.
On a rush toward the net, Tuch injured a shoulder that initially knocked him out of four games. In his first attempt to return to the line-up, Tuch scored a goal against Manitoba, but learned a lesson about returning too quickly. He missed another eight games to continue mending.
"It was miserable. It was horrible," Tuch said, adding he had only missed one game due to injury in the five years leading up to the Rockford game. "The first couple of days, I was just worried about my shoulder. But then I watched a game, then watched another game. I couldn't watch the third game because the itch to play started to hit me."
Tuch said he returned to the line-up because he felt good enough to play, but learned he should have waited a week longer to return.
"I did come back too soon," he said. "It wasn't the trainers. It was the way I thought I felt. I could have given it another week and I would have been back sooner."
Lalonde said that the lost time interrupted Tuch's development of his game.
"Before he was hurt, Alex was in a routine because he was playing every day, he was practicing every day," Lalonde said. "Then after he gets hurt for six weeks he gets thrown into the NHL. He was probably ready, but you can see some of his older habits creeping back into his game."
Tuch said he understood why he was sent down to Iowa after six NHL games.
"It is disappointing, but I look at it from an outside perspective and how good the Minnesota Wild is," Tuch said. "You have to see how hard it is to crack that line-up especially as a rookie."
At the same time, Tuch said his return to Iowa has given him a chance to compete with a group of players wanting to make their history by getting the Wild into the playoffs for the first time in four seasons.
And, that realization Tuch said amounts to another lesson learned.
"It was a little different at the beginning of the year, I have to admit," he said. "I took more of a self-centered approach to playing than I am now. I wasn't thinking about playoffs for this team, I was thinking more about playing game by game and showing myself well."
Tuch said that lesson has stuck with him.
"When I got sent down, I was thinking that I would be able to help the team down here," he said. "We have such a great group of guys down here that it's a lot easier because I really want to be a part of the group that gets this team in the playoffs."
Back to All