WILD JOE RADIO'S "ALL-TIME ROSTER"
Oct 21, 2020
So, a couple weeks back I received a message on Twitter from a fan with an interesting question.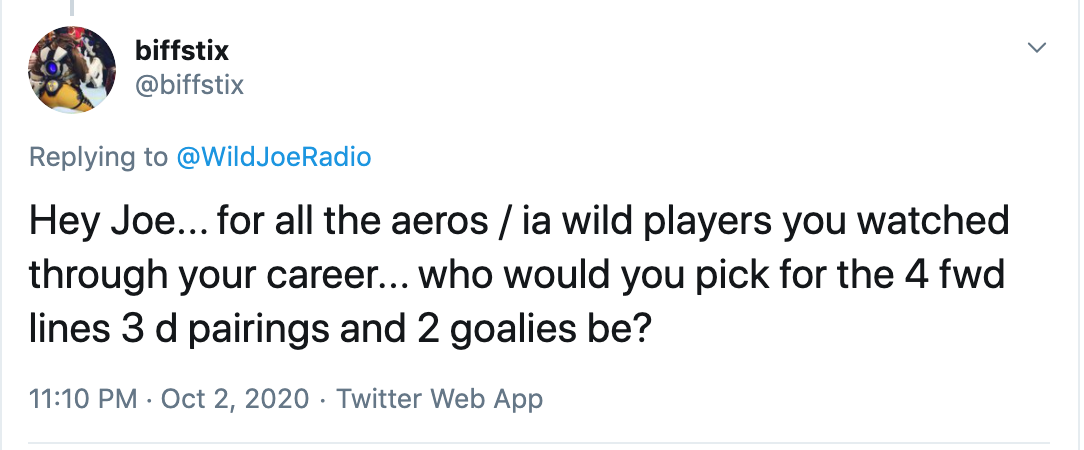 Well, @biffstix, here you go – my selections of 12 forwards, 6 defensemen and 2 goaltenders based on the following criteria:
Stats / Games Played – AHL, NHL, Europe
Trying to build a team that is well balanced (read: you can't just have a bunch of goal scorers)
Picking these players based on the prime of their career, not necessarily when I saw them in person
1ST LINE
LW – JASON ZUCKER
C – CAL O'REILLY
RW – ALEX TUCH
2ND LINE
LW – PATRICK O'SULLIVAN
C – JORDAN SCHROEDER
RW – MIKAEL GRANLUND
3RD LINE
LW – ERIK HAULA
C – TONY HRKAC
RW – CHARLIE COYLE
4TH LINE
LW – BRETT SUTTER
C- RYAN WHITE
RW – LUKE KUNIN
DEFENSE PAIRINGS
1ST D PAIR - JARED SPURGEON / MATT DUMBA
2nd D PAIR – JONAS BRODIN / STEVEN KAMPFER
3RD D PAIR – CLAYTON STONER / MAX NOREAU
GOALIES
STARTER: DARCY KUEMPER
BACKUP: ANTON KHUDOBIN
"HEALTHY SCRATCHES"
FORWARDS: COREY LOCKE, KRYS KOLANOS, JED ORTMEYER, WARREN PETERS, JOEL ERIKKSON EK, GERRY MAYHEW, SAM ANAS
DEFENSEMEN: DREW BAGNALL, MARCO SCANDELLA, JON BLUM, BRIAN CONNELLY, CARSON SOUCY
GOALIE: ALEX STALOCK
Now to a bit of a breakdown of my selections:
1ST LINE: ZUCKER – O'REILLY - TUCH
I've got two guys who can absolutely fly, and shoot the puck, in Zucker and Tuch. I'm throwing arguably the best setup man in AHL history at center ice in O'Reilly (484 career AHL assists) to make sure those two skilled wingers have the puck in prime scoring areas.
I had the pleasure of seeing Zucker, like several of my selections, due to the 2012 NHL lockout. That work stoppage forced a ton of young, NHL-ready talent to the minors, which was (selfishly) great for any AHL broadcaster. Zucker, now with the Pittsburgh Penguins, scored an overtime goal against the Abbotsford Heat one afternoon, which tied the AHL record for the fastest O.T. winner (thank God I wasn't at a commercial break). Whether it was Houston, Iowa or the NHL, his blazing speed was on display every night. And, he can certainly fill up the net, scoring 138 NHL goals over 10 seasons. He was also just under a point-a-game in his AHL career, registering 63 points in 77 contests.
Tuch, who was a worth-the-price-of-admission player as a rookie in Iowa, has developed into a big-game performer with the Vegas Golden Knights. He can shoot, he can dangle, and his long skating stride allows him to take a neutral zone turnover and turn it into a scoring chance in a matter of seconds. He was really fun to watch in Iowa back in 2016-17. When he's flying up-and-down the wing with the puck on his stick, good things tend to happen. The former first-round pick already has 15 career Stanley Cup Playoff goals and he's just 24 years of age!
O'Reilly adds a great voice in the locker room to go with his immense hockey IQ and veteran savvy. As his one-time head coach, Tim Army, says about "Captain Cal" – "he's playing chess, and everyone else is playing checkers". O'Reilly, who spent two seasons wearing the "C" in Iowa, has almost 700 career points between the AHL, NHL and Russia's KHL. I loved watching him play on a nightly basis, as opposed to calling his games as a member of an opposing team. The more you watch him, the more you really appreciate his consistency, professionalism and how he sees the game.
2ND LINE: O'SULLIVAN – SCHROEDER - GRANLUND
After Patrick O'Sullivan was claimed off waivers by Minnesota in November of 2010, he eventually found his way to Houston by midseason, and became a massive part of the Aeros 2011 run to the Calder Cup Finals. O'Sullivan had some of the softest hands around (think stickhandling in a phone booth) and he was never afraid to shoot the puck. He finished with 66 points in 60 games in an Aeros uniform, regular season and playoffs, from basically January – June. O'Sullivan finished his AHL tenure averaging more than a point-per-game, and his NHL stats read 161 points in 334 career games.
I've got Schroeder at second line center, although he could flip to the right side as well. Between the AHL and NHL, he's played nearly 600 games. From 2014-2016 he was one of the few bright spots, at least offensively speaking, on some bad Iowa Wild teams. He can skate, play in every situation, and finish when given the opportunity. He's currently playing for Jokerit in Russia's KHL.
Granlund has always been one of my favorite players to watch. A former first round pick of Minnesota, he's got slick skill and a compete level to match. Former Houston, Iowa and Minnesota head coach John Torchetti loved having Granlund as a player – he always lauded how hard he worked and his willingness to battle. "Granny" has great vision, loves to dish the puck, and he absolutely won't cheat you on the defensive side of things. In eight NHL seasons, he has 352 career points. Plus, he's played a ton of center in his career, so he's got good verstatility.
3RD LINE: HAULA – HRKAC – COYLE
I feel like this line has it all.
Haula skates well and has a high compete level. He can kill penalties and score 5-on-5, especially if he's playing the wing with a guy like Hrkac at center ice. I saw Haula in Houston (after he finished his collegiate career) and again in Iowa, where he was noticeable on a nightly basis. He's got a little SOB to his game as well, and I like that from a (in this case) third-liner. Haula just wrapped up his seventh pro season, playing for both Carolina and Florida in the NHL.
Regarding Hrkac, his selection is based a lot on resume, and not so much his Aeros stint(s). "The Circus" as he's known, is one of my favorite people in hockey. He's just an unreal human being and what I witnessed him pull off in Houston was nothing short of remarkable. Consider this – Tony Hrkac "retired" after the 2005 playoffs with the Milwaukee Admirals. But in the spring of 2009, he returned to the ice AT THE AGE OF FORTY-TWO, that's right, Tony Hrkac, a 1999 Stanley Cup Champion (Dallas Stars) and 2004 Calder Cup Champion (Milwaukee), was lured away from his coaching job at Concordia University in Wisconsin by Aeros assistant coach, Luke Strand. Strand said he and Hrkac talked for a few months about his possibility of joining Houston, and thank goodness those conversations came to fruition. Hrkac posted four points in 12 games down the stretch of the regular season, and then helped lead the Aeros to the Western Conference Finals, registering 14 points (4g, 10a) in 19 Calder Cup Playoff games. His chemistry with Corey Locke (healthy scratch on this "all-time roster") was insane. During his Aeros career Hrkac was a winger, but he played center most of his life (according to Elite Prospects), including the majority of his 758 NHL games. A playmaker, a competitor and a leader, Hrkac meshed extremely well with his Houston teammates, many of whom were 15-20 years younger. Oh, and he's got another Stanley Cup ring coming his way now, as he's a scout for the Tampa Bay Lightning.
The pride of East Weymouth, Massachusetts, Coyle is a large human being, and he plays like it. He'll give you a net front presence, and some nice hands to complement his big frame. Another great guy with a lunch pail mentality, which is crucial for any successful team. He skates pretty well for being 6'3" and can contribute on either special teams unit. Coyle has spent parts of nine seasons in the NHL and is a huge part of the Boston Bruins core group up front, skating in 37 Stanley Cup Playoff games the last two seasons in Beantown.
4TH LINE: SUTTER – WHITE - KUNIN
Sutter is a consummate professional and an ultimate team guy. He's worn a letter on his jersey pretty much everywhere he's been in the AHL. His hockey bloodlines are rich, and he's as tough as they come. He can fight, mix it up in the corners, block shots and play top PK minutes. He can take face-offs as well, playing center for most of his career. Sutter didn't have great team or individual success in Iowa, but that won't deter me from having him on this squad as a role player. The pride of Viking, Alberta has spent 14 seasons playing pro hockey and his approach to the game has never wavered.
"Whitey" (Ryan White) is an absolute beauty. He's the type of guy that you hate playing against, but would kill to have him on your side. He keeps the locker room light, but when it's time to drop the puck, he's an absolute gamer. In his prime he was outstanding in the face-off circle. He will drop the gloves with anyone and competes like hell on the PK. He only spent a short time with the Wild organization, but he certainly made an impact both on, and off, the ice. His resume includes about 600 pro games between the AHL and NHL, and more than 1,000 penalty minutes.
I love the work ethic that Kunin, the former Wild first round pick, brings on a consistent basis. In his AHL and NHL career (combined), he's got 99 points in basically just over three seasons. The Missouri native can really shoot the puck and he plays with a ton of jam. I remember calling his first pro game in Cleveland, as the Wild were battling the Monsters, and he was engaged physically the whole night like a cagey veteran. He's got leadership intangibles as well, which you always want throughout your lineup.
1ST D PAIR
Spurgeon is an absolute workhorse and what a diamond-in-the-rough find he was for Minnesota back in 2010. Drafted by the New York Islanders but never signed, Spurgeon attended Minnesota's development camp, played on their Traverse City prospects squad and ultimately earned his invitation to the Wild's training camp. From there, he was signed, and found his way to Houston (AHL). He played with the Aeros from October until late November, before making his NHL debut in Calgary on November 29, 2010. The rest, honestly, is history. Spurgeon returned to Houston for a couple more regular season games, before making his way back in time for the Aeros 2011 Calder Cup Playoffs run. That spring, he posted 11 points and a +5 rating in 23 postseason contests, as the Aeros lost in the Calder Cup Finals. Spurgeon got hurt during that series, and missed the season-ending defeat in Game 6. One could argue his presence would have been enough to vault the Aeros to the title, or at least force a Game 7, and I'm almost positive Mike Yeo (the Aeros head coach at the time) would echo that sentiment. Spurgeon has gone on to play 653 regular season NHL games, all with Minnesota. He skates well, defends at a high level and plays in every situation. He'd be a top pair defenseman (currently) on almost every NHL roster and he's a great person off the ice, to boot. Not too shabby for a kid who had to scratch and claw his way to even get invited to training camp a decade ago.
When I think of Matt Dumba, I think of power, energy and emotion. A great skater who can let it rip from the blue line, but also a defenseman who isn't shy of contact or mixing it up. He's the type of player who can change a game with his offensive ability, while maintaining an energy and intensity that's infectious. When Dumba first got to Houston, he was a high-profile prospect, having been selected 7th overall by Minnesota in 2012. In his brief AHL career between Houston and Iowa, he recorded 14 points in 23 games. In the NHL he's added 62 goals and 112 assists in just over 400 career games. He's a no-brainer to be the right-shot D-partner for Spurgeon on my top pairing.
2ND PAIR
Brodin might be one of the most underrated defensemen in the NHL, at least from a fan perspective. I'd bet if you polled the average NHL fan and asked them who Brodin was, they probably wouldn't have a clue. Yet, the 27-year-old Swede is one of the best shutdown blue-liners in the league. He's the type of defenseman that can skate his way out of trouble, make a great first pass and irritate the other team with his tenacity and hockey IQ. Similar to Coyle, Granlund and Zucker, Brodin's AHL experience came during the 2013 lockout. He got hurt somewhat early that season on a dangerous hit from Taylor Hall, who was playing with Oklahoma City at the time. Brodin missed several weeks, but when he returned he was amazingly smooth and quick in his first game back (in Milwaukee)…it was almost like he was never out of the lineup. Needless to say he's never been back to the AHL since that lockout ended, and he's now got 555 NHL games under his belt in a Minnesota sweater.
Kampfer donned both a Houston and Iowa jersey during his AHL career. The University of Michigan alum possesses a great shot and I think he's one of the fastest skating defenseman to come through the organization in my 12 years. Between the AHL and NHL he's logged over 400 games. He's a very "coachable" player as well, and that may have helped get his career back on track. Give a lot of credit to Mike Van Ryn, the current St. Louis Blues assistant coach, who helped Kampfer immensely during his time in Houston in 2012-13.
3rd PAIR
Stoner is exactly the type of player I'd want on my "third" pairing. He played a nasty, mean game, yet had the ability to get up in the rush, if needed. The 6-foot-4 defenseman carved out a nice career for himself, playing 360 NHL games after working his tail off in the AHL to achieve his life-long dream. In fact, the 2004 draft pick was in his fifth AHL campaign before his first NHL call-up opportunity came along. By the time he got recalled I was in my second year with Houston, and I remember being really aware of just how much Stoner had developed and how the coaches knew his NHL chance was coming. Good guy, good teammate, hard worker, and even harder to play against. That's how I'd sum up Clayton Stoner.
On the right side with Stoner, I've got his former Aeros teammate, the offensively-gifted, Max Noreau. Man, what a player he was in the AHL. He could run the power play, had good vision and was an above average skater. Noreau played just six, career NHL games, but at the AHL level, he was a point producer. A two-time AHL All-Star, Noreau posted double-digit goals four times in his AHL career. He's been overseas in Switzerland for a bunch of years now, still racking up the points.
GOALTENDERS
I've made Kuemper my starter in net because of the complete body of work. He dominated at the AHL level, posting a 2.30 GAA in 67 games with Houston and Iowa (plus one game with Tucson). He's also played in over 200 NHL games with Minnesota, Los Angeles and Arizona, recording a .918 save percentage. A great find in the 6th round of the 2009 draft, Kuemper was a rising prospect with Minnesota but really became a number one goalie in the NHL with Arizona in 2018-19. On another note, had the Wild not run into goaltending injury issues in the 2013 playoffs, Kuemper would have stayed in Houston and potentially back-stopped the Aeros to an opening round victory over Grand Rapids. Instead, he was recalled to Minnesota mid series, and Houston was bounced by the eventual champion Griffins in a decisive fifth game. The franchise then moved to Iowa….can you tell I'm a little salty about this?!? – not the moving to Iowa part, the fact that Aeros team lost its starting goaltender in Round One….but hey, that's the AHL in a nutshell.
Khudobin is my backup goalie, and a lot of that has to do with timing. If I had written this blog last year, I probably wouldn't have the former Aeros goaltender on my radar. But, his numbers are impossible to overlook. With more than 400 games played, the journeyman from Kazakhstan is a passionate, fun teammate that everyone seems to like (just look back to the Dallas Stars 2020 playoff run). He's won 99 NHL games in the regular season and 14 more in the Stanley Cup Playoffs. Throw in another 95 AHL regular season victories and "Dobby" has a pretty solid resume to this point. I definitely didn't watch him in Houston and think "there's a future NHL starter" but that's what makes player development so intriguing. Every player develops differently and sometimes guys just need a second chance or a fresh start. Khudobin has enjoyed a heck of a career so far, and it looks like he's only getting better.
Hope you enjoyed this blog….it was a tough one to write, as I had to leave out so many players I loved to watch / get to know. That's the great thing about hockey, honestly, the number of good people you come across -- amazing athletes, yes, but so many fun and energetic personalities as well. Hockey truly is a team game, so constructing a well-rounded roster is important. And for those players I left off, don't hate me. Haha. But feel free to text me if you happen to read this and you're hacked off!
Back to All