ZACH PARISE SET TO RETURN TO THE ICE TONIGHT IN IOWA
Dec 28, 2017
By Tom Witosky | Follow @toskyAHLWild
NHL star Zach Parise returns to the ice for his first game since last April and doesn't mind acknowledging that it makes him a little nervous, even when it's with Iowa Wild.
"I am a little nervous to get back to playing again," the 33-year-old veteran forward said following Iowa Wild's morning skate. "But I am looking forward to it. It is going to be another good step to getting back to playing."
Zach Parise's in the house! 🏒 pic.twitter.com/Bvdq2Oy5sW

— Iowa Wild (@IAWild) December 28, 2017
Parise is scheduled to be in the lineup as the Wild faces off with the Rockford IceHogs at 7 p.m. at Wells Fargo Arena. Plans call for Parise to be on a line with center Cal O'Reilly and rookie forward Luke Kunin.
Parise returns for a brief conditioning stint in the American Hockey League, where he played 73 games for the Albany River Rats in 2004-05. After that season, he played seven seasons with the New Jersey Devils and five seasons with Minnesota.
"He is an NHL star so it is great to have him for however long we do," O'Reilly, Iowa's team captain, said. "He obviously is going to help. It is good for us to have the boost."
The Wild will be returning to the ice for the first time in a week following the AHL Christmas break. Parise's last-minute assignment to Iowa provided a spark this morning for the Wild players.
"It's pretty cool," Kunin said. "You don't expect to be playing with one of the best players in the world. I think we all just want to go out and make plays and have fun."
Parise, who underwent back surgery in October after attempting to avoid it, expressed confidence that he has fully recovered enough to begin to play. The assignment to Iowa is to help him get back up to speed and get himself back into the routine of playing games.
"I am really comfortable with the rehab. It is more about getting into shape," Parise said. "You can skate by yourself and have limited practices, but until you get into that game pace, the bumping and having to make plays at top speed, you can't duplicate it. It's where I am at right now. I need to start playing some games."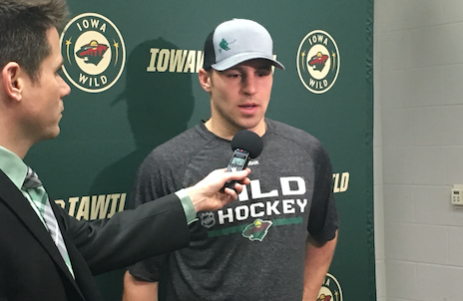 Parise also said he expects to play throughout the game.
"I plan on playing the entire game and going with Cal and Luke the entire way," he said. "I hope we can score some goals."
Derek Lalonde, Iowa's head coach, said Parise will play about 15 to 16 minutes and will be put on Iowa's power play, and even possibly, the penalty kill unit.
"Regulars shifts, as well as some power play and maybe some PK," Lalonde said. "A lot of it will be dictated by how his body reacts. You can't simulate real action so we'll just have to wait and see."
Lalonde also wouldn't rule out the possibility of Parise playing again with Iowa, but said that decision will be made after Parise returns to Minnesota after tonight's game.
"He will play tonight and see how his body feels," Lalonde said. "Then he goes back to Minnesota and goes day-to-day."
Parise's presence should also help give an energy boost to the team as they return from the break, Lalonde said. He added that his club, currently in third place in the Central Division, has been playing at a high level and the team needs to return to that level with three important games over the next five days.
"I cautioned the guys that we were playing at a really high level," Lalonde said. "At times when we get away from it, you forget how high you were competing. That is the challenge for us tonight."
But with Parise in the line-up, the energy level should be quite high, O'Reilly said.
"Everyone is excited to have him here," O'Reilly said. "He was good this morning and we are looking forward to tonight."
So is Parise:
"I'm real excited. It has been a long time," he said.
Notes:
--Lalonde said that Steve Michalek will start in goal after spending two weeks as the backup to Iowa Wild alum, Alex Stalock, in Minnesota. "Stevie will have some rust, but it was a good opportunity for him. It was a good experience and his next [pay] check will look really pretty. It is time to get him back into the routine. "
--Lalonde also said that C.J. Motte will be backing up Michalek as Niklas Svedberg remains day-to-day with a lower body injury.
--Parise's return to Des Moines: The NHL veteran said he spent a couple of days in Des Moines with his late father, J.P., after he was named the coach and general manager for the Des Moines Buccaneers of the United States Hockey League. "I came down one time the first year during their summer camp. He enjoyed being down here. He met some great people and liked working with the Bucs."
-- The Wild will travel to Rockford after tonight's match to finish this week's back-to-back with the IceHogs. The club will return to Des Moines for a noon game on New Year's Day against the Chicago Wolves.
Back to All