Carter's Time In Iowa Pivotal To NHL Comeback
Mar 9, 2017
In many ways, Ryan Carter's decision to try to get back to the NHL was made for him not by him.
"It's been really difficult to stay away simply because the team is playing so well," the 33-year-old White Bear MN native said. "It's everywhere. Every time I turned on radio they were talking about it, Every time I turned on the television, they were talking about it. It was tough to be injured and that was the reason why I wasn't playing."
The ten-year NHL veteran forward is in the middle of attempting to pull off a comeback widely thought impossible last October when the Wild released Carter during training camp. At thattime, Carter disclosed he had a torn labrum in his right shoulder and that surgery would be needed to repair it.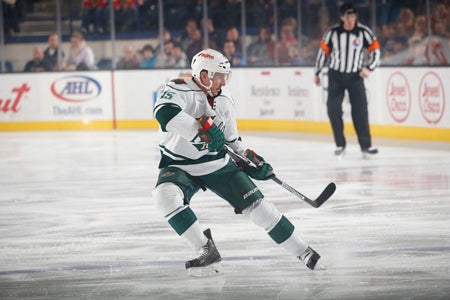 Carter said that the injury kept him from playing at full strength, making it necessary for him to undergo surgery and for the Wild to release him from professional tryout contract. At the same time, Wild GM Chuck Fletcher kept the door open for Carter to do what he has done for 10 NHL seasons -- battle the odds.
Last month, Carter returned to skating four months after his surgery and then signed a two-way professional tryout contract with the Wild. The Wild assigned him to Iowa where he is now one of the veterans hoping to lead the club to its first playoff berth in four years.
"I'm actually lucky to be here right now because I could be done playing," Carter said recently. "Getting a sniff, getting a chance is a good thing. This is a good league."
A trip to the AHL, under a two-way contract, would be viewed by many veterans with distrain if not outright contempt. Not so with Carter, according to Derek Lalonde, the Iowa Wild's head coach.
"Ryan is a great human who came here with a great attitude," Lalonde said. He has helped the leadership corps of this team even more."
Carter's addition actually came at just the right moment. A major reshuffling of the Iowa lineup took place as a result of trades and injuries resulted in the club losing six of its top forwards.
Lalonde said that Carter arrived in Des Moines with a professional attitude and the goal to get back into playing shape.
"You never know what is going on with someone's mind and their approach in a situation like that," Lalonde said. "But Ryan has been an absolute professional since he arrived. Then you can see how much he adds during games. "
Lalonde said Carter showed him a lot of leadership recently when he was forced to sit out a game in Chicago.
"He was so disappointed he couldn't play because he was going through waivers," Lalonde said. "To me, that speaks volumes about the kind of player he is. He wants to play games."
Lalonde added that he wouldn't be surprised if Carter made it onto the Minnesota roster.
"He is an absolute pro," Lalonde said. "His habits are an example of someone who has willed his way to a significant NHL career by the way he has approached the game."
Mike Weber, Iowa's captain, agreed, adding that Carter has provided additional leadership to the locker room while also working to get himself back into playing shape. Weber said Carter's focus on returning to Minnesota helps the Iowa players focus.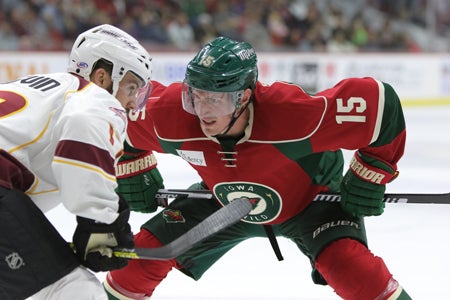 "He hasn't played hockey all year and he needs to get some games in," Weber said. "He needs to get minutes in so when playoff time comes or an injury happens, he is ready to go. He knows he needs to play to get his game to the higher level."
Carter said his decision to return to playing hockey went through a variety of stages – beginning with an attempt to stay away from the sport as much as possible.
"Originally, I wanted to stay away from hockey because I didn't know how things were going to play out. It is therapy to get away from it when you can't play," he said.
But Minnesota's unexpected success this season and the possibility the Wild has a shot at winning the Stanley Cup began to intrude on his hiatus with his right arm in a sling.
"I grew up in Minnesota and the team has been doing well," he said. "When your arm is in a sling, it is hard to stay positive about what's going on if you are reminded of it all the time."
Carter said that his stay in Iowa has been a good one.
"It's a good group of personalities," Carter said. "The team is playing well and finding ways to win. The guys received me well. This is a good group with a strong corps of principles. They find a way to go out and win games."
But, like most players in the AHL, Carter sights are set to return to the NHL and hopefully in time to help the Wild compete for the Stanley Cup.
"At the end of the day that is what motivates me," said Carter, who has played in two Stanley Cup finals. I grew up in Minnesota and my family is there. It would mean a lot to play and win a Stanley Cup there."
Back to All