THE WILD WIRE - BLOG #1
Oct 2, 2017
What's up, Wild fans?!?
Joe O'Donnell here…radio broadcaster for your Iowa Wild.
I've been challenged with blogging on a regular basis this season – sort of a weekly feature on iowawild.com that recaps the week that was, and also takes a peek at what's in store for the club. So, I'm gonna try to crank this thing out every week for ya (sometimes there will be more "meat and potatoes" than other times).
Feel free to tweet questions or comments to me @wildjoeradio
And with that said, here we go….
LAST SEASON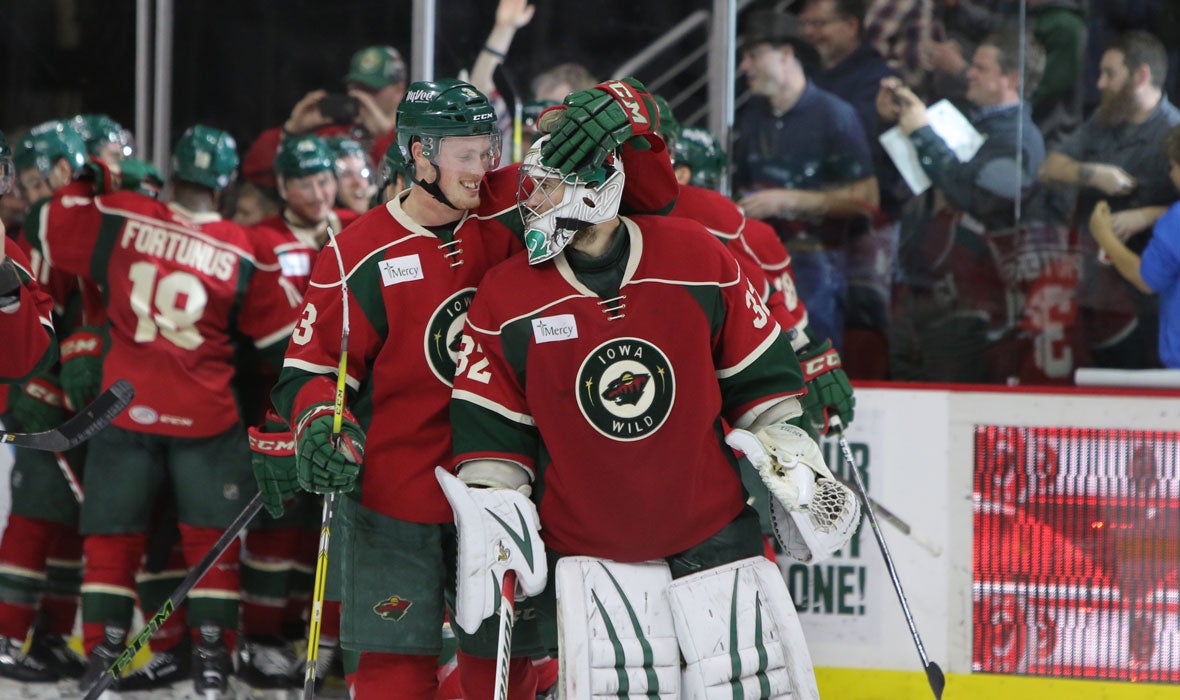 The Iowa Wild was 36-31-7-2 (81 pts.), which was far-and-away their best mark in the first four seasons. They finished just six points out of a playoff spot in the Central Division, and overall, made a ton of strides last year under the watch of Head Coach Derek Lalonde.
Thirteen skaters (including goaltender Alex Stalock) played for both Iowa and Minnesota last season, marking the fourth consecutive year where double-digit players have suited up for both clubs. The AHL is a development league, and the Minnesota-Iowa relationship has been rock solid in that regard.
THIS SEASON
Obviously the goal for this season is simple: make the playoffs and give yourself a chance to compete for the Calder Cup. At the start of last season, Lalonde preached installing a winning culture, something that certainly couldn't be achieved overnight. It took time, but the group showed great resolve last season, and I think the team's internal expectations should reflect that growth.
As with every new season, there's roster turnover from the previous campaign. Here's a sampling of some guys set to make their Iowa Wild debut, and a little background on them:
G - Niklas Svedberg - Might as well start with a tendy. Svedberg last played in the AHL in February, 2015. Since then he's either been in the NHL, or overseas in the KHL (Russia). After battling it out with Stalock in Minnesota for the backup job with the big club, he was sent to Iowa (after clearing waivers). He's 65-24-6 in his AHL career. Pretty impressive numbers.
D – Alex Grant - He finished 2nd in the AHL for goals by a defenseman, netting 17 a season ago with the Providence Bruins (70 games played). Six of those tallies came on the power play. The seventh-year pro is just shy of 400 AHL contests.
F – Cal O'Reilly - The 30-year-old, veteran forward has almost 150 NHL games on his resume, plus another 525 in the AHL, where he's amassed a whopping 450 career points. Last year, he finished second on the Rochester Americans in scoring. He loves to dish the puck, and he's lethal on the man advantage…33% of his points last season came on the PP.
Minnesota did a great job this offseason focusing on the Iowa Wild roster during free agency. The three players listed above, plus guys like Landon Ferraro, Kyle Rau and Ryan Murphy were all signed to provide organizational depth, and their vast amount of collective experience could go a long way in helping Iowa achieve its first-ever playoff berth.

IN NEED OF A BETTER START
It's no secret that earning a spot in the postseason is a grind at all levels of pro hockey. However, a good start never hurts. You can't make the playoffs in October / November, but you can certainly put a damper on your chances if you put yourself in a tough spot. Over their first four seasons, the Wild have totaled a record of 24-51-3-5 in October & November. That's simply not good enough. Let's see if the Wild can come out of the gates "on time" and let some of their division foes try and chase them down for once.
Opening Night is just days away…see you all on October 7th! If you can't make the game, please tune into kxno.com for the broadcast….looking forward to a great year of Wild hockey!
- Wild Joe Radio
IT'S SO CLOSE!!!!!!

🎟 → https://t.co/BQ70KWMN86 pic.twitter.com/IEHf2xgvMS

— Iowa Wild (@IAWild) October 2, 2017
Back to All