IOWA WILD'S NEW VIRTUAL TOUR AMONG THE FIRST IN MINOR PRO SPORTS
Jul 25, 2017
Fans Can Take A Virtual Tour For An Exclusive Look Behind the Scenes
DES MOINES, IA – The Iowa Wild, proud American Hockey League (AHL) affiliate of the NHL's Minnesota Wild, announced on Tuesday, a new and innovative Virtual Tour Experience, one of the first of its kind in all of minor league sports.
In a partnership with AVS Concepts, the Iowa Wild brings the newest technology in fan entertainment to central Iowa with the creation of the Interactive Virtual Tour experience. Fans may join the Iowa Wild for a one-of-a-kind interactive virtual tour at Wells Fargo Arena, the home of the AHL club. The unique arena tour lasts approximately 45-60 minutes. The behind-the-scenes tour includes: stops in the locker room during intermission, on-ice 360-degree views of player introductions, as well as puck drops at center ice with the captains of each team, and in-seat experiences, such as sitting on the glass for celebratory goals. The tour specializes in educating fans on the sports of hockey and the benefits of becoming an Iowa Wild season ticket holder.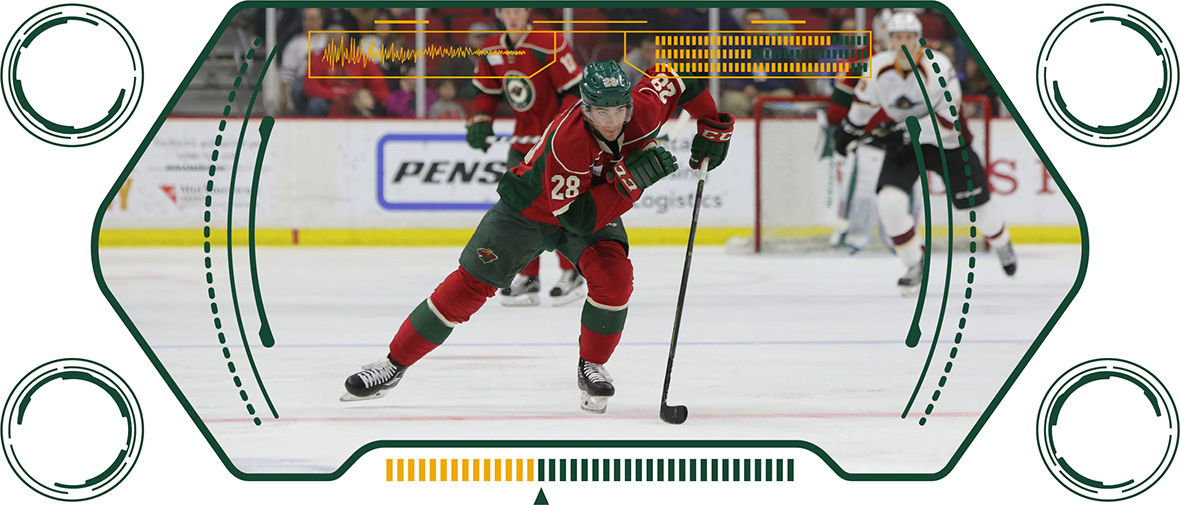 "AVS is proud to partner with the Iowa Wild and be a part of a new cutting-edge experience, which provides hockey fans in the Greater Des Moines area a unique behind-the-scenes look into the hockey world," said AVS Concepts Head of Business Development Nate McCombs.
The tour requires fans to wear virtual reality headgear and custom-branded Iowa Wild headphones, which fans may take with them upon departure. Fans may take a virtual tour of the arena for just $10, with the money going towards a new season ticket membership if they decide to purchase a membership to Wild365 – the Iowa Wild's exclusive club for season ticket holders. Tour times and availability are limited. Those interested are encouraged to contact the Iowa Wild front office by calling 515-564-8700 or by visiting www.iowawild.com/VR.
About AVS Concepts
AVS Concepts delivers custom solutions to meet the individual technology needs of each client, however large or small the project may be. AVS Concepts specializes in a customer-focused approach that relies on relationship building with a true understanding of each client's wants, needs and budget. AVS Concepts possesses a highly-skilled team that is passionate about providing exceptional customer service and the best audio, video and security needs for residential and commercial. Visit http://tvsoundandsecurity.com/ for more information.
Opening Night 2017 for the Iowa Wild is slated for Saturday, Oct. 7 with a visit from the Milwaukee Admirals at 7 p.m. at Wells Fargo Arena. A complete promotional schedule will be announced at a later date during the summer.
Follow the Iowa Wild on Twitter @IAWILD or like us on Facebook at www.facebook.com/iawild.

The Iowa Wild 2017-18 season is presented by Mercy Medical Center: and runs from October through April. Fans may purchase seats to see any of the team's 38 regular season home games at Wells Fargo Arena. Season tickets to see the Wild play its 2017-18 season at Wells Fargo Arena start at just $10 per game. For more information on tickets, including ticket plans and group seating, please contact the Wild ticket office by calling 515-564-8700 or go to www.iowawild.com.
-- IOWA WILD --
· BECOME AN IOWA WILD SEASON TICKET HOLDER
For more info on season ticket packages call 515-564-8700 or email Nate Berglund at [email protected]
· IOWA WILD IN THE COMMUNITY
To schedule a Wild appearance, contact Emily Hintz, Community Relations Coordinator, at 515-564-8731 or email [email protected]
· IOWA WILD CORPORATE SPONSORSHIPS
To create a customized advertising package for your company contact Brian Mather, VP of Sales, at 515-564-8720 or email at [email protected].
###
Back to All