IOWA'S NEW LEADERSHIP
Nov 9, 2017
Experience, proven leadership and a consistent willingness to compete at the highest level.
That's what Iowa Wild Head Coach Derek Lalonde wanted for his leadership team for the Wild's 2017-18 season. On Wednesday, Lalonde chose veteran center Cal O'Reilly to lead the club as captain and veteran forwards Pat Cannone and Christoph Bertschy as alternate captains.
The three will wear their letters officially for the first time when the Wild faces-off with the Rockford IceHogs at 10:30 a.m. Thursday for the club's annual school day game.
"A very tough decision, but in a good way," Lalonde said after a one hour practice on Wednesday. "We had seven to eight guys who were either veteran types who have worn letters in this league before or guys who have been captains at every level they've played. We had a ton of options."
As he did last year, Lalonde waited until the season was well underway to name the team's captain as well as the alternates. O'Reilly, in his first season with the Wild, succeeds veteran defenseman Mike Weber as captain. Lalonde said he puts an emphasis on choosing the captain and the alternate captains because of the important role they will play throughout the season.
"The room is everything." Lalonde said. "There is such a small margin between winning and losing at this level of hockey, it demands a buy-in from all players in the locker room. Any team that has the right leadership will be successful on the ice."
He also pointed out that the nature of the AHL combines young talent with veteran players.
"We have raw, young players who have to learn the right approach to becoming a professional hockey player," Lalonde said. "It doesn't happen overnight. The Cal O'Reillys of the AHL learn their leadership skills from NHL captains so they can help the young players learn what it is to be a professional."
Lalonde said O'Reilly, a 31-year-old Toronto native, became his pick for captain because of his ability to hold players accountable.
"Cal separated himself because of that ability. We need to hold players accountable from a coaching standpoint and we will. But you never get to where you want to be unless it comes from the room," Lalonde said.
O'Reilly, who was captain last season for the Rochester Americans, said that Lalonde's decision means more responsibility, but something that he willingly accepts.
"It is a special honor to wear the C or A," O'Reilly said. "Nothing changes for me, actually. I plan to lead by example on and off the ice, and in the room - remain vocal on the bench. There are a lot of guys in the room who can wear the letter and do it well. "
Lalonde said Cannone's experience and his vocal leadership in the locker room were key characteristics he wanted as part of their culture. On Bertschy, he said the 22-year-old Swiss native is "the non-stop everyday player who is competing at the very high level we want everyone to embrace."
Cannone, who was a captain one season for the Chicago Wolves and was an alternate captain on the road last season for Iowa, said that wearing a letter this season "means a lot to me."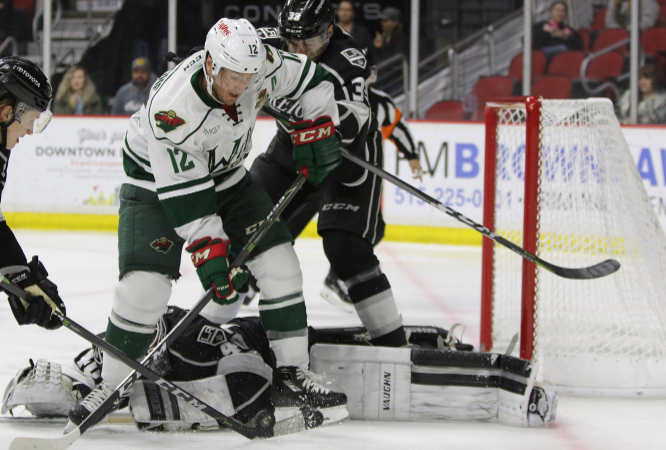 "Being named a leader on a team is an honor no matter what," Cannone said. "It is a responsibility to the team to make sure they are prepared for each game. It's also about making sure I'm prepared for every game because I need to set an example."
Bertschy, who was captain of the U-20 Swiss National Team in the 2013 World Junior Championships, described his selection as a "great honor."
"As a leader, you have to show up every night and not take a night off because everyone is looking up to you," Bertschy said. "In the room, I hope to be positive and bring energy."
Despite the Wild's shaky start to the season, O'Reilly said that his message to the team beginning Thursday is a simple one.
"It will be the same as it has been for the last few games," O'Reilly said. "We have to get a little better and learn to play winning hockey. We are close, but to play in this league, we need to get to another level."
Notes:
Michalek in net: Lalonde said that goaltender Steve Michalek will start on Thursday morning for the Wild with Minnesota's call-up of Niklas Svedberg. Svedberg was recalled by Minnesota to allow back-up goalie Alex Stalock to be with his wife who is giving birth to their second child. Michalek, who took personal leave at the beginning the season, will be making his AHL season debut against Rockford. "I am excited to get back out there. It's been a while, so I am really looking forward to it," Michalek commented. He recently returned from a five game stint with the ECHL Rapid City Rush where he posted a 3-2-0 record with a 3.20 GAA and .864 SV%. "I got more comfortable with every game. I am feeling good about my game."
Back to All