MENELL'S PATH TO IOWA
Oct 12, 2017
By Tom Witosky | Follow @toskyAHLWild
After Brennan Menell signed his three-year entry-level contract with the Minnesota Wild last month, the 20-year-old defenseman immediately called the person he credits the most with helping him earn the chance to play in the National Hockey League.
"I called my Mom," he said of his mother, Shannon. "She is the first person I call after every important thing that happens to me in my life."
But even the Woodbury, MN native said that his rocket-like rise over the last couple of months from playing defense for the Lethbridge Hurricanes of the Junior A Western Hockey League to making the Iowa Wild of the American Hockey League wasn't something that he, his mother, or anyone else in his family anticipated.
"I always thought I would get to this point, but I didn't know it would be this year or this quick," he said. "It is a little bit surreal, but I come out every day and just try to get better."
Derek Lalonde, the Iowa Wild's head coach, said Menell's quiet and level-headed approach to the game is precisely what prompted the Wild to sign him to a entry-level contract and assign him to Iowa.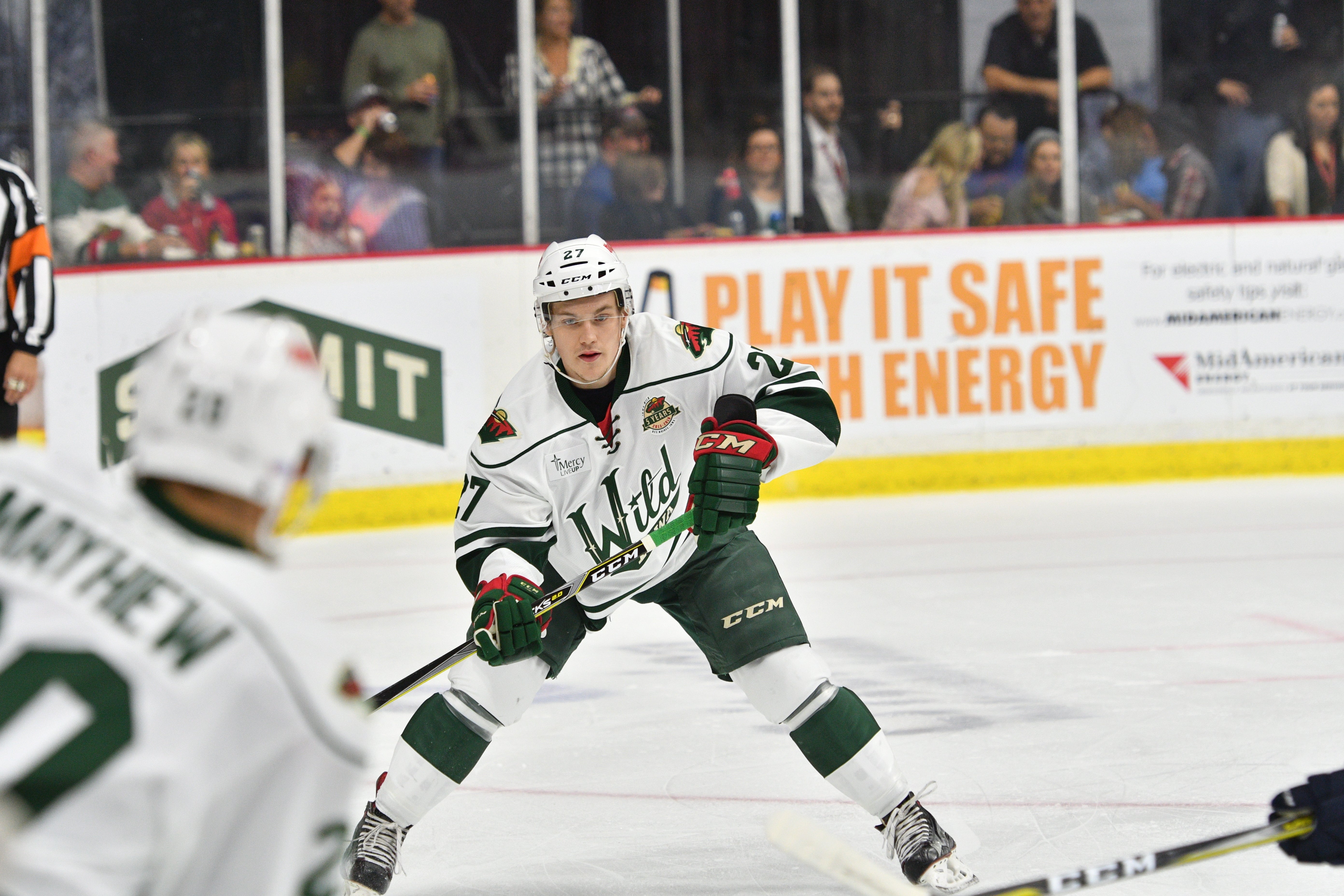 "His poise during games is pretty special for someone his age and that's why he rightfully got a contract," Lalonde said. "It was great work by our scouting team and management team."
Menell said his development into a professional hockey player actually began with a setback -- he didn't make his high school hockey team as a sophomore. Instead of suggesting someone made a mistake in cutting him, Menell said he understood exactly then why he didn't make the team.
"Fact is I just wasn't good enough at the time to make the team," Menell said. "I liked my time there and still have buddies from there."
Faced with that adversity, Menell said, he made up his mind that the only thing he had to do was keep striving to improve and to reach his goal. That decision was based on watching how his mother dealt with the difficulties of being a single mom and listening closely to her advice about how to succeed.
"Growing up and watching all of the adversity she had to go through, her drive definitely rubbed off on me," Menell said. "She always taught me to go after what I want and don't let anyone tell you otherwise."
That meant three seasons playing away from home in the WHL – his first two seasons in Vancouver and his third season in Lethbridge. Menell said that's where he learned to accept he would make mistakes, but not let it bother him.
"It was something my coaches would always preach to me," he said of his ability to remain poised. "It was something I had to work on because when I had a bad shift I would come back to bench pretty angry."
Menell said his coaches' advice was always the same: "They would tell me 'you can't change the past or what happened in last shift, but you can make a difference on the next shift. Don't get too high or too low'."
Last season, Menell ended the year with the third highest point total on the Hurricanes roster with 71 points (12 goals, 59 assists) in 70 games. He then spent the offseason working on his conditioning for the next season – mostly weightlifting.
"The weight room played a big part of it because being an undersized defenseman, I knew I'd be going up against some big guys who would try to outmuscle me," Menell said. "I knew I needed to be in the best shape possible and be quick enough to get up and down the ice with the older guys."
With that resume, the Wild invited Menell to its development camp in July and then to play with other Wild prospects at the Traverse City Prospects Tournament under Lalonde's watchful eye.
Lalonde now describes Menell as a work in progress as he adjusts to playing hockey at a much higher level. In his first two games last weekend, Lalonde said, Menell made mistakes that directly resulted in goals scored by the Milwaukee Admirals.
"He made some youth mistakes," Lalonde said. "He was a direct result of a couple of goals against, which I am sure frustrated him.
But Lalonde said that when he made those mistakes, Menell demonstrated just why he impressed the Minnesota front office. He remained composed, simplified what he was doing on the ice and began to adjust.
"You could also can see the poise and the skill set," Lalonde said, pointing out that Menell scored his first professional goal and collected his first professional assist during the weekend. "He even has a point a game already in the first two games. Those other things – defending, playing away from the puck – will come in time. What you can't teach is his instincts, which I think are very special."
Menell agreed with Lalonde's assessment. He said the mistakes including a turnover that resulted in an opponent breakaway goal shook him up momentarily.
"It is very fast and definitely took some time to get used to it," Menell said. "It wasn't until the second and third period of the second game that I played a lot better. I definitely made some mistakes but you have to figure it is going to happen in your first few games."
At the same time, Menell said that he is becoming accustomed to his new surroundings and looking to develop a routine during the months ahead to help him to improve his skill and his game management. He knows it will be an extensive learning process.
"The skill level is so high," he said. "I always thought defense was most important, but it takes a lot work. I can see why it takes time."
But time is what is likely to turn Menell into an NHL level player.
"We are asking him to play at high level at 20," Lalonde said. "It maybe a little unfair and maybe right now a step back for the team and him. But we already are two steps forward because there is a lot that is special about him."
Back to All