OUTDOOR RINK PROGRAM EXPANDS TO ANKENY AND WAUKEE
May 25, 2017
DES MOINES, IA – The Iowa Wild, proud American Hockey League (AHL) affiliate of the NHL's Minnesota Wild, in conjunction with Wells Fargo, the City of Ankeny and the City of Waukee, announced that a community ice rink will be built for public use in both Ankeny, IA and Waukee, IA starting in the winter of 2017.

"We are fortunate enough to have some great community partners, giving us the ability to help grow the game of hockey and provide the community an opportunity to pursue an outdoor winter activity", said Iowa Wild President Todd Frederickson. "This gives us three ice rinks in the greater Des Moines area and we hope to build on this. We believe strongly in a healthy lifestyle, and being active in the winter is essential for the well being of our children and our community. We encourage kids and adults to get outside in the winter and go skating/play hockey at one of the local community rinks."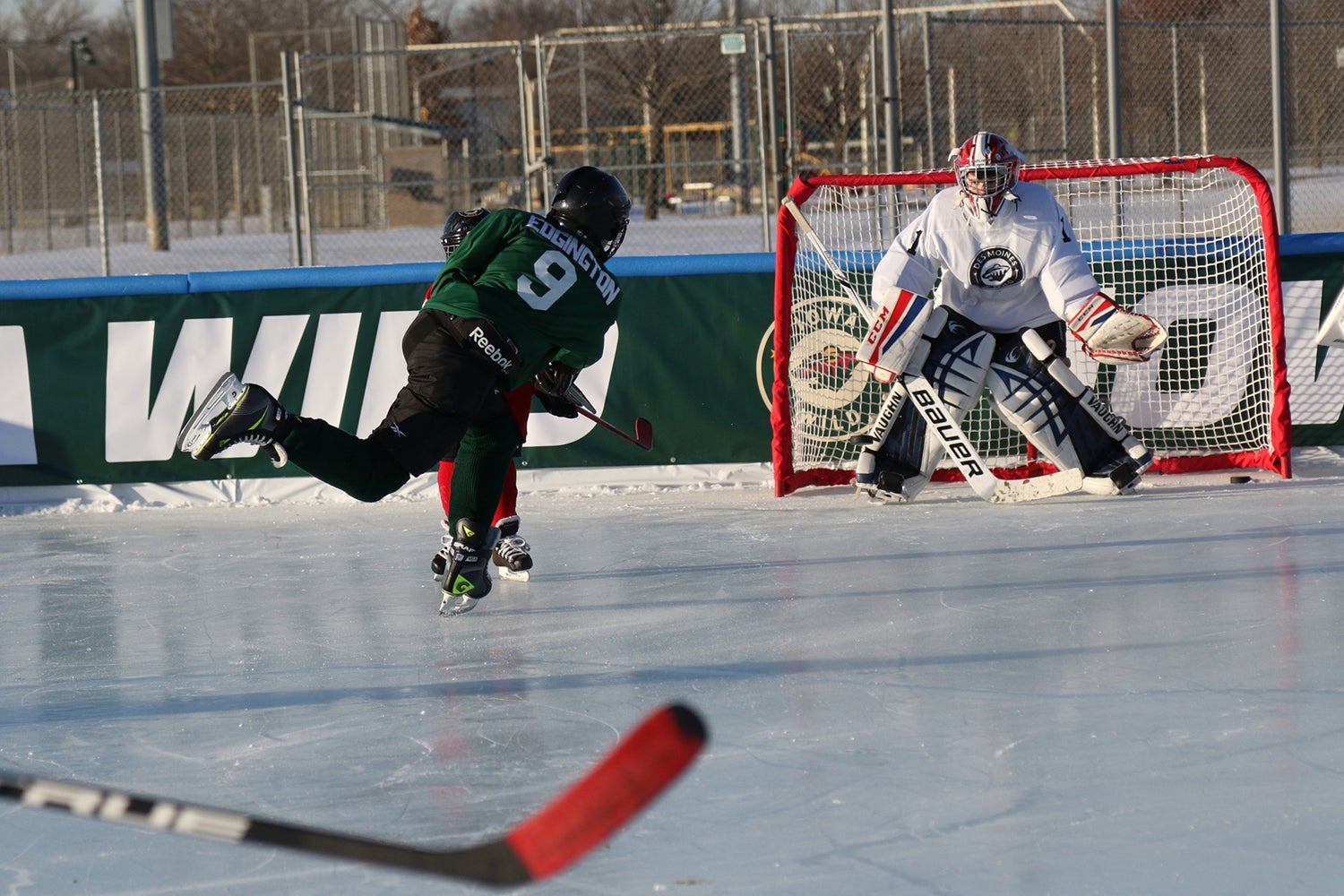 In December of 2016, the Iowa Wild and Wells Fargo announced the first community rink in West Des Moines at Raccoon River Park. With the addition of Ankeny and Waukee, the community rink program expands to three ice rinks that will be available for public use throughout the winter months. Waukee's rink will be placed at the Sugar Creek Golf Course at 1505 6th street. The City of Ankeny will announce the location of its community rink in the near future.
"We are excited to partner with the Wild in bringing this new amenity to the communities of Waukee and Ankeny, just as we did last year in West Des Moines," said Don Pearson, Wells Fargo regional president. "Our 16,000 Iowa team members are deeply committed to supporting and volunteering in our communities in order to make them strong, diverse and vibrant. We love getting behind efforts like this that improve our communities and benefit central Iowa."

The rinks have been donated in a partnership between the Iowa Wild and Wells Fargo. The rinks are free for public use. Each rink measures at 80 x 40 (a regular hockey rink measures 200 x 85). The rinks will be open as long as weather permits and the ice remains frozen.
"We are truly grateful that the Iowa Wild and Wells Fargo are offering this generous addition to Waukee," said Waukee Mayor William F. Peard. "Our neighborhoods, parks and trails are filled with people enjoying Waukee amenities during the warm months, but winter tends to bring a decline in that engagement. We are thrilled to have a new winter recreational option for which residents can get of the house to enjoy."
"On behalf of the City of Ankeny and our 60,000 residents, I would like to thank the Iowa Wild and Wells Fargo for this wonderful gift to our community," says Mayor Gary Lorenz. "This new ice skating rink will give residents of all ages another outlet to embrace winter and continue their active lifestyle through all seasons."
Opening Night 2017 is slated for Saturday, Oct. 7 with a complete 76-game regular season schedule announced at a later date during the summer.
Follow the Iowa Wild on Twitter @IAWILD or like us on Facebook at www.facebook.com/iawild.
The Iowa Wild 2017-18 season is presented by Mercy Medical Center: and runs from October through April. Fans may purchase seats to see any of the team's 38 regular season home games at Wells Fargo Arena. Season tickets to see the Wild play its 2017-18 season at Wells Fargo Arena start at just $10 per game. For more information on tickets, including ticket plans and group seating, please contact the Wild ticket office by calling 515-564-8700 or go to www.iowawild.com.

-- IOWA WILD --
BECOME AN IOWA WILD SEASON TICKET HOLDER
For more info on season ticket packages call 515-564-8700 or email Nate Berglund at [email protected]
IOWA WILD IN THE COMMUNITY
To schedule a Wild appearance, contact Emily Hintz, Community Relations Coordinator, at 515-564-8731 or email [email protected]
OWA WILD CORPORATE SPONSORSHIPS
To create a customized advertising package for your company contact Brian Mather, VP of Sales, at 515-564-8720 or email at [email protected]
###
Back to All