RAU'S HARD WORK PAYS OFF WITH THE WILD
Jan 16, 2018
By Tom Witosky | Follow @toskyAHLWild
Kyle Rau's goal is to get back to the National Hockey League.
But that doesn't mean the 25-year-old Eden Prairie, MN native isn't going to have fun in the process despite what some might consider a frustrating start to a promising professional career.
"Frustrated is not the right word," the third round draft choice for the Florida Panthers in 2011 draft said recently in an interview. "Once you get a taste of it, you realize how much you want it. It's not a bad thing, it's a good thing. It makes you work harder."
Working hard is just what Rau has done since signing a one-year, two-way contract with Minnesota Wild, according to Derek Lalonde, Iowa's head coach.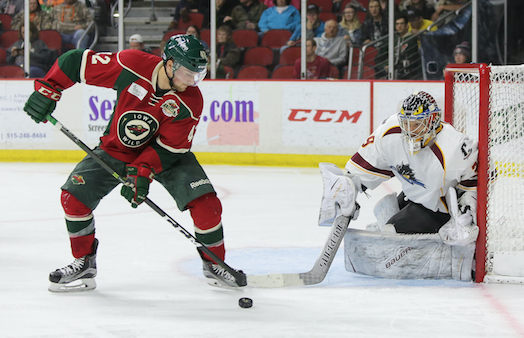 Rau was among a group of five veteran hockey players with NHL experience signed by the Wild to help bolster the NHL team's depth as well as help improve Iowa Wild's competitive level in the tough Central Division of the AHL.
Halfway through the season, the moves have turned Iowa into a legitimate contender. It is among six of the seven Central Division teams battling for one of the four playoff spots in the division. Rau, who missed games early in the season due to a lower body injury, has 11 goals and 10 assists in 34 games.
"He is just a flat-out hockey player. We love having him around," Lalonde said. "Things that we ask other guys to bring during practice and games, he does that all of the time."
Rau's family name is a familiar one to Des Moines hockey fans. Older brother Chad, now playing in Russia's KHL, played a full season with the Des Moines Buccaneers in 2004-05 and then for Iowa Wild in its inaugural season. Kyle said when he was considering signing with Minnesota he was assured by his brother that he would like the change.
"He knew quite a bit about it, plus he knew a lot of the guys who were here from when they were in Houston," Kyle said. "He told me the staff was good and this was a good town."
After that, signing with Minnesota wasn't a difficult decision, Rau said.
"This is a good organization and they've been good to me," he said. "The fact that Minnesota is my home state and I am so close to my family made a difference. It's been my dream to play with them, and in front of my family with the Wild."
Rau's journey to the Wild began with a standout career at the University of Minnesota where he played with several Wild prospects like Erik Haula, Mike Reilly and Justin Kloos, as well as top NHL prospects like Nick Bjugstad. With the Gophers, Rau never ranked lower than second in total points in his four years and he led the team in goals twice.
Rau said at that point he began to understand that like his older brother, he had the ability to play professional hockey.
"Watching my brother when he started out made an impression on me," Rau said. "Then when he went to college to play, I began to get the idea I could make it. Once I got to college, I started to think it was possible."
Lalonde said Rau's ability and tenacity have made him an important part of Iowa's offense and special teams.
"He is hard to play against because he is relentless on the forecheck, will finish his checks and will win most fifty-fifty pucks," the Iowa coach said. "He is a guy you win with on the NHL and AHL level."
If Rau has a flaw, Lalonde added, it is "that he is so hard on himself. That's why he is such a good player."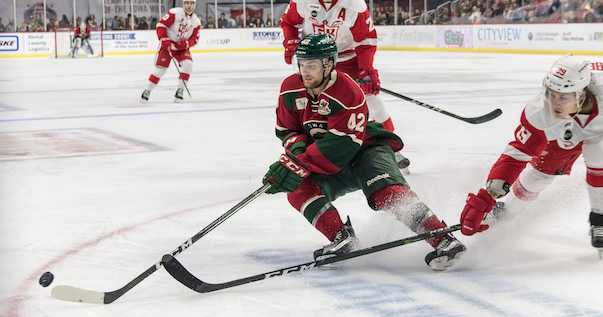 Lalonde said that Rau's early-season injury, which occurred initially in training camp, is what likely kept him from playing in Minnesota when the NHL club had to deal with a rash of injuries requiring several call-ups from Iowa.
"It was too bad he was hurt early and couldn't have been among the ones who went up in the first few weeks of the season," he said. "I would have loved for him to get in front of Bruce because he can really bring some excitement with what he brings to the ice."
Rau takes that kind of praise philosophically. He said that his goal to make it back to the NHL depends on how well he is playing for Iowa and to a degree, how well Iowa is playing in the AHL.
"You look around at the teams in the AHL and look to see where the players end up the next year," he said. "It is incredible to see so many in the NHL. That tells you if you come to the rink to make your team better, that it can happen to you."
But overall, Rau said that there really isn't anything better than playing hockey.
"I like to come to the rink every day. It beats sitting at a desk," he said. "It's not work, it's just fun."
Back to All