HOGS SQUEAL PAST WILD IN OT
Oct 25, 2017
Iowa Travels To Tucson To Meet The Roadrunners on Friday
DES MOINES, IA – Iowa Wild (2-4-1-0, 5 points) were defeated by the Rockford IceHogs (6-1-0-0, 12 points) 2-1 in overtime in front of 3,242 fans on Wednesday night at Wells Fargo Arena. Rockford forward Tomas Jurco scored the game-winning goal 1:16 into overtime, propelling the Hogs past Iowa and to their fourth straight win. Despite surrendering an early tally, IceHogs goalie J.F. Berube (5-0-0) settled in to make 17 saves for the victory.
Iowa forward Colton Beck set a new team record just 70 seconds into the first period when scored in his fifth straight game – beating the former record of a goal in four straight by Tyler Graovac and Teemu Pulkkinen.
Wild goalie Niklas Svedberg (2-5-0) stopped 29 of 31 in defeat. Iowa travels to Tucson for a pair of games, starting Friday at 9:05 PM CT.
The Wild struck for game's first goal just 70 seconds into the game. Colton Beck snapped wrist shot over the left should and past the glove of Rockford goalie J.F. Berube. The goal set a new Iowa record for consecutive games with a goal at five straight. Pat Cannone and Zack Mitchell each had an assist as Iowa claimed a 1-0 lead.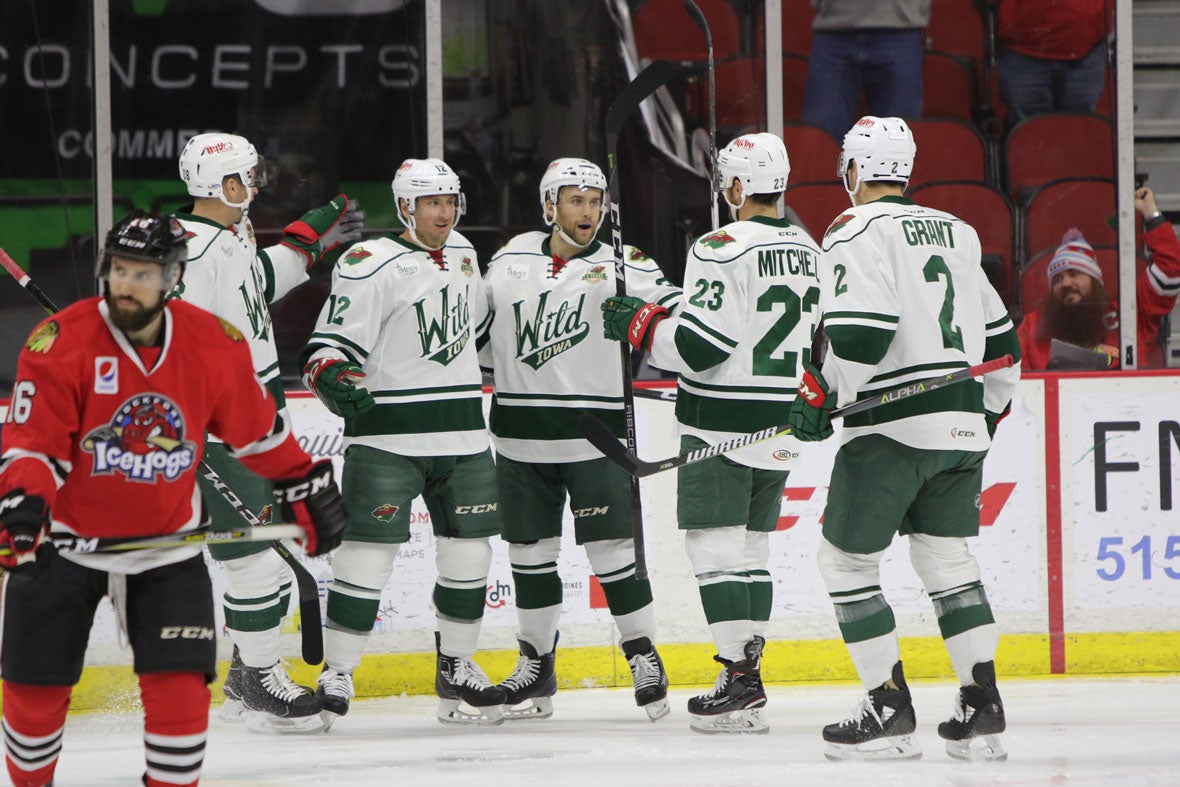 The IceHogs countered at 13:32 of the second period after Matheson Iacopelli potted a rebound for his third goal of the season and a 1-1 score. Just after a penalty kill expired to Iacopelli he jumped into an odd-man rush. Vinnie Hinostroza dropped pass to the high slot for the trailer and Iacopelli ripped a one-timer past Niklas Svedberg, tying the game one goal apiece. Luke Johnson added an assist on the play for the IceHogs.
After a scoreless third period, IceHogs forward Tomas Jurco carried the puck into the Iowa zone and snapped a wrist shot over the shoulder of Svedberg for the game-winning goal at 1:16 of overtime. Forward David Kampf and defenseman Carl Dahlstrom each had a hand in Jurco's second goal of the season and the 2-1 win.
After a pair of road games in Tucson, Iowa returns home to meet the San Antonio Rampage on Thursday, Nov. 2 at 7 p.m. It's Dollar dog night with $1 hotdogs, $1 pretzels and $1 small popcorns - presented by LAZER 103.3. Trivia night takes place in "The Fort," previously known as the River's Edge Restaurant, before the game.
Iowa and San Antonio faceoff again on Friday, Nov. 3 at 7 p.m. at Wells Fargo Arena. It is a Bus beer night with $2 beers presented by 100.3 The Bus. There is also a coat drive at the game. Fans receive a free weekday ticket voucher with a donation.

Follow the Iowa Wild on Twitter @IAWILD or like us on Facebook at www.facebook.com/iawild.

The Iowa Wild 2017-18 season is presented by Mercy Medical Center: and runs from October through April. Fans may purchase seats to see any of the team's 38 regular season home games at Wells Fargo Arena. Season tickets to see the Wild play its 2017-18 season at Wells Fargo Arena start at just $10 per game. For more information on tickets, including ticket plans and group seating, please contact the Wild ticket office by calling 515-564-8700 or go to www.iowawild.com.
-- IOWA WILD --
· BECOME AN IOWA WILD SEASON TICKET HOLDER
For more info on season ticket packages call 515-564-8700 or email Nate Berglund at nathan.berglund@iowawild.com
· IOWA WILD IN THE COMMUNITY
To schedule a Wild appearance, email info@iowawild.com
· IOWA WILD CORPORATE SPONSORSHIPS
To create a customized advertising package for your company contact Brian Mather, Senior VP of Sales and Business Operations, at 515-564-8720 or email at brian.mather@iowawild.com.
###
Back to All