SOUCY STANDS TALL ON IOWA BLUE LINE
Oct 26, 2017
By Tom Witosky| Follow @toskyAHLWild
A work in progress.
That's how Iowa Wild defensemen Carson Soucy describes his development so far in his bid to make the National Hockey League.
"There is still work to be done," the 23-year-old Irma, AB, native said. "To be down here now is a good thing for me. The coaches do a really good job of preparing you for the next step and I have work to do."
At 6-foot, 4-inches, 210 pounds, Soucy has become a regular presence on the Wild's blue line as the team has opened up its fifth season in Des Moines. In the first six games, Soucy has one goal and one assist as one of the club's top four defensemen, but Coach Derek Lalonde said that he can see progress in Soucy's development.
"He keeps improving, though we still see some up and down sporadic play," Lalonde said. "But that is common of all young defensive players. This league is very hard on young defensemen. There is a lot there and we ask a lot of him."
Soucy's climb up the professional hockey ladder began in his hometown of Irma, a small town (pop. 500) on the central Alberta plains about 90 minutes southeast of Edmonton. Though Soucy lived in town with his immediate family he spent time working with his cousins on their farms.
"Most of my relatives still live on farms up there," Soucy said. "My Mom grew up on a farm and my cousins are still farming. It is always fun to go and help them out."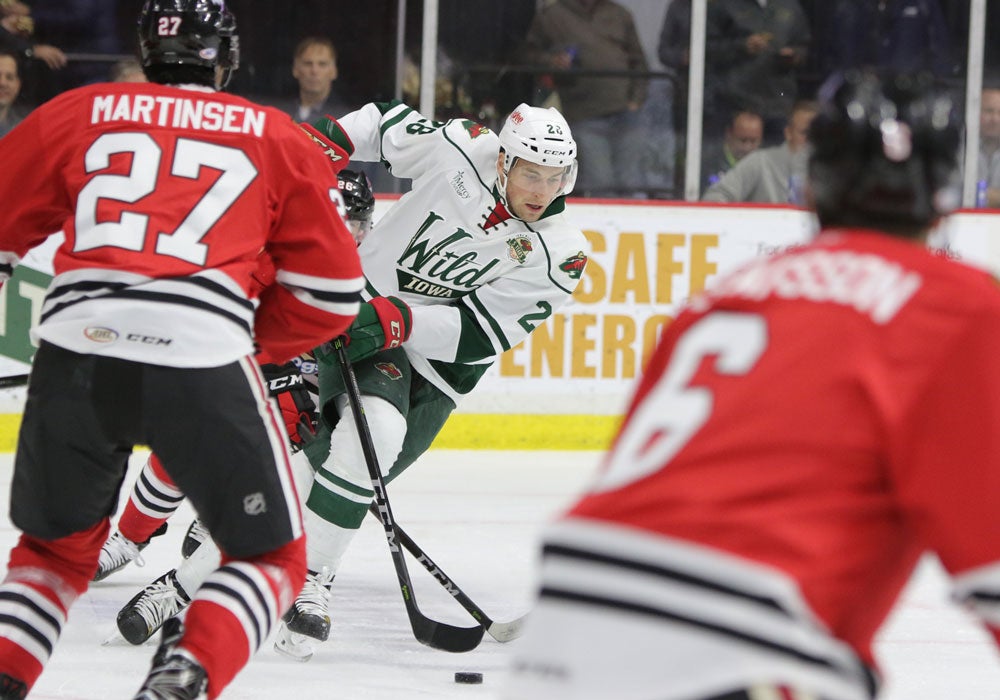 Growing up in a small town, Soucy said, helped him to focus on his love for sports and competition.
"There really wasn't much else to do," he said. "It was hockey in the winter and baseball in the summer."
At the same time, Soucy also credited his parents with giving him the opportunity and the right attitude to pursue the dream of his childhood – to play in the NHL.
"The best advice I ever received was from my parents. They told me when I was young to just do what I love to do, which at the time was play hockey," he said. "They were super supportive of me playing hockey and they were always there for me," he said.
Soucy also said that family support also led him to decide to play college hockey at the University of Minnesota-Duluth after only one full season of junior hockey playing for Spring Grove in the Alberta Junior Hockey League. Soucy's size and defensive skill attracted UMD coaches to offer him a scholarship and led to the Minnesota Wild drafting him in the fifth round of the 2013 entry draft.
That was when Soucy understood that there was a chance he could play professional hockey.
"It wasn't one thing really," he said. "When you start playing in juniors, then you start talking to schools trying to figure out where going to play. Then, you start talking to NHL scouts and that is when the realization starts to kick in. When the draft came around, that's when I felt it the most."
At UMD, Soucy built a reputation as a solid defensive player with a strong regard for the Bulldogs program. At the end of his third year, Soucy graduated with a degree in business management. He had the chance to turn professional, but decided to stay in school in hope of helping UMD win a NCAA championship. The bid fell one game short with UMD losing to Denver in the Frozen Four final.
In his final season, Soucy served as an alternate captain and finished the season ranking third on the team in penalty minutes and fifth in blocked shots. He also had to overcome a lower-body injury costing him seven games that season. The defenseman also ranked second among Bulldog defensemen with 73 shots on goal and third in points.
But Soucy didn't have time to dwell very long on the loss of the NCAA championship game. Within a week, he was in Iowa where he played three games at the end of the 2016-17 season.
When he arrived in Des Moines for the first time, Soucy said he was struck by the similarity of Iowa and Alberta. "When you get outside Des Moines, it is a lot like Alberta. It's kind of nice," he said.
Soucy said that his three games helped him to get ready for the Minnesota's development camp as well as training camp for this season where he impressed the Minnesota coaching staff.
At the same time, they also noticed Soucy needed to play as much as possible to continue his development, Lalonde said. Like many college players, he has habits that need to be changed.
"He needs to work on taking away time and space all the time," Lalonde said. "Sometimes he is very hard to play against, but other times he gets into a sagging passive mentality, but that will change as he gets more experience."
For Soucy, the experience and what is ahead boils down tohelping the Wild to win in the AHL. He said the team is getting closer to becoming the kind of team that can challenge for the Calder Cup playoffs.
"We do have a lot of skill and a lot of good players in the room. Lately, we have just been getting out of sync at times," he said. "There are spurts where we show what we can be, but it just hasn't been a full 60 minutes as yet. It will come."
Back to All