THE STAND-OUT LINE
Jan 10, 2018
By Jacob Born
Iowa Wild will reach the halfway point of its season Saturday against the Manitoba Moose. The team currently sits in fourth place in the Central Division with 16 wins and 41 points, the highest number of points midway through a season in the team's five-year existence. Another win would give the Wild 17 wins in total, which would tie for the highest number of wins halfway through a season.
Much of the success of the Wild has been because of roster depth, which the team is starting to see pay dividends. At the beginning of the season, the Minnesota Wild had a rash of injuries, resulting in six Wild players receiving call-ups to the big club to start the season. As Minnesota has gotten healthier and Iowa has remained relatively healthy, Head Coach Derek Lalonde's lineup has seen positive results.
"We've had good depth in our forward lines because our organization is healthy," Lalonde said. "The depth for sure has been good. This is the deepest forward core I've had when we're healthy."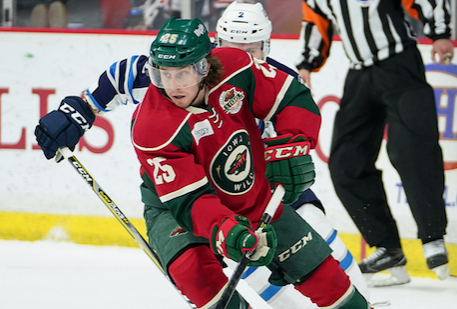 Lalonde is able to roll four lines night in and night out with each one getting about the same amount of playing time, barring any excessive power play or penalty-kill minutes. But during the past couple of months, the line of Gerry Mayhew, Justin Kloos and Sam Anas has especially stood out.
"We all think the game pretty similarly and we all work to get the puck," Anas said of his line. "We're building that chemistry where you can start to anticipate what the other's are going to do based on tendencies."
"All three of them have found success because they're working so hard," Lalonde added. "They're very smart, high-offensive IQ players. You put the effort on top of it and it's been very dynamic. It's given us a really big boost to have a line like that to lean on."
Over a span of 15 games since Dec. 5, Mayhew, Kloos and Anas have a combined 36 points (18g, 18a). Anas leads Iowa players during that stretch with 17 points (9g, 8a) in 15 games; Kloos is just behind him with 14 (6g, 8a) points in 15 games. The trio's torrid play during the past month has put Anas and Kloos at the top of the Wild's point totals. Anas leads the entire team with 27 points (12g, 15a) and Kloos is second on the team in points with 26 (10g, 16a).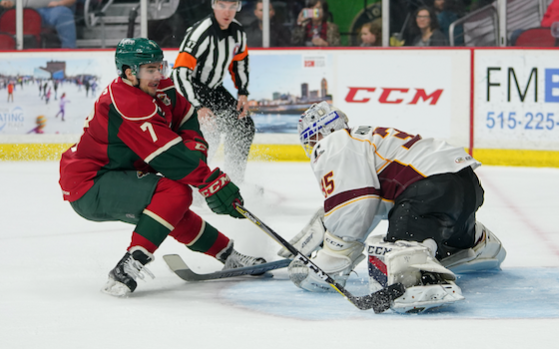 Coincidently or not, Dec. 5 also happens to be when Anas began his franchise-record 10-game point streak. From Dec. 5 to Dec. 28, Anas scored 14 points (8g, 6a) in 10 games. Four of those games featured multi-point nights and 10 points came away from Wells Fargo Arena.
"It really was just good chemistry with my line," Anas said. "That combination with us playing well and the power play working well, those were the two main aspects. It could have been any one of us on a point streak."
Anas' play of late just signals how far the Potomac, Maryland, native has come in his second season with Iowa. The 2016-17 Wild season was Anas' first since leaving Quinnipiac University, where he averaged a point-per-game with the Bobcats. In his first season with Iowa, Anas struggled, putting up just 28 points (12 g, 16a) in 66 games with a -17 plus-minus rating.
"He was just easy to play against," Lalonde said. "There were times last year where he was in over his head. You could tell it was wearing on him physically, mentally."
One year later, Anas is just one point shy of his total from last season in 35 fewer games. He's already matched his goal total from last year and is playing confident hockey.
"He worked really hard to get his game in order," Lalonde said. "This year, he trusted the process, he bought into the process, had a good offseason and since day one, he's been really on task. I'm glad he's being rewarded with it. It's been exciting to see his growth over the past two seasons."
When Lalonde put Mayhew, Kloos and Anas together, he had no idea the group would find the success they have this season.
.@alfano20's reaction after his goal yesterday >>> pic.twitter.com/WopTQxTEbk

— Iowa Wild (@IAWild) January 7, 2018
"At the beginning, you just kind of throw things around," Lalonde said. "Now, looking back, it should make sense. All three play quick, they have high compete."
With the second half of the season coming up and the franchise's first playoff series in Iowa on the horizon, the line of Mayhew, Kloos and Anas will continue to be an important factor in the Wild's success. Lalonde knows it will be a challenge for the group, but he's confident in the three line mates.
"It's really hard to play at that level and to keep at that level," Lalonde said. "The secret's going to get out and they'll face some tougher competition. But the way they've played lately, they've got the confidence to keep it going."
Back to All