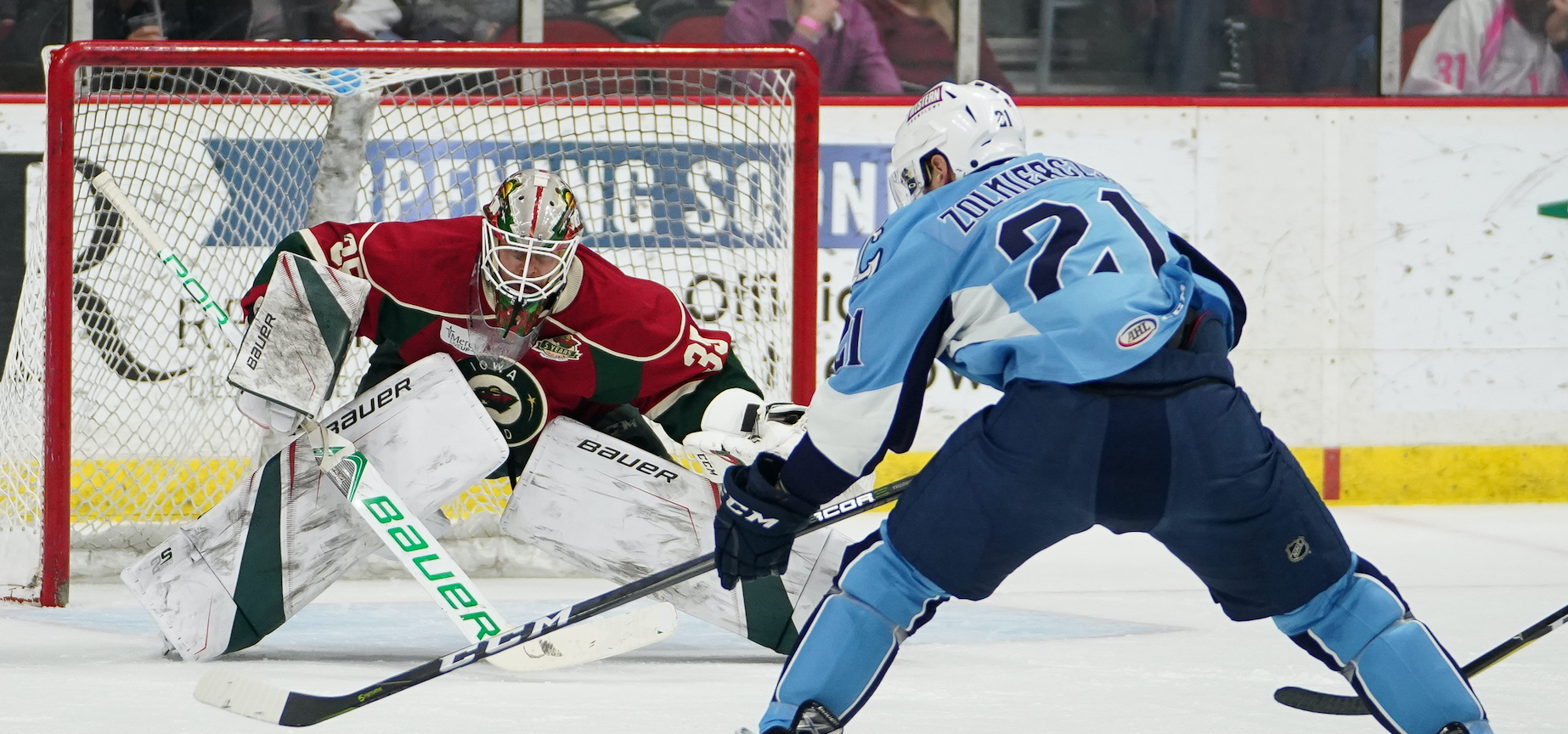 THE TIME IS NOW FOR NIKLAS SVEDBERG
Jan 23, 2018
By Tom Witosky | Follow @toskyAHLWild
The time is now.
That's how Iowa Wild goalie Niklas Svedberg describes his challenge of getting back to the National Hockey League. At 28, he is neither the promising prospect nor the grizzled veteran, but the demanding world of professional hockey requires him to perform the best he can this season.
"I'd have to say I'm somewhere in between being a prospect and a veteran," the native of Sollentuna, Sweden, said. "For me, when you look at my career I know I have to play well now. I have to deliver to be able to play where I want to play. If not, it will be disappointing."
Fred Chabot, Iowa's goalie coach, said Svedberg appears to be on his way to improving his prospects of making it back to the NHL, much like former Iowa goalie Alex Stalock did last season. Stalock is now the backup goalie with the Minnesota Wild after posting a good season in Iowa.
"Sveddy came in with an open mind," Chabot said. "He is a very hard-working, high-compete guy and is also very detailed in his routine. He works really hard at his game. Toward the end of the year, we are going to see a lot of that improvement."
Despite struggling early while adjusting to a new team and overcoming a couple of nagging injuries, Svedberg is showing signs of the kind of player he was when the American Hockey League named him the league's best goalie at the end of the 2012-13 season. Signed as a free agent in 2012, Svedberg compiled a 37-8-2, with his wins ranking second-most among rookie goaltenders in AHL history.
Last week, Svedberg showed those signs in excellent outings, leading the Wild to a 5-2 win against the surging Chicago Wolves and a 5-3 win against the Milwaukee Admirals. In the process, he stopped 60 of 65 shots.
He also managed to draw a roughing penalty and an unsportsmanlike conduct penalty when he tangled with several Wolves attackers who were holding him behind the net.
"You know Sveddy is on when he is fired up like that," Chabot said.
Derek Lalonde, the Wild's head coach, agreed following the win.
"When Sveddy is like that, he is at his best," Lalonde said. "He was getting held. When that happens, you are going to get that reaction."
Svedberg's reaction also stemmed from a recent lower-body injury, which nagged him enough to miss his turn in the net in a stretch of 11 games. In the third period against Milwaukee on Dec. 15, Svedberg got hurt when he was run over in the net late in the game. He finished to collect his 7th win, but missed playing for almost a month.
"I have been unlucky with some injuries lately. It's tough when you get run over, but that is what happens in hockey," Svedberg said.
Svedberg said that he was frustrated for much of the month as the injury healed, but slowly. At the same time, he said that his teammates helped him get through it.
"When you are hurt, you find yourself in a bad mood. You don't feel good in practice," he said. "But these guys are easy to play with and they supported me. We work hard for each other and I really appreciated it."
Svedberg signed a one-year contract last July with Minnesota Wild after posting a 43-36 record during two seasons as the top goalie for Salavat Yulayev in the Russia-based Kontinental Hockey League.
"I was looking to go back to North America because I wanted a chance to get back to the NHL," Svedberg said. "Minnesota was interested in giving me a shot and it seemed like a good place to be."
In training camp, Svedberg was impressive, but not enough to lock down the backup position behind Minnesota's Devyn Dubnyk. Instead, Stalock, who had been Iowa's top goalie, got the nod and has played well in his reserve role.
Svedberg acknowledged his disappointment, but said that his time with Chabot has improved his play, particularly his attention to detail.
"In general, I am getting better at sticking with my game plan throughout the game. Working here, especially with Freddie, he is very particular about the details. He expects a solid game that sticks to the game plan," Svedberg said.
Chabot, who was named the AHL's outstanding goalie after the 1994-95 season, said Svedberg emphasizes his blocking by positioning himself in the crease and controls rebounds very well.
"There were a few things that he could do better and he has been open to it. There has been real improvement," Chabot said.
As a result, Svedberg could well be peaking at the time the Wild needs it the most: during the push to make the playoffs for the first time in the Iowa franchise history.
"Everyone here wants to make the playoffs," Svedberg said. "We know that we are good enough to go deep in the playoffs and that's the goal right now for everyone here."
As for making it to back to the NHL, Svedberg said that is also the goal.
"It's no secret that everyone here wants to play in the NHL," he said. "But this is a great group. It is important to us to play well here."
Back to All