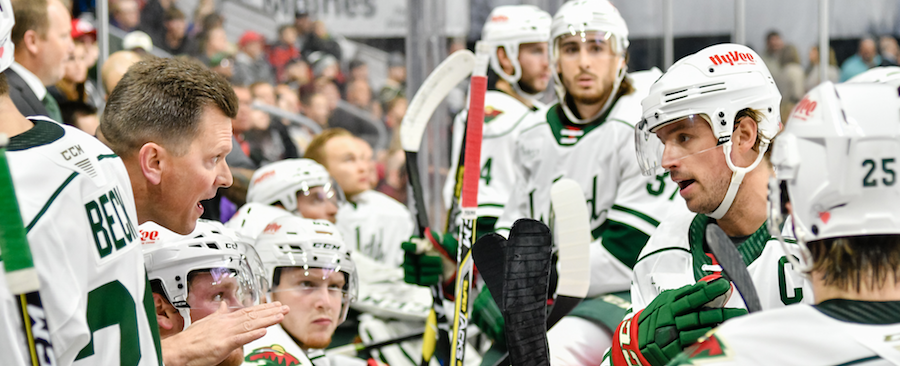 THE WILD WIRE #7
Nov 20, 2018
KAHKONEN'S STREAK
Yesterday, Wild goaltender Kaapo Kahkonen was named the CCM/AHL Player of the Week for the period ending November 18.
The award was based on him stopping 58 shots in two games, both of which were shutout victories.
Kaapo Kahkonen has been named the CCM / @TheAHL Player of the Week!@KaapoKahkonen is the fourth Wild player in team history to receive the honor and the first since 2016 → https://t.co/02YA5DZ20S pic.twitter.com/GxdlCPCGIG

— Iowa Wild (@IAWild) November 19, 2018
Overall, Kahkonen has not allowed a goal in 207:55, which is a franchise record. The old mark was held by Alex Stalock, who posted 157:51 of scoreless hockey during a stretch of action from Jan. 27 – Feb. 8, 2017.
The 22-year-old, Finnish-born Kahkonen has won four straight overall, allowing just one goal in that span.
With veteran goaltender Andrew Hammond not making this current road trip (he's day-to-day with an injury), Kahkonen will most likely put his streak on the line tomorrow in Milwaukee, against an Admirals team he just blanked at home twice last week.
In talking with Kahkonen after Saturday's 38-save performance, he noted his emphasis on practicing the right way.
"For me, I think the confidence comes from what you do every day in practice," he said.
For a young goaltender, it's great to see that's how he approaches his craft. I know it's still early in the season, but he certainly appears to be adjusting nicely to North America and the AHL.
On a side note, goaltender C.J. Motte is also with the team. Motte was brought up from the ECHL's Allen Americans on Sunday.
KURVERS CONVERSATION / ARMY'S APPROACH
In case you missed it last weekend, I caught up with Iowa Wild GM Tom Kurvers on Friday night during the second intermission.
You can hear the conversation here: https://bit.ly/2Dzesub
We talked about the organization's success thus far and the traits that make Iowa Head Coach Tim Army so unique.
Speaking of Coach Army, did any of you catch the Buzzard Billy's pre-game show on Saturday? After Friday's win, the Wild endured 5-plus hours of bus travel before playing the Wolves on Saturday night. The team didn't arrive into Rosemont, IL until about 4:15 am. Yet, the head coach still made sure the team went through a normal, morning routine. No, he didn't make the guys skate…that would have been borderline absurd. But, the typical video meetings took place. The message Coach relayed to me during the pre-game show was basically this: doesn't matter if we win or lose or whatever the travel schedule may hold. We will prepare and re-focus for the next game the exact same way every day. That's me paraphrasing.
Here's the exact quote:
"The message is [to the team that morning] we're playing really well," Army said. "We're in first in our division, but that's over, it's behind us. It's a new day. We're getting ready for Chicago tonight so let's re-focus and get ready to go for tonight and keep working on our details and the execution."
To say Coach Army is holding the team to a high standard would be an understatement.
But, so far, so good. You certainly can't argue with the results. This team has responded to his demands and they've competed hard in every game this season.
Through 16 games, the Wild are 11-4-1-0 (23 pts.), which has them ranked 4th in the 31-team AHL. Their worst loss this season is by two goals, something that's happened twice. Only Iowa, Charlotte and Laval haven't lost a game by more than two goals so far this season – Laval has lost six games by two goals, so take from that what you will.
Iowa has three, big division games this week. Winners of three in a row entering Wednesday's showdown in Milwaukee, we'll see if the team can keep it rolling. It won't be easy, but this group has a confident belief right now, and that's showing through on the ice.
Have a great (and filling) Thanksgiving. We'll be in Winnipeg where I'm sure it'll be minus-one million degrees….
- Wild Joe Radio
Back to All