THE WILD WIRE - BLOG #11
Dec 12, 2017
What's up, Wild fans?!?
Great win Sunday in the annual Teddy Bear Toss game as Luke Kunin's power play goal in the opening period sent the teddy bears into flight……
Winger Gerry Mayhew also scored and Steve Michalek made 40 saves in the 2-1 win.
🐻It's delivery time!!!

Teddy bears from yesterday's Teddy Bear Toss are being delivered to the @MercyDesMoines Pediatrics Unit today! pic.twitter.com/hRmRxk2u8c

— Iowa Wild (@IAWild) December 11, 2017
Yesterday, those donated stuffed animals were delivered by some Wild players to Mercy Hospital's pediatric unit. Just a great cause and a great showing by the players who are always willing to volunteer their time in the local community.
With the victory, the Wild is now 12-8-5-0 (29 pts.) on the season and 2-0-0-0 against the defending champion Griffins.
Speaking of Grand Rapids…that's where the Wild opens up its five-game, nine-day road trip, which kicks off today with a fun (insert sarcasm here) seven-hour bus ride.
HEART RATE MONITOR
Has anyone else noticed how many one-goal games the Wild has played recently?
Sunday marked the fourth-straight contest decided by just one goal and the fifth time in the last eight outings where the result has come down to the wire. Iowa's eight overtime games played is tied for third-most in the 30-team AHL (Rochester: 11, Laval: 10). The AHL record for most overtime games in a single season is 29, a feat "accomplished" by the 2006-07 Milwaukee Admirals.
Up top at the NHL level, Minnesota Wild has endured a similar pattern in recent games. Sunday night, Minnesota beat the San Jose Sharks in overtime 4-3, which was already its third extra-session game in December.
It's crazy how teams get in these stretches where some trends develop over a week or more and sometimes they're difficult to explain. In this case, however, it's certainly been a beneficial stretch for Iowa because learning to win one-goal games bodes well in the long run. I know we're still a long way from April (read: playoffs), but it's been fun watching this team compete and battle through some early-season adversity.
So far, so good…as the Wild currently sits in 3rd place in the Central Division, which would have it in a playoff spot if the regular season ended today.
GONE STREAKING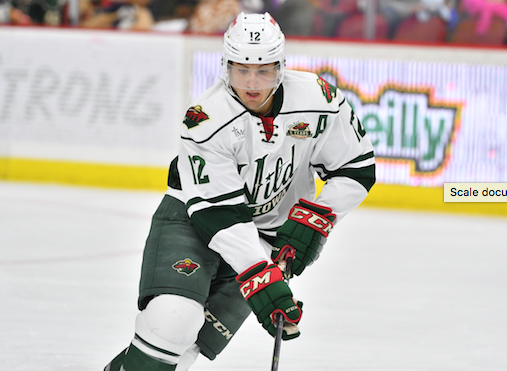 With his assist in Sunday's game, Wild center Pat Cannone ran his point streak to eight games, which ties a franchise record. The New York native has posted four goals and five assists over that span, and he currently leads the team with 20 points (10g, 10a). Cannone moved into a tie with Jordan Schroeder, who previously recorded an eight-game streak back in 2016.
Also on the horizon for Cannone…his 450th career AHL game (he's at 446), and his 100th career AHL goal (he's at 99).
- Wild Joe Radio
Back to All