THE WILD WIRE - BLOG #14
Jan 8, 2018
MOOSE MATCH-UP
In the middle of its three-games-in-three-days scenario this past weekend, the Wild (and its fans) got a glimpse at the AHL's top squad, the Manitoba Moose.
The two sides hadn't played since late October, and at that point, Manitoba was 3-3-0-0 after a split at Wells Fargo Arena.
Since that point, the Moose are 23-3-2-2, including their 4-3 win over the Wild Saturday night. Manitoba scored in the opening minute Saturday and eventually opened up a 3-0 lead. Give the Wild kudos for climbing back into the game, but getting that far behind the eight-ball against the league's top team was not a recipe for success.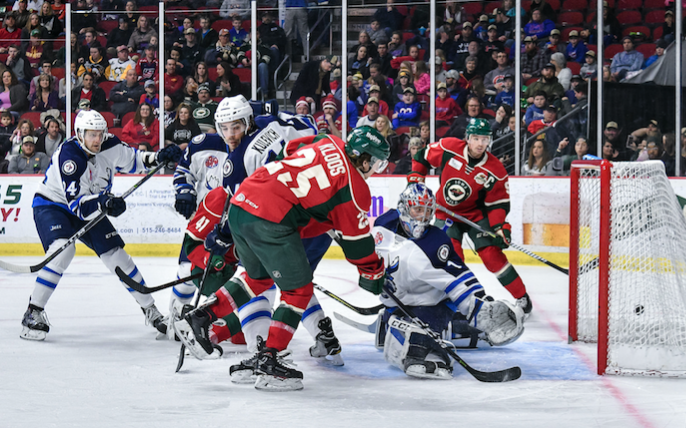 The Wild and Moose square off twice more this weekend as Iowa makes its first trip of the season north of the border. All-time, the Wild is 7-1-0-0 in Winnipeg.
KUNIN TO THE CLASSIC
Wild forward Luke Kunin was selected to represent the organization at the upcoming 2018 AHL All-Star Classic in Utica, New York.
Kunin will skate for the Central Division in the three-on-three tournament format.
Kunin becomes the fourth all-star in team history, joining defensemen Matt Dumba (2015) and Gustav Olofsson (2016), as well as winger Alex Tuch (who replaced Teemu Pulkkinen) last season.
Here's to hoping the injury Kunin suffered Saturday night versus Manitoba doesn't keep him from participating in the festivities. Initial word is that he's day-to-day.
RED, WHITE AND BLUM
Introducing the 2018 U.S. Olympic Men's, Women's & Paralympic Sled rosters! #TeamUSA 🇺🇸

Details → https://t.co/JcdKE6nLsz pic.twitter.com/Kl774zltCX

— USA Hockey (@usahockey) January 1, 2018
Former Wild defenseman Jon Blum has been named a member of Team USA's men's ice hockey team at the 2018 Winter Olympics, which take place in South Korea next month.
Blum, currently playing for HC Sochi in Russia's KHL, spent two seasons (2013-2015) with the Wild organization, playing 19 games with Minnesota and 120 with Iowa.
Congrats to "Blummer" on what I'm sure we'll be an awesome experience!
Two other Team USA member also have "Wild ties":
- Jordan Greenway: Minnesota's 2nd round draft pick in 2015 / age: 20 / 6'6" forward / Boston University
- Ryan Gunderson: 5'10" defenseman / Bensalem, PA / played for the Houston Aeros (AHL) in the 2009-2010 season, when they were Minnesota's affiliate
TUNE IN
Tomorrow night (January 9) at 7 p.m. is our monthly "Hockey Gone Wild" radio program on 1460 KXNO with yours truly. Jacob Born, our newly hired PR guru, will join me and I'll be sure to make him feel uncomfortable, as it will be his first time "on the air" with the organization. We'll have a Minnesota Wild and Iowa Wild interview, plus a ton of hockey conversation…
- Wild Joe Radio
Back to All