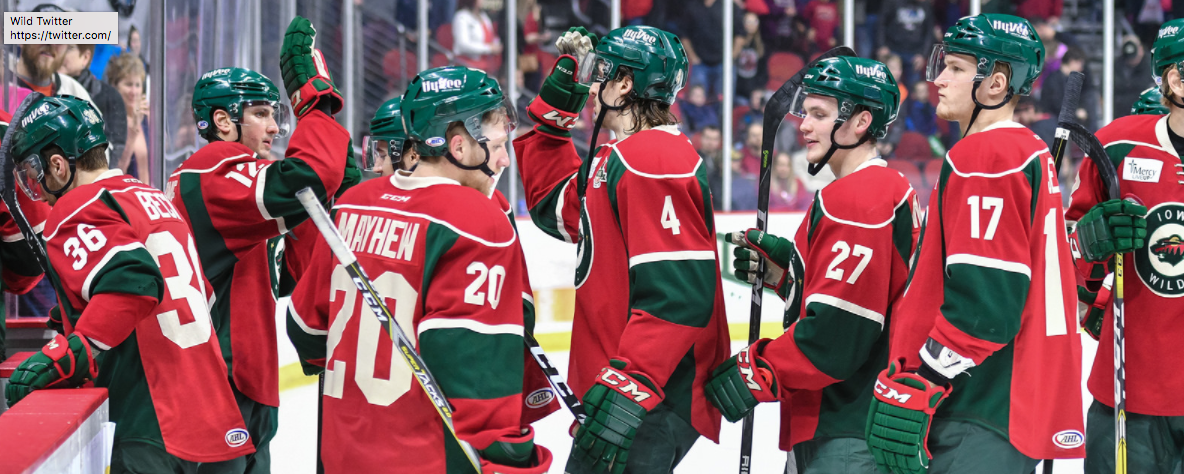 THE WILD WIRE - BLOG #16
Jan 24, 2018
PROTECTING HOME ICE
Iowa Wild (19-13-7-3; 48 pts.) took care of business at Wells Fargo Arena last week, posting a 2-0-1-0 mark to earn five of a possible six points. With some great crowds on hand, last week once again showed why Des Moines is such a perfect fit for the American Hockey League.
The Wild now has 11 home-ice wins, which is just six shy of last season's mark (which set a franchise record). Iowa still has 15 home games left on the schedule, including four in April against division rivals, which will almost certainly decide who makes the 2018 Calder Cup Playoffs and who doesn't. Remember, as I outlined in my last blog, the Central Division playoff race isn't going to be easy. Entering play today, second-place Rockford and sixth-place Grand Rapids are separated by just four points.
RAU DEBUTS
Congratulations to Eden Prairie native Kyle Rau, who has registered a point in his #mnwild debut with the secondary helper on Prosser's goal. #HDM2018

— Minnesota Wild PR (@mnwildPR) January 21, 2018
It had to be pretty special for Eden Prairie, Minnesota, native Kyle Rau to make his Minnesota Wild debut on January 20.
The 25-year-old was certainly deserving of the NHL call-up; to play his first game with the big club at Xcel Energy Center on "Hockey Day In Minnesota" just added some icing on the cake.
Oddly enough, Kyle's old brother, Chad, also made his Minnesota Wild debut on "Hockey Day In Minnesota" back in 2012 (on recall from the Houston Aeros). Both Kyle and Chad are now able to claim the distinction that they've skated for both the Iowa Wild and Minnesota Wild, as Chad played for the inaugural Iowa Wild team (and helped set up the first goal in team history). Pretty cool stuff, and honestly, it's something that may never happen again – a pair of brothers playing for both Wild clubs at some point in their pro careers.
HIGH-FIVE, ON THE ROAD
Thursday's game in Cleveland (6 p.m. CT on 1460 KXNO) kicks off a five-game road trip for the Wild, with the All-Star break sandwiched in between.
Players are free to "do their own thing" over the break, as the AHL mandates four days where teams can't practice. I know a bunch of the players are looking forward to their various destinations prior to the team reconvening in Bakersfield on February 1.
So, I'll pose this question to ya, Wild fans:
If you could get away from your job this Sunday for roughly 72-96 hours and had the money to fly somewhere "vacation-esque," where would you go? Keep in mind, you can't spend all day traveling, or you're wasting valuable time! Tweet me with your answers: @WildJoeRadio.
Me…I'd definitely find sunshine. San Diego, California or Clearwater Beach, Florida are at the top of my list. Stick taps to New Orleans or Las Vegas as well, although those two spots don't necessarily guarantee a ton of sunshine. However, they provide plenty of other fun options…
Hopefully the club's focus remains on the two games in Cleveland. They're crucial contests, given the playoff picture. Then, after the break, it's a three-game California swing before the Wild finally play at Wells Fargo Arena again.
Luke Kunin, of course, will be the team's All-Star representative in Utica, New York. He'll fly from Cleveland to Syracuse on Sunday morning and then make the quick jaunt over to Utica for the skills competition that night. The All-Star Classic is Monday evening and then Kunin, like the rest of the league, will get a little downtime.
The game will be televised LIVE on the NHL Network, so tune in.
Speaking of the All-Star break….kind of feels like another appropriate time for me to exercise a "blog bye week," right? 😉
- Wild Joe Radio
Back to All