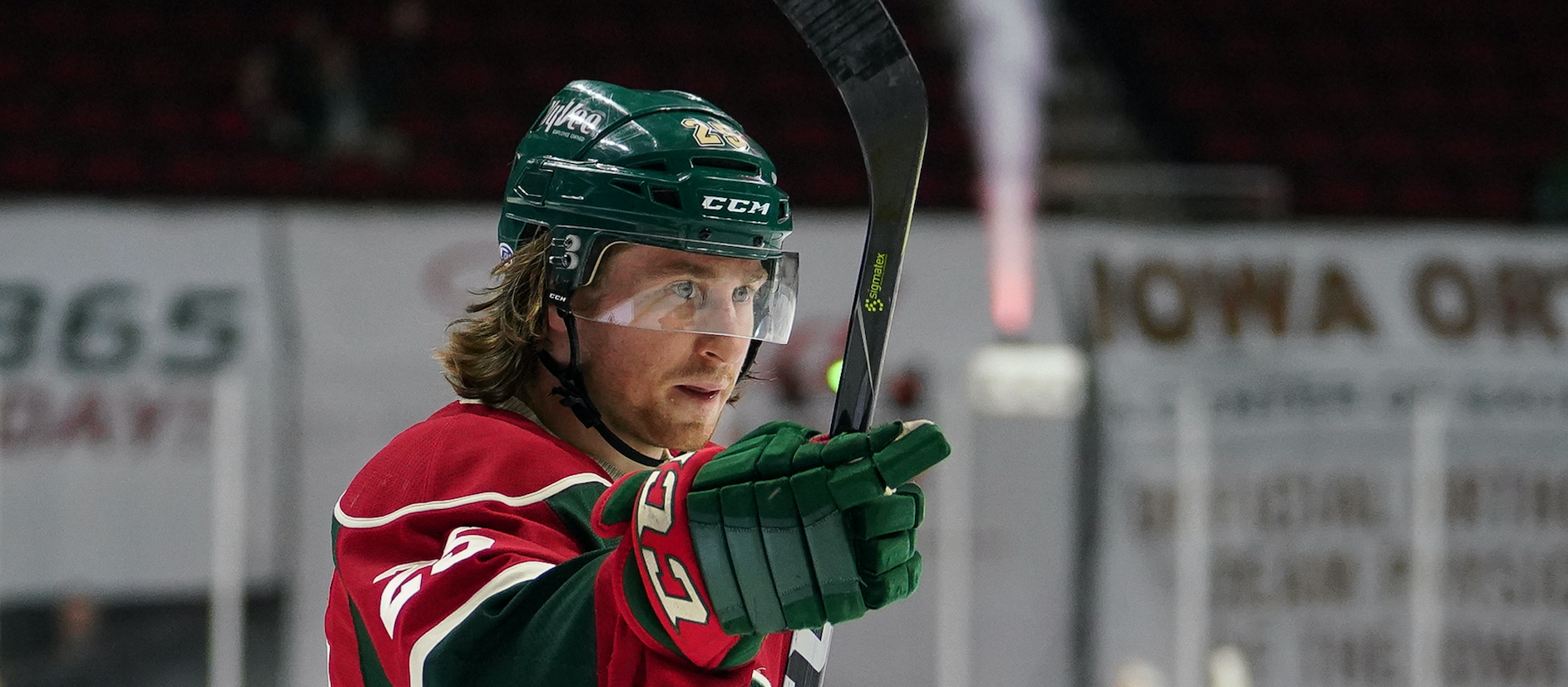 THE WILD WIRE - BLOG #19
Feb 20, 2018
NHL HOCKEY COMING TO DES MOINES…AND AHL HOCKEY AIN'T LEAVING TOWN!
Right off the hop, I want to express my excitement to some recent organizational announcements.
- Iowa Wild fans are guaranteed at least five more seasons of AHL hockey, starting with the 2018-2019 campaign! Between the support from the fan base and the winning culture that's starting to build on the ice, this is just a great moment for the organization to be able to stay committed to Des Moines. It's an awesome city, the players love it here and we've got a great staff in place that's going to keep marketing this team and growing the game of hockey.
- In addition, the NHL's Minnesota Wild and St. Louis Blues are going to play a preseason game at Wells Fargo Arena on September 19. And…it's gonna be awesome! After all, Minnesota's roster is loaded with Iowa Wild alumni, including two of its top-five scorers (Jason Zucker & Matt Dumba). Plus, the NHL preseason is all about opportunity, as players look to make an impression on the coaching staff and management. This game serves as a chance for novice hockey fans to see the game at its highest level, and for the hardcore hockey heads, well, it's going to be a can't-miss sporting event. I'd imagine a bunch of Minnesota and St. Louis fans make the trip because it's such an easy drive, and don't forget, if you're an Iowa Wild season ticket holder, you're gonna get FREE tickets to the game!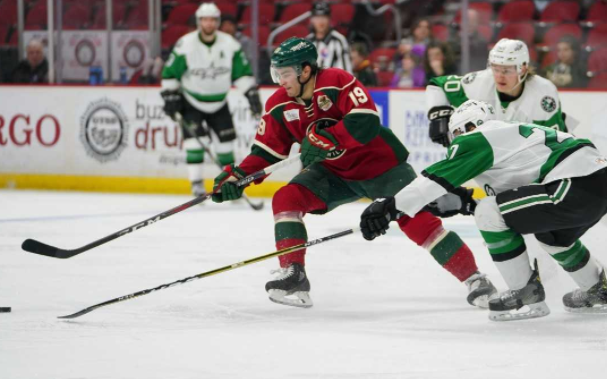 THE MARCH AHEAD
It certainly wouldn't be wise for Iowa Wild to look ahead to next month, given its got two games in Grand Rapids this weekend against the red-hot Griffins.
However, since I don't lace them up, or draw up the X's and O's, I've already started to look ahead.
March features 16 games. That's not a typo. SIXTEEN GAMES!
Five of them come against first-place teams in Manitoba (3 games) and Tucson (2 games). Another four come against the Griffins, who entering today, are on an 11-game point streak (9-0-0-2).
Throw in a couple of showdowns with division rival and current playoff team, Chicago, and that should give you a pretty good idea just how challenging the month will be.
Two more notes on the month of March:
Ten of the 16 games are on the road and five times the Wild play on back-to-back nights (including twice where it must endure the always difficult three-games-in-three-days).
Needless to say, this Wild team will be battle tested once March winds down.
The @TeamUSA @usahockey men have been playing with one goal in mind... win #gold for Jim. #WinterOlympics pic.twitter.com/3wU1Iur88g

— Olympic Hockey on NBC (@NHLonNBCSports) February 20, 2018
OLYMPIC VIEWING
Have you watched much of the Olympic Winter Games in South Korea?
I've done some channel surfing here and there, and here are some of my takeaways:
- There's TOO MUCH figure skating. I mean, Uncle already! One night I swear an entire channel was dedicated to nothing but figure skating for hours. Just not my cup of tea. I long for the days of Nancy Kerrigan and Tanya Harding….
- I LOVE curling. Always have, always will. And, I'm not sure why. It's just "easy watch," and I don't even know the rules or scoring system all that well.
- Other "Wild Joe Radio Winter Olympic Sport Endorsements": Skeleton (head first on that sled-thing at insane speeds), Alpine Skiing and anything on a snowboard.
- As for the hockey….I'm pumped for the USA / Canada Women's Gold Medal Game on Wednesday night (10:10 pm Central on NBCSN) – here's to hoping the Red, White & Blue get it done! On the men's side, Team USA plays tonight at 9:10 pm Central on CNBC. They take on the Czech Republic in the Quarterfinals (elimination game).
One final thought….when does ice fishing get a shot in the Winter Games? I know Wild forward Justin Kloos would support this theory, as I recently learned he loves to ice fish!
- Wild Joe Radio
Back to All