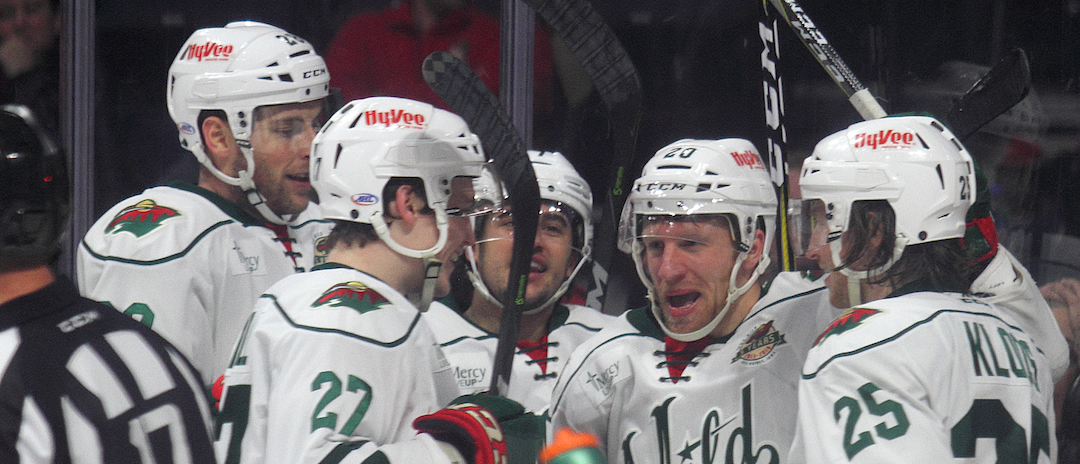 THE WILD WIRE - BLOG #23
Mar 19, 2018
SWEEP AT VAN ANDEL
Two, huge wins for Iowa Wild this past weekend at Van Andel Arena in Grand Rapids, Michigan. Both were pretty improbable with the odds stacked against the visiting Wild in both games.
Let's dive into both comeback victories:
Wednesday night: 4-2 W
After losing in overtime Tuesday night in Rockford, the Wild traveled four hours overnight via bus (and lost an hour to the Eastern time zone change)…meanwhile, Grand Rapids was off following a road game on Sunday
Forward Zack Mitchell and defenseman Ryan Murphy were both recalled to Minnesota just hours before puck drop
Forward Gerry Fitzgerald was making his pro debut
Grand Rapids scored on the opening shift of the game and made it 2-0 just 2:36 into the first period
Winger Ryan White got kicked out of the game by the officials about six minutes into the contest (major penalty for boarding and a game misconduct)
Winger Landon Ferraro and defenseman Matt Caito were unable to finish the game due to injury, leaving the Wild with just 15 skaters as they faced a deficit on the road against the defending Calder Cup Champs
Yet, four unanswered goals by Iowa, including three in a 1:54 span in the third period, allowed the Wild to claim a 4-2 victory, marking just the fifth win in franchise history in Grand Rapids. Dante Salituro and Gerry Mayhew each registered a pair of goals in the shocking W.
Saturday: 2-1 W
Two players (blue-liner Louie Belpedio and center Mitch McLain) made their professional debuts – both joined the club on Thursday from the NCAA ranks
Winger Garrett Thompson was making his team debut and was playing in his first AHL game since April of 2016. He met the team in Grand Rapids on Friday just before practice
Winger Kurtis Gabriel needed medical attention to repair a cut over his left eye in the opening minute of the game and missed almost the entire period thereafter
Again, the Wild trailed, as the Griffins took a 1-0 lead into the first intermission
Winger Gerry Mayhew left the game in the third period due to injury
Yet, down 1-0 with about six minutes left, Fitzgerald scored to tie it (his first pro goal). And then, on a power play, defenseman Alex Grant blistered a right point shot into the top shelf with just 16 seconds left!
Thus, for the first time ever, Iowa Wild swept a two-game set in Grand Rapids. And, maybe more importantly, they team outworked the Griffins down the stretch in both road games, showing immense "character" in order to earn four crucial points in its push for the playoffs.
Unfortunately on Sunday, the club's five-game point streak was halted in a 7-3 road loss to the Chicago Wolves. Iowa has literally no time to feel sorry for itself, because after arriving into Des Moines around midnight, the team has to reset in time for tonight's (Monday, 3/19) home game against Rockford.
Tonight's game wraps up a three-in-three for the Wild before the Griffins come to Wells Fargo Arena for a weekend set.
Iowa enters this game just two points clear of Rockford for the final playoff spot…the Wild has played one fewer game, however.
600 CLUB
At the NHL level, Washington Capitals star Alex Ovechkin has been lighting the lamp for years. He's unquestionably one of the greatest goal scorers in league history and recently hit a milestone: 600 career tallies.
I saw this the other night on TV – I can't remember if it was the NHL Network or Sportscenter or the cooking channel (just kidding) but a graphic flashed on the screen and I tried to quickly jot it down.
Side note…usually in these situations I email myself. I hate to say it's a failsafe formula, but I find that if it sits in my inbox long enough, I'll "get to it." Anyway….
Here's what the graphic spotlighted (and then I recently googled to "fact check") – the fastest to reach 600 NHL goals:
Wayne Gretzky – 718 games
Mario Lemieux – 719 games
Brett Hull – 900 games
Alex Ovechkin – 990 games
I'm mind blown by this because of the fact that Gretzky and Lemieux, so often compared and contrasted in the annals of hockey greatness, were separated by just one game in reaching this amazing feat.
I mean, really?!? 718 games for the "Great One" and 719 for "Super Mario." That's just bonkers.
By the way, have you ever looked at a couple of the years Brett Hull assembled in his time with the St. Louis Blues?
http://www.hockeydb.com/ihdb/stats/pdisplay.php?pid=2410
From the 1989-90 season through the 1991-92 campaign, Hull AVERAGED 76 goals. Sick photo on his hockeydb profile by the way….
- Wild Joe Radio
Back to All