THE WILD WIRE - BLOG #3
Oct 15, 2017
THE WEEKEND THAT WAS…
Iowa Wild (1-3-0-0; 2 pts.) split a pair of games over the weekend.
Friday night, the club shut out the Ontario Reign 3-0. Pat Cannone and Carson Soucy led the charge offensively, as each registered one goal / one assist. Niklas Svedberg made 27 saves as the Wild earned its first win of the season.
The biggest takeaway from Friday however, may have been the team's third-period effort. The coaching staff was thrilled with that stanza. This morning, head coach Derek Lalonde called it "the best overall period to date." He added that his team only allowed a few scoring chances while playing with the lead and called that "a good sign going forward."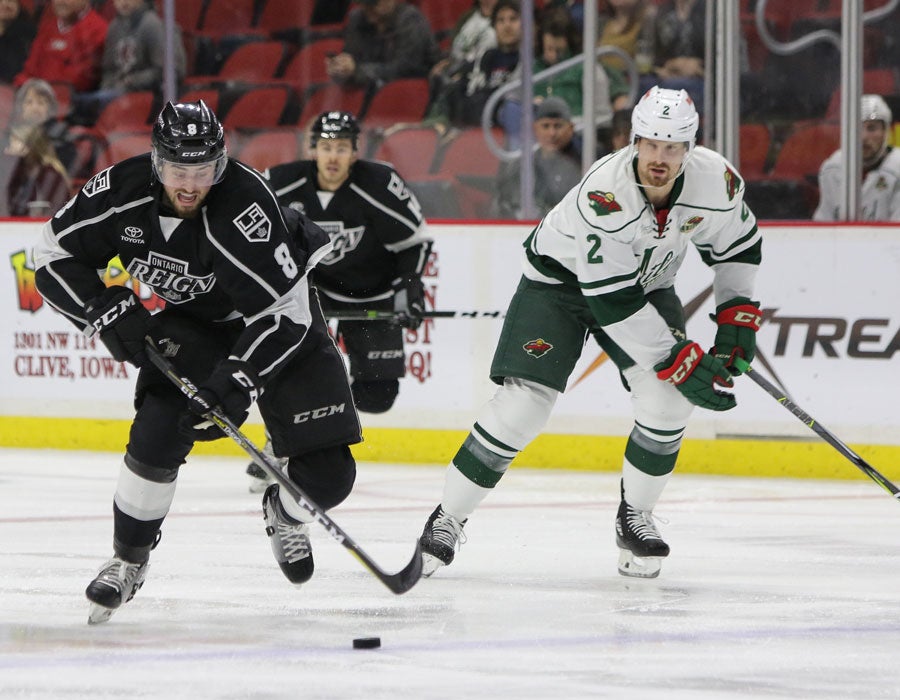 On Saturday in Rockford, the Wild certainly had its chances. Despite stretches where the team was outplayed, the Wild had leads of 1-0 (late in the first period) and 4-3 (late in the second period). However, the Ice Hogs refused to go quietly in their home opener as they netted four unanswered goals, including two empty-netters, topping Iowa 7-4. The loss ended the Wild's six-game winning streak in the all-time season series, dating back to January of last season.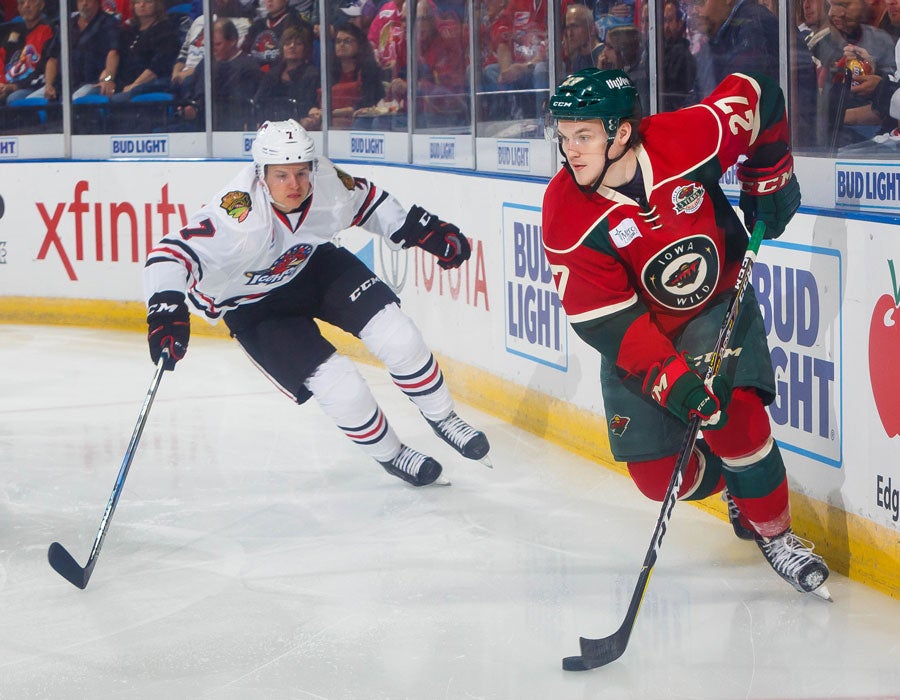 REVOLVING ROSTER
Any time an NHL team is banged up, it's bound to affect the AHL affiliate.
Here we are in mid-October and Minnesota is already without several key offensive pieces. Thus, in a 24-hour span, Iowa sent four forwards to the NHL and brought up two players from the ECHL. In addition, due to salary cap ramifications, defenseman Mike Reilly came down from the big club and jumped right into the Wild lineup on Saturday in Rockford.
Landon Ferraro, one of the four players recalled, found the score sheet in his Minnesota Wild debut.
I congratulated him this morning before practice and he joked that it was nice to get a goal of any variety, given the fact his last tally came Dec. 2, 2016 (he didn't remember the exact date, I had to look it up). Ferraro sustained a major knee injury just days after that contest, which kept him out for the balance of the season.
Ferraro added he would have liked to have seen the puck cross the goal line Saturday night, but he was being smashed face first into the ice….
Ferraro, Luke Kunin, Christoph Bertschy and Zack Mitchell were all back and practicing in Des Moines today, but with Minnesota set to play again Friday, my guess is that some, or all, of those guys will get recalled later this week.
MOOSE IN TOWN
The Wild hosts the Manitoba Moose (2-2-0-0) for a pair of games this weekend, beginning Friday at 7 p.m.
Last year, Iowa posted a 6-2-0-0 record against its foes north of the border. Keep an eye on Moose forward Jack Roslovic (#50) – he leads them with 5 points through 4 games. Roslovic is an explosive offensive player who Coach Lalonde said has "elite speed." Roslovic, an Ohio native, was a teammate of Kunin's on Team USA last year in the World Junior Championships. You may recall, USA won the gold medal, ousting Canada in the gold medal game.
Back to All