THE WILD WIRE - BLOG #4
Oct 24, 2017
RAU…WHAT AN ADDITION!
See what I did there…?
After missing the first few games with an injury, Kyle Rau (rhymes with "now") had an immediate impact on the Wild lineup.
In Friday night's 3-2 win over Manitoba, Rau recorded the club's first power-play goal of the season. Saturday, for an encore, he scored a beautiful goal off the rush while using his great speed to help the Wild tie the game at 1-1. Unfortunately, Rau lost his footing just after the puck went in, crashing hard into the end boards. Rau came back a few shifts later, but was then ultimately lost for the balance of the game.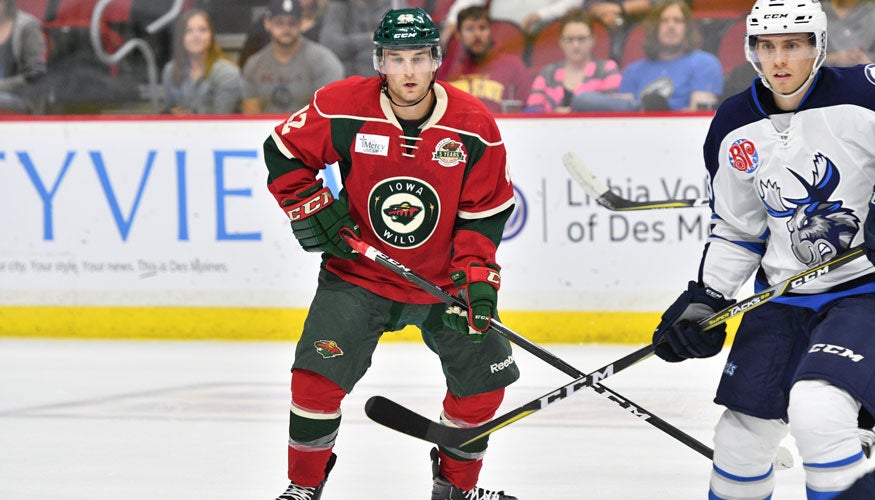 However, some good news on the Iowa Wild injury front. Rau is cleared to play this week, so if all goes well, he should be in the lineup Wednesday.
I tweeted after his Saturday night snipe that his older brother, Chad, also found the scoresheet in his Wild debut. You may recall that Chad played on the inaugural Iowa Wild team, skating in 33 games before eventually getting traded to the San Jose Sharks organization. Rau factored into the first ever goal in team history as he helped set up Brett Bulmer's tally on Opening Night - a 1-0 win at home over Oklahoma City.
SILVER LINING
It's not often a team feels good about itself following a loss. However, after my chat with Wild Head Coach Derek Lalonde following Saturday's 4-2 defeat, it was clear the bench boss was pleased with the compete level and dedication his bunch displayed despite not having earned any points in the standings.
Consider the following:
The Wild lost Rau and Colton Beck to injury for stretches of the game (eventually Rau for the last two periods or so)
They went into the contest without Luke Kunin, Zack Mitchell or Cal O'Reilly due to NHL recall
Sam Anas was still out with an injury (indications are he may play at some point this week)
Those players are six valuable forwards; yet until Manitoba iced the game with a late empty netter, Iowa was right in the contest. If you're a fan, that's the type of effort you hope to see from a group that is continuing to face some early season adversity.
Take some consolation from Coach Lalonde: "The push we had in the third period – the guys showed some great resolve."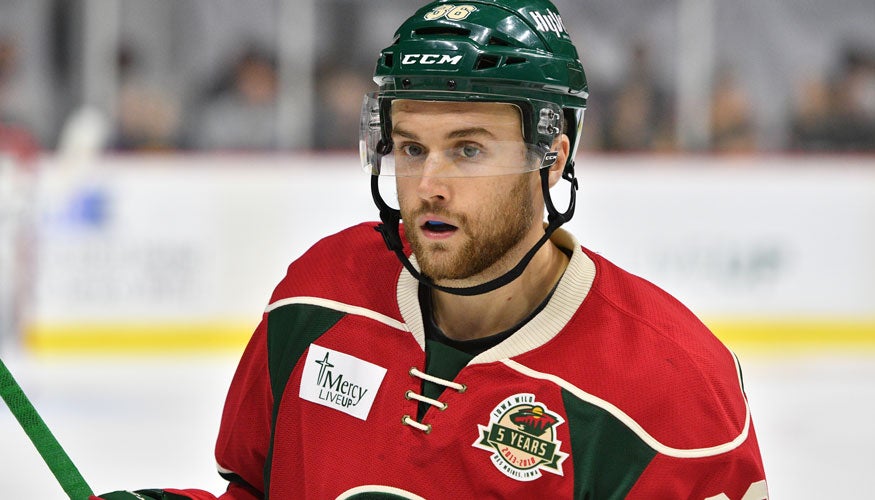 BECK STANDS FOR EN FUEGO
Kids, please keep your distance from the guy wearing #36 at the season ticket holder event Tuesday….
Beck has a goal in four straight games, which ties a franchise record. Last season, he scored five times in 74 games. He's got four markers in six games this season (on 20 shots) and he's a +4. He's been asked to play in basically every situation and he's making the most of his minutes so far; that's a great sign for a team that needs everyone to step up given the somewhat depleted roster.
The Wild has a home game on Wednesday, followed by the first real roadie of the season starts on Thursday when the team flies out to Phoenix for weekend tilts in Tucson.
Holla.
Back to All