THE WILD WIRE - BLOG #5
Oct 30, 2017
A PAIR OF FIRSTS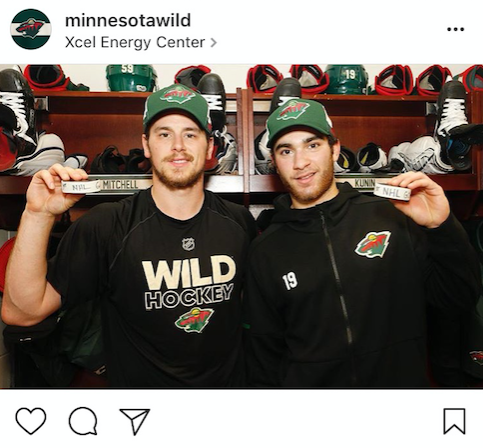 On Thursday night in front of a packed house at Xcel Energy Center in St. Paul, MN, Iowa Wild "graduates" Luke Kunin and Zack Mitchell each enjoyed special moments: their first National Hockey League goals.
Kunin scored a short-handed goal to put Minnesota in front 4-1. Mitchell's tally made it 5-2 in a game that the Wild eventually won against the New York Islanders 6-4.
It's always nice to see guys contribute when they're called up. At the end of the day, that's why the Iowa Wild is here – to get players ready for the NHL.
So congrats to Kunin and Mitchell on moments they're sure to remember for a long time.
HUNGARIAN IN NET
On Saturday night in Tucson, Adam Vay started in net for the Wild. It was his regular season AHL debut and it made a bit of league history.
With his appearance, Vay became just the fifth native of Hungary to play in an AHL game (according to the AHL Communications staff). Vay stopped 29 of the 34 shots he faced, including one late in regulation that kept the game tied. Unfortunately for Vay and his Wild teammates, several leads slipped away in an eventual 5-4 overtime defeat.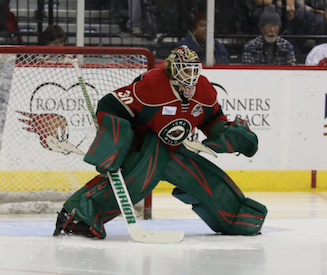 Of the other Hungarian natives to play in the AHL, also has a tie to Iowa. Back in 2005, Janos Vas played for the Iowa Stars. Vas, a former 2nd round pick of Dallas, ended up scoring 32 goals over parts of three seasons with Iowa.
ON TO NOVEMBER…
Iowa finished the month of October with a 2-5-2-0 (6 pts.) record. The good: they picked up at least one point in the standings in four of nine games. The not-so-good: with one month in the books, the Wild is already chasing the other six teams in the division.
If you ask me, the most promising stat from the opening month is the team's penalty kill, which has allowed just one goal over the last five games and checks in at 88.9%, which is fourth-best in the AHL.
The team that currently ranks second in PK efficiency…the San Antonio Rampage, who the Wild hosts for a pair of games this week.
All told, the Wild plays 11 games in November, seven of which are at home. Four of the 11 contests are against Rockford (7-2-0-0), the team that currently leads the Central Division.
- Wild Joe Radio
Back to All