THE WILD WIRE - BLOG #6
Nov 6, 2017
LAST WEEKEND
If you missed last week's games, here's a quick summary:
Thursday vs. Rampage: Iowa 3, San Antonio 2 (OT)

Christoph Bertschy scored 2:30 into overtime, helping the Wild to a 3-2 win
Pat Cannone tied the game late in regulation after San Antonio stunned Iowa with two third-period goals to claim their first lead of the night
Goaltender Niklas Svedberg made 38 saves in the win

Friday vs. Rampage: San Antonio 4, Iowa 2

The Wild trailed throughout most of the contest and a late empty-netter by the Rampage iced the game
Iowa finished with just 13 shots on goal, the team's lowest total this season
Wild goals were scored by Alex Grant and Sam Anas; Grant now has a goal in three straight games
PP ON THE RISE
Much maligned early in the season, the Wild's power play is currently on a roll. After starting the campaign without a goal in 20 opportunities over the first four games, Iowa has now scored at least one power-play goal in three straight contests and four total in that span. In fact, the Wild power play is 4/16 the last three games, a 25% efficiency.
Associate Coach David Cunniff, who runs the PP units, said the group has been doing a much better job of having a "shot mentality" in recent games. When I spoke with him this morning, you could tell he's still looking for more from the man advantage, but is certainly happier than he was to start the year when he felt the power play was too stationary and not getting as many opportunities as they could have.
BUGSY OVERSEAS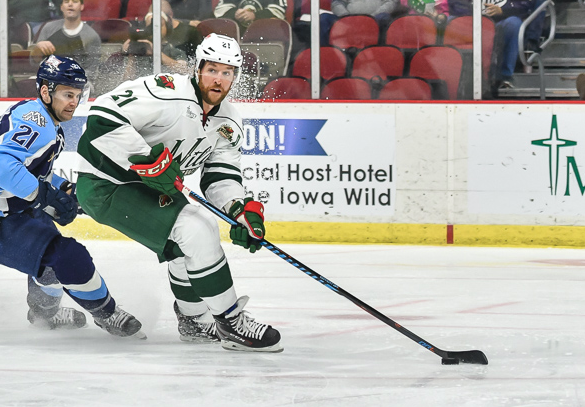 As planned, veteran winger Ryan Malone departed the Wild at the start of last week to join Team USA at the Deutschland Cup in Augsburg, Germany.
Team USA will battle Slovakia, Russia and Germany this weekend, beginning with a Friday night tilt against the Slovaks.
Malone is the only player on USA's roster that currently plays in North America. Everyone else plays internationally, including former Iowa Wild defenseman Jon Blum.
I'd imagine this is a pretty big weekend for Malone, given his desire to wear the Stars and Stripes in the upcoming Olympic Games. Because he's on an AHL tryout contract (not an NHL deal), Malone is eligible for Olympic participation. A good showing in Germany could certainly help his case for an Olympic roster spot.
FAREWELL TO FISH
After almost two decades in pro hockey, my good friend and colleague, Josh Fisher, has decided to pursue other opportunities. "Fish" has been in the American Hockey League since 2009. Prior to that, he honed his craft in the ECHL. In his career, he called more than 1,000 pro hockey games, wrote countless press releases and game notes, and forged relationships with hundreds of players, coaches and staff members.
Good luck, Fish! https://t.co/g1vBcxpuBE

— Joe O'Donnell (@WildJoeRadio) November 4, 2017
Fish and I first met in 2005 when I didn't have a clue about broadcasting, let alone pro hockey. At the time, he was the seasoned Las Vegas Wranglers (ECHL) broadcaster / PR man.
For the next 12 years, we worked alongside each other – either in opposite broadcast booths, or for the Wild organization, often sharing the booth when he'd join me on air.
It will be weird coming to the rink the next few months and not seeing him on a daily basis, but I'm happy for him as he transitions to a new part of the PR / media world.
The work he put in behind the scenes often went unnoticed. Home games, road games, practice days, community appearances…you name it, Josh Fisher was there for the Iowa Wild from literally day one.
He's got a million stories from his time in pro hockey. Now he gets to add the next chapter to his life with Hy-Vee's corporate office.
Good luck, Fish.
- Wild Joe Radio
Back to All