TYLER GRAOVAC TRADED TO WASHINGTON
Jun 14, 2017
DES MOINES, IA – Minnesota Wild General Manager Chuck Fletcher on Wednesday announced the National Hockey League (NHL) club has acquired a fifth-round selection in the 2018 NHL Entry Draft from the Washington Capitals in exchange for forward Tyler Graovac (pronounced GRAY-oh-vack).

Graovac, 24 (4/27/93), totaled nine points (7-2=9) and 10 penalty minutes (PIM) in 52 games with Minnesota in 2016-17. The 6-foot-5, 212-pound native of Brampton, Ont., added 15 points (10-5=15) and 15 PIM in 26 games with the Iowa Wild of the American Hockey League (AHL). Graovac was selected by the Wild in the seventh round (191st overall) of the 2011 NHL Entry Draft in Saint Paul and totaled nine points (7-2=9) and 10 PIM in 57 games with Minnesota after making his NHL debut in 2014-15.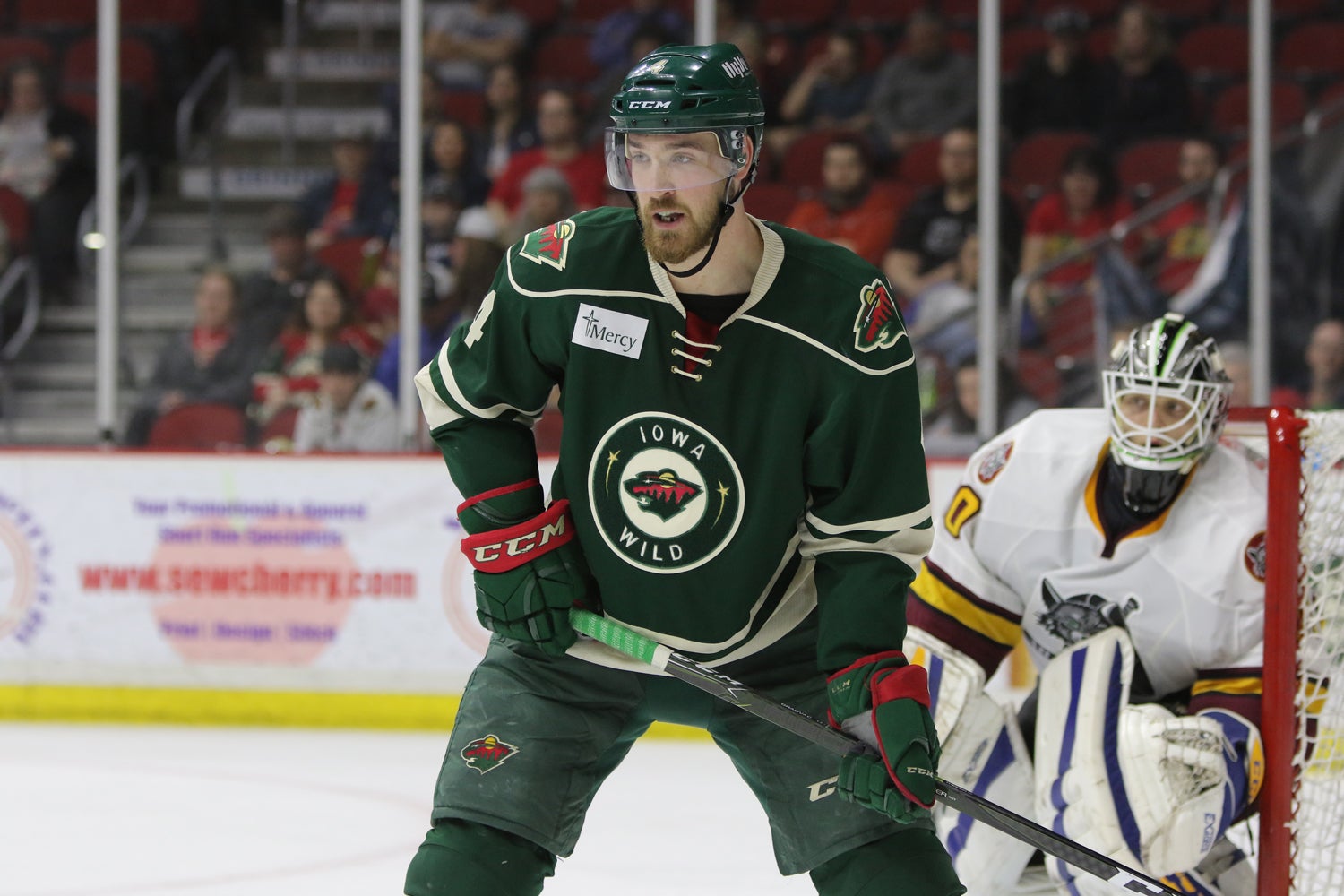 He began his career as a rookie in Iowa during the team's inaugural season (13-14), posting 25 points off 13 goals and 12 assists in 64 games. He made a significant jump in numbers the following season, leading the team in goals (21) and points (46), while tying for second in assists (25) over 73 games played. He also earned his first NHL callup and played in three games for Minnesota. He was limited to 39 games in Iowa due to injuries in 2015-16, but he still managed to post 16 points off five goals and 11 assists. This past season, Graovac scored 10 times and added five assists for 15 points in 26 games with Iowa. He also played in 52 games for the NHL's Wild, scoring seven goals and totaling nine points. In all, Graovac collected 49 goals and 53 assists for 102 points in 202 games with Iowa.
Graovac was the last original member of the 2013-14 team remaining on the Wild roster. The center is among the all-time leaders for nearly every offensive category in the team's four-year existence. Graovac is Iowa's all-time leader with 53 assists and 102 points. He is second in games played (202) and goals scored (49). Graovac also sits first in power-play goals (18) and shots on goals (476). He ranks second in power-play points (32) and is among the top ten in power-play assists (14) and game-winning goals (5).

Opening Night 2017 is slated for Saturday, Oct. 7 with a complete 76-game regular season schedule announced at a later date during the summer.
Follow the Iowa Wild on Twitter @IAWILD or like us on Facebook at www.facebook.com/iawild.
The Iowa Wild 2017-18 season is presented by Mercy Medical Center: and runs from October through April. Fans may purchase seats to see any of the team's 38 regular season home games at Wells Fargo Arena. Season tickets to see the Wild play its 2017-18 season at Wells Fargo Arena start at just $10 per game. For more information on tickets, including ticket plans and group seating, please contact the Wild ticket office by calling 515-564-8700 or go to www.iowawild.com.
-- IOWA WILD --
BECOME AN IOWA WILD SEASON TICKET HOLDER
For more info on season ticket packages call 515-564-8700 or email Nate Berglund at [email protected]
IOWA WILD IN THE COMMUNITY
To schedule a Wild appearance, contact Emily Hintz, Community Relations Coordinator, at 515-564-8731 or email [email protected]
IOWA WILD CORPORATE SPONSORSHIPS
To create a customized advertising package for your company contact Brian Mather, VP of Sales, at 515-564-8720 or email at [email protected].
###
Back to All