VERSATILE COACH HELPS WILD AIM FOR POSTSEASON
Video Coach Keith Paulsen Brings Wealth of Experience and Knowledge
Feb 22, 2017
Everything guy.
That's how Derek Lalonde, the Iowa Wild's head coach, describes Wild video coach Keith Paulsen and what he does every day.
"He is in all of our meetings, he has opinions on line-ups and structure," Lalonde said. "Anything we look at, he has an opinion and we listen. I knew he would be good because of how much he does."
Paulsen, an Eau Claire, WI, native, has played a key role in the Wild's midseason surge into playoff contention, according to Lalonde. He said a recent conversation with associate coach David Cunniff echoed that fact.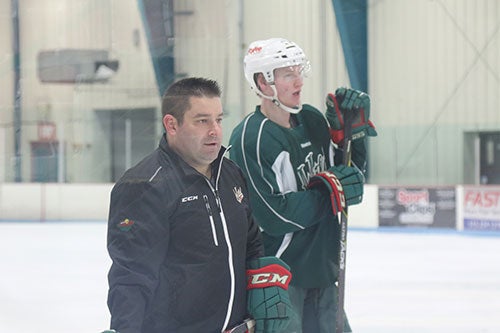 "It's funny. Coach Cunniff grabbed me a week ago and said, 'where would we be without Keith Paulsen'," Lalonde said. "He has exceeded our expectations and we are quite fortunate it has worked out like this."
Wild players agree. "I'd be surprised if he doesn't become a head coach someday," Wild forward Kurtis Gabriel said recently. "Pauley is so detailed in everything he does. He is his own force. "
Paulsen credited a lot of this season's success to the collegiality of the coaching staff that began immediately when he was hired this summer. Paulsen's hiring coincided with the decision by former Wild assistant Pascal Rheaume not to return to Iowa after one season.
"Derek and Dave wanted my input on all of our structure and all of the line-ups," Paulsen said. "I think because they trust me, especially because of where I came from and what I look for as I am watching the video."
Lalonde said he had intended all along to include Paulsen in coaching decisions as well as video analysis. That was because of Paulsen's experience behind the bench as a high school head coach in Wisconsin and as a USHL assistant for six years with the Sioux City Musketeers and then the Madison Capitols, he said.
"The thing with the USHL is you wear so many hats," said Lalonde, who coached three seasons for the USHL Green Bay Gamblers. "He is a coach, a general manager, and he has to run a draft. I don't think a lot of people appreciate just how difficult the competition is in that league."
Paulsen began his coaching career after playing college hockey at the University of Wisconsin-Eau Claire on the blue line. While in school, Paulsen received a bachelor's degree in Kinesiology with an emphasis on teaching and also holds a Masters degree. From that moment, he said that he understood the need to learn as much as he could about everything related to coaching.
"I've been lucky," Paulsen said. "I've had coaches that were willing to give me the chance to learn new things. It's always been a challenge, but that is what has made this interesting for me."
At Sioux City, Paulsen spent his first seasons responsible for the Musketeers defense, but a coaching change prompted a major challenge.
"We were going to have three coaches specializing in defense, so I was asked to focus on offense," Paulsen said. "It was a great challenge because I had never done it. I spent that whole summer talking to coaches about how to teach forwards."
But coaching it wasn't his only duty. During his time in Sioux City and in Madison, Paulsen took on general manager duties, recruiting responsibilities, as well as daily coaching.
"Everything I did was simply to make me a better coach," he said. "It's always a challenge, but that's how I grow."
When Lalonde approached Paulsen to be the video coach it was simply another challenge. Paulsen said that the Wild's video software was the same as in Madison, but that the demands of the job are quite different.
As a video coach, Paulsen's chief duty to record and catalogue each and every game, as well as provide scouting video of opposition. During each game, Paulsen is in the locker room editing game video in real time for the coaches to look at between periods.
"After the period, Coach Lalonde and Cunniff want to see the chances against we have given up and the chances we had." Paulsen said. "After we get those, Coach Cunniff also will want to see the power play break outs and the power play from the end zone."
Paulsen said learning to catalogue the various plays represented the biggest challenge for him.
"That was new to me," he said. "It took my time at the Traverse City tournament and our preseason games to really get the program down to how I wanted it to work for us as a staff," he said.
Paulsen's other role is on the ice during practices – something most video coaches don't do.
"Most video coaches are basically technicians," Lalonde said. "Their work is almost solely video related. Keith can do all that, but I wanted him to have someone who looked at it like a coach, not necessarily someone who was just a video coach."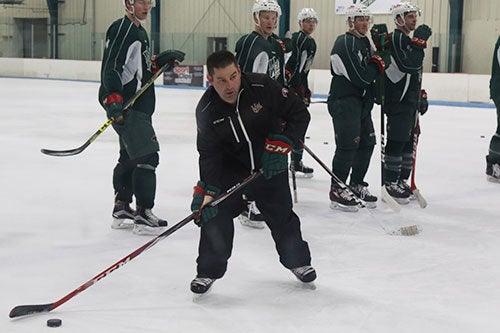 During practices, Paulsen is responsible for certain drills, as well as providing individual instruction to forwards and defensemen.
Gabriel said that the combination of skills has helped every player on the team.
"He is so precise about everything whether it's his videos or with drills," Gabriel said. "He always tells you exactly what he wants. "
Between periods, he also provides players with insight.
"Between periods, he is so dialed in to what is going on the ice, he can give you some very good advice on what to change or what to keep on doing," Gabriel said. "He has got it catalogued so well that he can talk to each shift and what they need to know."
With the Wild in the final two months of the season, Paulsen's role will remain an important one as the Wild attempts to get into the playoffs for the first time since arriving in Iowa in 2013.
"He can handle so much," Lalonde said. "It is Important for me to see the respect he gets for the locker room whether he runs a drill or works on video. He's that important to this effort."
Back to All