WILD DOUBLES UP STARS 4-2
Sep 11, 2017
Minnesota Plays at 5:30 PM on Tuesday
Traverse City, Mich. – The Minnesota Wild and Dallas Stars met in the third game of the round-robin NHL prospects tournament in Traverse City with the Wild posting a 4-2 win. Forwards Joel Eriksson Ek, Justin Kloos and Dmitry Sokolov each scored a goal and added an assist in a balanced scoring effort. Matt Bradley also tallied as Minnesota improved to 2-1-0-0 in the tournament, clinching second place in the Lindsay Division. Wild goalie Adam Vay made 32 saves for the victory, while Stars goalie Jeremy Broduer stopped 28 in defeat. Minnesota plays its final game of the tournament on Tuesday at 5:30 PM CT at it meets the second place team of the Howe Division.
Minnesota capitalized on a late power play to claim a 1-0 lead through one period of play. Joel Eriksson Ek held the puck on the left-wing wall, dropping a pass to the high slot for Justin Kloos. The Wild forward slipped a pass to the right-wing circle for Dmitry Sokolov, who blasted a one-timer past Stars goalie Jeremy Broduer for the 1-0 lead.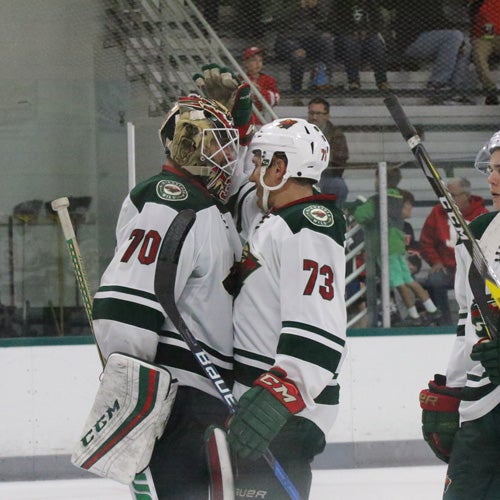 The Wild pushed its lead to two goals at 3:48 of the second period after Kloos scored his first of the tournament. Taking advantage of another power play, Minnesota's Sokolov and Brennan Menell worked the puck cross-ice to Kloos, who beat Broduer with a one-timer from the left-wing circle. Minnesota expanded its lead to 3-0 less than two minutes later as Kloos led a rush into the Stars zone and centered for Eriksson Ek, who tipped the pass behind Broduer for at 4:57. Dallas managed its first goal at 6:28 as Roope Hintz snuck a wrist shot past goalie Adam Vay.
The Stars closed the gap scoring just 15 seconds into the final frame. Denis Gurianov snuck in behind the Wild defense for a breakaway and placed a backhander under the crossbar and behind Vay to make it 3-2. Minnesota pulled away for good at 14:32 when Adam Gilmour found Matt Bradley in the left-wing circle of the Dallas zone. Bradley snapped a wrist shot over the glove of Broduer for his first goal of the tournament. Forward Dante Salituro added an assist on the final goal of the night for the 4-2 final.
STREAMING: All Minnesota Wild games at the 2017 NHL Prospect Tournament will stream live within FOX Sports North's broadcast coverage area on Wild.com, FOX Sports GO and NHL.com. Fans can download the FOX Sports Go mobile app for free from the iTunes App Store, Google Play, Amazon App Store and Windows Store. To stream games, users will need to verify credentials by signing in with their pay-TV provider's user ID and password; there is no additional charge to use FOX Sports GO. All Wild games will also be carried live on Wild.com and feature the play-by-play commentary of Iowa Wild broadcaster Joe O'Donnell. He will be joined by Josh Fisher.
Fans outside of the FOX Sports North's broadcast coverage are can view the streams via NHL.com
Fans can also visit wild.com for daily tournament updates from Traverse City from Senior Vice President of Hockey Operations, Brent Flahr and Digital Content Coordinator, Dan Myers. Additionally, fans may check iowawild.com for updates from Iowa's Sr. Director of Communications and Digital Content Josh Fisher, or by following @iawild, @wildjoeradio and @iowawildfish.
2017 TRAVERSE CITY NHL PROSPECT TOURNAMENT SCHEDULE*
FRIDAY, SEPTEMBER 8
Minnesota 6 vs. St. Louis 5F
SATURDAY, SEPTEMBER 9
Minnesota 1 vs. Columbus 3 F
MONDAY, SEPTEMBER 11
Minnesota 4 vs. Dallas 2 F
TUESDAY, SEPTEMBER 12
2:00 p.m. Seventh Place Game (4th Howe vs. 4th Lindsay)
2:30 p.m. Fifth Place Game (3rd Howe vs. 3rd Lindsay)
5:30 p.m. Third Place Game (Minnesota vs. 2nd Howe)
6:00 p.m. Championship Game (1st Howe vs. 1st Lindsay)
* All times listed are Central
The Iowa Wild p[lays a pair of preseason games, both will be in North Dakota against the Manitoba Moose – the Winnipeg Jets AHL affiliate. Iowa and Manitoba meet at the Ralph Engelstad Arena in Grand Forks, ND on Friday, Sept. 29 at 7 p.m. The two teams play a second preseason game at the Scheels Arena in Fargo, ND on Saturday, Sept. 30 at 7 p.m. Iowa hosts its annual Green-White scrimmage at Wells Fargo Arena on Wednesday, Sept. 27 at 6 p.m.
Opening Night 2017 for the Iowa Wild is slated for Saturday, Oct. 7 with a visit from the Milwaukee Admirals at 7 p.m. at Wells Fargo Arena. Follow the Iowa Wild on Twitter @IAWILD or like us on Facebook at www.facebook.com/iawild.
The Iowa Wild 2017-18 season is presented by Mercy Medical Center: and runs from October through April. Fans may purchase seats to see any of the team's 38 regular season home games at Wells Fargo Arena. Season tickets to see the Wild play its 2017-18 season at Wells Fargo Arena start at just $10 per game. For more information on tickets, including ticket plans and group seating, please contact the Wild ticket office by calling 515-564-8700 or go to www.iowawild.com.
-- IOWA WILD --
· BECOME AN IOWA WILD SEASON TICKET HOLDER
For more info on season ticket packages call 515-564-8700 or email Nate Berglund at [email protected]
· IOWA WILD IN THE COMMUNITY
To schedule a Wild appearance, contact Emily Hintz, Community Relations Coordinator, at 515-564-8731 or email [email protected]
· IOWA WILD CORPORATE SPONSORSHIPS
To create a customized advertising package for your company contact Brian Mather, Senior VP of Sales and Business Operations, at 515-564-8720 or email at [email protected].
###
Back to All