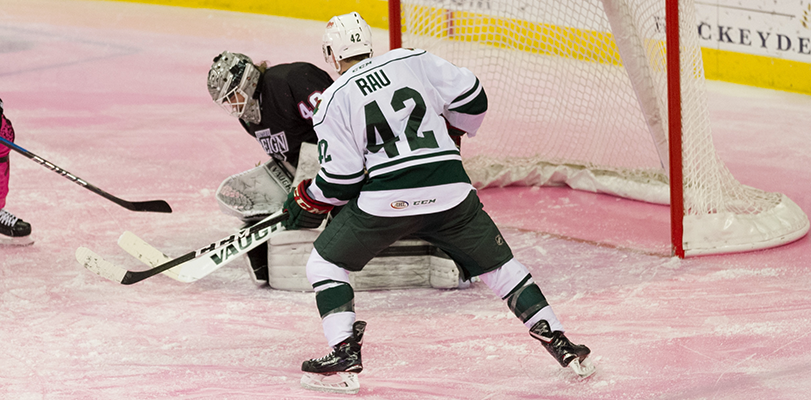 WILD FALLS TO REIGN 5-1
Feb 3, 2018
Wild forward Luke Kunin scores his eighth goal of the season in the loss
ONTARIO, CALIF. – Iowa Wild (22-14-7-3; 54 points) suffered a 5-1 loss at the hands of Ontario Reign (23-17-2-1; 49 points) Saturday night at Citizens Business Bank Arena. Iowa now sits in third place in the Central Division.
Iowa forward Luke Kunin scored the Wild's lone goal of the game, which came at 6:08 in the first period with the team trailing 2-0. Standing in front of the net, Wild forward Cal O'Reilly corralled a loose puck and drew Reign goaltender Cal Petersen (22 saves) to the right side of the net. O'Reilly then sent a backdoor pass to Kunin, who buried his shot into the wide-open net. Kunin's goal was his eighth goal of the year, while O'Reilly's assist was his 30th of the season, which ranks fifth in the AHL.
Ontario jumped out to a 2-0 lead with a pair of goals in the first 5:19 of the game. Reign forward Matt Moulson scored his seventh goal of the season to make it 1-0 at 3:17, while the club's active leading scorer Michael Mersch scored his 17th goal of the season at 5:19 to double the Reign's lead.
After 20 minutes, Ontario led 2-1 while holding a 19-9 shot advantage.
The Reign added to its lead with three goals in the second period. Mersch recorded his second tally of the game at 6:33 to make it 3-1, capitalizing on a 2-on-1. At 12:40 in the middle stanza, Reign defenseman Oscar Fatenberg scored his first AHL goal, finding the back of the net on a 5-on-3 power play, giving Ontario a 4-1 lead. The Reign potted its fifth goal of the game 67 seconds later when forward Philippe Maillet scored at 13:47 in the second period for Ontario's second power-play goal of the contest.
Ontario headed into the third period with a 5-1 lead and a 31-16 shot advantage.
A scoreless third period saw Ontario walk away with a 5-1 victory. Wild goaltender Steve Michalek stopped 35 shots in the loss. The loss also snapped the Wild's four-game winning streak and six-game point streak.
Iowa concludes its three-game California road trip with a contest against San Diego Tuesday. Puck drop is at 9:00 p.m. CT.
The Iowa Wild 2017-18 season is presented by Mercy Medical Center and runs from October through April. For more information, please contact the Wild office by calling 515-564-8700 or by visiting www.iowawild.com.
Back to All